Rajiv Tomar is one of the famous wrestlers from India who compete in the freestyle 120 kg category.
Tomar is an excellent wrestler with Indian style dangal wrestling.  
From fighting in akhadas to representing India at major international events, Rajiv has struggled a lot to establish himself as a wrestler in the whole world.
EARLY LIFE
Rajiv was put into akhada after his father got inspired by a coach who worked in an akhada near his police station. Gradually, he too developed an interest in wrestling.
From then, Rajiv Tomar started his wrestling journey.
PERSONAL LIFE
Rajiv Tomar was born on 31st December 1980 in Malakpur, Baraut, Uttar Pradesh, India.
His father worked in the Delhi Police in Roop Nagar region and his mother is a housewife.
Rajiv's family has been very supportive throughout his journey. They never allowed anything to come across their son's career path.
Even after financial problems, his father admitted Rajiv in the best akhada of their place so that he could flourish into a successful wrestler one day. He learned Kushti in the Guru Hanuman Akhara under the guidance of Shri Mahasingh Rao. 
In 2011, he married a professor working in the Delhi University.
Today, he is working as an ASP in the Indian railways. He got the job after winning the Arjuna Award.             
PROFESSIONAL LIFE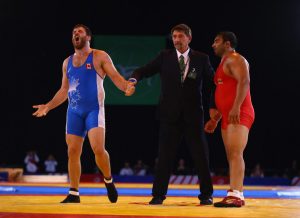 In 2014, wrestler Rajiv Tomar earned a silver medal in the Men's freestyle 125 kg event at the Commonwealth Games held in Glasgow.
The exceptional wrestler has also earned Bharat Kesari title 32 times.
In the year 1998, Rajiv also earned a bronze medal at the Asian Championships.
At a point, Rajiv Tomar was considered a powerful wrestler in the 120 kg category not only in India but also in the world.
In 2005, the wrestler earned a silver medal in Oman.
Tomar added one more gold to the list of his achievements in the year 2007 at the Commonwealth Games held in Canada.
AWARDS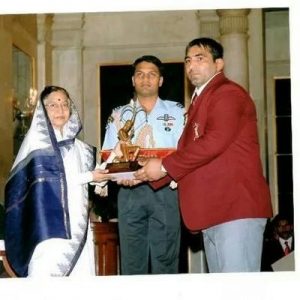 Arjuna Award for Wrestling in 2010

Rajiv Gandhi Award in 2009

Yash Bharti Award in 2008

Titled Rustam-E-Hind for 35 times
ACHIEVEMENTS
COMMONWEALTH GAMES
Silver: 2005: 120 kg Freestyle

Gold: 2007: 120 kg Freestyle

Bronze: 2011: 120 kg Freestyle

Silver: 2014: 120 kg Freestyle
ASIAN CHAMPIONSHIP
Bronze: 1998: 120 kg Freestyle
PERSONAL INFORMATION
Name: Rajiv Tomar   
Nickname: Rajiv Tomar   
Sport: Wrestling     
Events: 120 kg Freestyle  
Country: India 
Father's name: Shyam Singh
Mother's name: NOT AVAILABLE
Coach name:   P R Sondhi & Maha Singh Rao
Club: Guru Hanuman Akhara
Height: 175 cm (5 ft 9 in)
Weight: 125 kg (275 lb)
Eye colour: Black
Hair colour: Black
Date of birth: 31st December 1980
Age: 38 years
Birth place: Malakpur, Baraut, Uttar Pradesh, India
Zodiac sign: Capricorn
Nationality: Indian
Hometown: Uttar Pradesh
Religion: Hindu
CONTROVERSY
Apart from his achievements, awards, and performances, the wrestler from India has never been a part of any controversy.
NET WORTH OF RAJIV TOMAR      
The primary income and net worth of Rajiv Tomar come from his job as the ASP in the railways & also his sporting career.
SOCIAL MEDIA HANDLES OF RAJIV TOMAR      
FACEBOOK– NOT AVAILABLE
INSTAGRAM– NOT AVAILABLE
TWITTER– NOT AVAILABLE