This is most circulating question on the internet, generating a lot of curiosity. The question is debatable. Every fan has its own parameters to judge the greatness of the player. Some go by the number of grand slams won, some go by the longevity of the players, and some go by the player performance against the top opponents, some go by his behavior and conduct on filed. GOAT is just a hyperbolic metaphor, but still you cannot substitute the greatness from Roger Federer.
For tennis fans, he is not the GOAT (Greatest of All Time), he is GOT (God of Tennis). His ardent fans don't want to use the logic brain, going into the technicalities and statistics. They love the flair, traditional charm and blush, it indicates that despite all odds Roger Federer will win.
He is not just a great tennis player, he is the university of tennis for the emerging players. Once Toni Nadal was asked about Roger Federer in an interview, he said "For all the youngsters out there who wants be a tennis player , try to work hard like Rafa , take inspiration as Rafa , don't take Federer as inspiration, he is once in a generation player ".
The one thing that makes him the greatest is his dedication towards the game, he doesn't want to settle, the burning desire to keep improving with each game, experiment new things, which other players wouldn't dare to do. Roger Federer form declined post 2008, but the legend still managed to win 7 Grand Slams. Most of the tennis greats haven't won 7 Grand Slams in their entire career.
So, before we attempt to rate Roger Federer as a GOAT, let's decide the parameters for judging Roger Federer impact on the game.
Domination Period and Conversion
The period from 2004-2007 is widely considered the peak patch in Roger Federer career. It is called the Federer era. The only player who challenged his throne was Rafael Nadal. He touched the peak at the age of 23, the major opponents, he faced were Andy Roddick, Lleyton Hewitt, Andre Agassi, Marcos Baghdatis and young Rafael Nadal.
Roger Federer was by far a greater in terms of talent, technique and persistence. He played in a slightly weaker era, but made the most of the opportunity. He never let the opportunity slip of the hands and converted the potential into results. During his prime, he played 320 matches and won 296 of them. He won 11 grand slams out of 16 he played during the era.
He played 78 matches against the top 10 opposition and won 68 out of 78. Out of 48 finals he played during the era, he won 42, a world record till date. He won 13 single masters and 3 WTF title during the period. By the end of 2007, things started becoming tougher for him, the world saw the rise of emerging superstars Rafael Nadal and Novak Djokovic.
Rafael Nadal and Novak Djokovic never dominated the game like he did during the prime.
Domination on different courts
Roger Federer has won 6 Australian Open grand slam, won 8 Wimbledon, won the 5 US Open  and won 1 French Open. The interesting trivia is, the player reached French Open four times. He is just next to Rafael Nadal. By the end of 2008, age and injuries eclipsed his shining career. He was still great, but formidable. He is in the last phase of his career and wants to make every tournament. You never know, he might defeat Rafael Nadal on the clay court in French Open final.
Domination over the Opposition
Roger Federer vs. Rafael Nadal
Roger Federer is the greatest player of the modern generation, but had to really bend his back against Rafael Nadal. They both have played each other on 38 occasions. Federer managed to win only 15, he had an upper hand over Nadal on Grass court (2-1) and hard courts (11-9), but managed to win 2 games out of 15 on clay courts.
Roger Federer vs. Novak Djokovic
Federer and Djokovic have played each other 46 times. Federer played most of the matches after 2008, when he was haunted by injuries and age. Novak Djokovic is 6 years younger to Federer. It was a match between the fading star and the rising star, but still Federer left no stones unturned in  giving the best every time.
Despite not being 100 %, he gave a tough fight to Djokovic. Federer has won 22 matches out of 46 matches. Roger Federer trails 17-18 on hard courts, 1-2 on grass courts and is involved in a tie on clay courts (4-4).
Novak Djokovic is the only player beside Rafael Nadal to have the longest winning streak over Federer.
Federer vs. Andy Roddick
Roger Federer and Andy Roddick have played each other 24 times. Roger Federer leads the race with the score line of 21-3. Andy Roddick was the number 1 player in the ATP rankings, before Federer dethroned him. Andy Roddick was never a match for Roger Federer.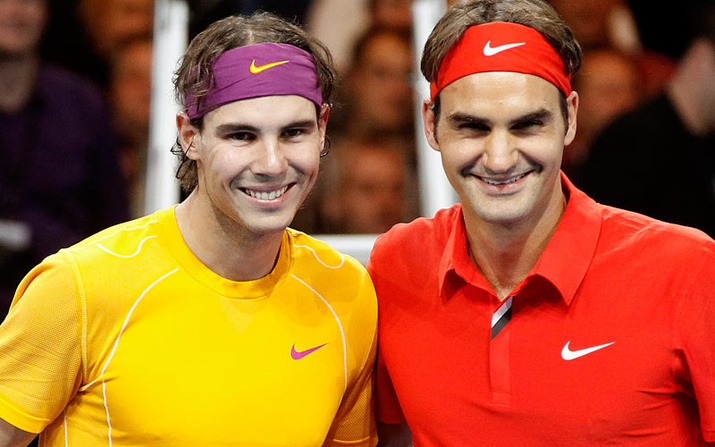 Federer vs. Andy Murray
Roger Federer and Andy Murray have played each other 25 times on hard and grass courts. They never had a meeting on clay court. Roger Federer won 14 out of 25 matches on hard courts (14-11). He has won 1 match out of 3 matches on grass court. Andy Murray might have not won more matches, but defeated the Swiss Legend in Summer Olympics 2012.
Federer vs. Lewis Hewitt
When Roger Federer burst into the international scene, Lewis Hewitt was top seed giving nightmares to even the bests. During the early part, Roger Federer struggled against Lewis Hewitt, winning only seven out of 9, but during the later part, he won 16 out of 18. He won 18 matches out of 27 in total.  In 2004, when everyone expected Lewis Hewitt to win the US open, Roger Federer proved to be the dark horse clinching its first US Open title.
Federer vs. Andre Agassi
When Roger Federer first faced Andre Agassi, he was the most dominant player in the tennis circuit. Both the players have played each other 11 times with Roger Federer leading 8-3. Both the players hate losing, the most memorable match played between them was US Open quarter finals, the match spanned for two days giving tabloids a chance to develop creative headlines. Eventually Roger Federer won the match in the last match. It was always a tussle between the old generation champion vs. Modern day champion.
Roger Federer vs. Stanilas Wawrinka
Roger Federer is 37 and still playing the best tennis of his life. Apart from Rafael Nadal and Novak Djokovic, there is no player in the circuit the challenge his domination. He is still capable of defeating Rafael Nadal on any day. The way he defeated Rafael Nadal in Australian Open 2017 reflects that the champion still has a lot of gas left in him.
There is no modern day player, who could fill the big shoes of Roger Federer. Roger Federer modern day arch rivals don't stand any chance in terms of skills and dedication, Stanilas Wawrinka is one of them. Both the players have faced each other 24 times with Federer leading 21-3. Both on grass and hard court, Wawrinka failed to win a single match against the Swiss Legend, although he did manage to win 3 matches out of 7 on clay courts.
Comparison with old stalwarts
Roger Federer has won the most number of singles Grand Slams (20) in the Tennis history. He has spent a total number of 310 weeks at number 1 spot. He owned the spot, it should be called the Federer villa. Most of the old stalwarts bowed to Roger Federer greatness accepting him as the greatest ever.
Roger Federer has been the part of most number of Grand Slam finals (30), most number of semifinals (43) and most number of quarter finals (53) in the Tennis history. The statistics mentioned above reflects the consistency of the Swiss legend. No other legend has demonstrated such consistency in the long run.
What Legends had to say about Roger Federer
Jimmy Connors– "You're a clay court specialist, a grass court specialist or a hard court specialist or you're Roger Federer"
Andy Murray– "I can cry like Roger, it's just a shame I can't play like him".
Novak Djokovic– "I don't think you can always, or you can ever, get your game to perfection, you know? Only if you are Federer".
Pete Sampras– "The greatest? I have to give it to him. The critics say Laver, And Nadal has beaten him a few times, but in my book he is".
Rafael Nadal– "If anyone says I am better than Roger then he doesn't know anything about Tennis".
Serena Williams– "This guy is the greatest male athlete of all times".
John McEnroe-"If you want to be a tennis player, mould yourself on Roger Federer. I won three Wimbledon titles and I wish I played like him".
Tracy Austin– "Roger can produce Tennis shots that should be declared illegal".
After applying all the permutation and combination, we can easily Say Roger Federer is the greatest Tennis player of all time. It is not about talent, technique or persistence, it is about adaptability and molding yourself according to the situations.
Also Check :