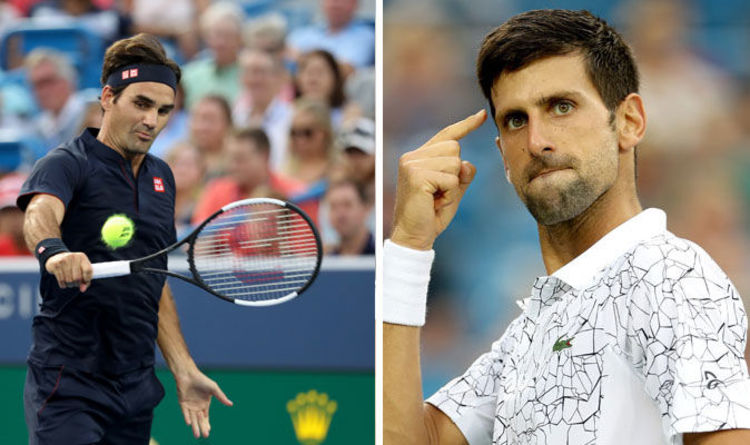 Federer vs Djokovic Rivalry: The supreme rivalry in the history of tennis was on showcase in the semi-final of Wimbledon 2019 as Roger Federer came up against Rafael Nadal. Everyone remembered the legendary game from 2008, where the two met in another Wimbledon Final and was one of the longest games played ever. It was considered by many, the Greatest Match Ever Played.
The expectations from the clash were high and the way Nadal came back after losing the 1st set, hinted at a long evening. However, Federer, despite Nadal's fight, prevailed in just 4 sets, winning the match 7-6, 1-6, 6-3, 6-4.
"I'm exhausted," the 37-year-old Federer told the BBC after reaching his 12th Wimbledon final. "It was tough at the end. Rafa played some unbelievable shots to stay in the match, and I thought the match was played at a very high level and I enjoyed it. The crowds were amazing.
"The battles with Rafa are always very special so that was nice."
Federer will now play Number 1 seeded Novak Djokovic, who entered the final after a rather easy game against No. 23 seed Roberto Bautista Agut. The Spaniard did show some mettle but went down to the Serb's eliteness.
From one great rivalry to another big one, the final of Wimbledon 2019 will see Roger Federer up against Novak Djokovic. While Federer is aiming for a 21st Grand Slam title, Novak wants to hit the sweet 16 marks.
Federer vs Djokovic Rivalry
The first big game between the two came back in 2012 when the two were up against each other in a Wimbledon semi-final. Federer was the string favourite and he didn't disappoint, putting up a dominating performance, winning the match in 4 sets- 6-3, 3-6, 6-4, 6-3.
The rivalry has taken shape since as Djokovic has emerged as one of the top players alongside Federer and Nadal and the trio seem to be involved in numerous riveting encounters.
Djokovic is the only player to have beaten Federer in all four Grand Slams, likewise, Federer is the only player to have beaten Djokovic in each of the four Grand Slams. Their's have been one of the most competitive rivalries in the World of sports.
Head to Head
Before 2010, Federer found himself on top as Djokovic was still finding his feet at the very highest level. However, at the turn of 2011, Djokovic has taken over the Swiss and has had more results go in his favour.
The two have faced each other 47 times, of which Djokovic has won 25 games. Federer isn't too far behind, having managed to notch up 22 wins of the 47.
The two have met in Grand Slams 15 times, of which only 3 have been finals, all of which have been at the Wimbledon.  Federer won the 208 final, whereas Djokovic won the 2014 and 2015 Wimbledon titles, beating Roger Federer to them.
Overall Head to Head
Djokovic: 25
Federer:  22
Head to Head in Grand Slams
Djokovic: 9
Federer: 6
Head to Head in Grand Slam finals
Djokovic: 2
Federer: 1
Important Stats | Federer vs Djokovic Rivalry
32: Djokovic has won 32 of his last 33 major matches, and has captured three of the last four Grand Slam events (Wimbledon, US Open, Australian Open).
6: This is Djokovic's 6th Wimbledon final. He has won 4, in 2011, 2014, 2015 and 2018, while he has lost just once, in 2013 to Andy Murray.
12: This is Federer's 12th Wimbledon final. He has won it 8 times, winning five straight from 2003 to 2007 and then winning in 2009, 2012 and 2017. He missed the title agonizingly, 3 times, losing twice to Djokovic in 2014 and 2015, and once to Nadal.
9: Federer is seeking his 9th Wimbledon title. Pete Sampras won seven in the Open Era, and Bjorn Borg won five.
250: Only three men have won more than 250 Grand Slam singles matches: Federer (352), Nadal (275), Djokovic (265).
20: Number of Grand Slam titles for Federer: 8 Wimbledons, 6 Australian Opens, 5 US Opens, 1 French Open.
15: Number of Grand Slams for Djokovic: 7 Australian Opens, 4 Wimbledon, 3 US Opens, 1 French Open.
101: Match wins by Federer at Wimbledon. No man has ever won 100 matches at a singles Grand Slam.
53: Number of Grand Slam titles won by the "Big Three." Federer (20), Nadal (18) and Novak Djokovic (15) have won 53 of the last 64 datings to Wimbledon in 2003. After Sunday's final, it will be 54 of the last 65. Everyone else on the ATP tour has combined to win 11 during that latter span. It won't be wrong to say that this trio is for the ages.