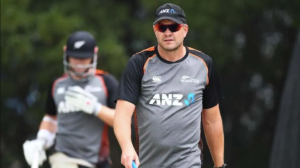 New Zealand Cricket (NZC) has refuted reports that it has offered to host the now-postponed Indian Premier League this year, terming the reports as "speculation".
This clarification came a day after some outlets reported that New Zealand had offered to host the tournament.
"The report is simply speculation. We have not offered to host the IPL nor have we had an approach to do so," NZC spokesperson Richard Boock was quoted as saying by Radio New Zealand.
The IPL was supposed to start on March 29th but has been temporarily suspended due to coronavirus.
With the rise in coronavirus cases of India, it is also being said that tournament might be held outside India this year. UAE and Sri Lanka have emerged top contenders to host the IPL.
However, BCCI President Sourav Ganguly said, "They will be looking to organize IPL in India but for that, we need to wait for the official clearance from ICC regarding T20 World Cup that whether T20 World Cup will happen in October window or not only then they will go ahead and take a call about IPL 2020 as October is the only window where they can organize IPL".

" It's true that cases in Sri Lanka and Dubai are less we can consider them as a potential venue for IPL in future" Ganguly added.
If the IPL is taken out of the country, it will be the second such instance. 2009 edition of the cash-rich league was hosted in South Africa because of the general elections in India.