Usain St Leo Bolt, famous as Usain Bolt, aged 31 years, is a Jamaican, Olympic sprinter who holds several world records. Usain Bolt is the first player to get the world records (gold medallist) for both 200 meters and 100 meters in Beijing in 2008 after the automatic time became mandatory. He retired from the race track after the World Championship held in August 2017. Usain Bolt has won a total of nine gold medals in Olympic. Usain Bolt net worth is $ 60 million and is counted as one of the highest paid Olympians. Usain Bolt comes right behind the Michael Phelps in the calculated net worth. Usain Bolt has easily made more than 150 million dollars up until now. There is a very slight chance of any track race athlete to be as rich as Usain Bolt as sportsmen generally earn very little amount even if they are the winner of the sport.
Many countries offer an amount to their players when they win. However, this amount is almost equal to negligible while counting the income. Usain Bolt is the only track star who can make it in the top 100 sports star list. He makes roughly 20 times more than what an average sprinter makes in the whole world. The three keys to success according to Usain Bolt are: state your goals and make them real, you must want it more than the competition and don't be afraid of anybody else. The lifestyle, salary, and income of this star player are jaw-dropping. Let's decode it and know more about him.
Usain Bolt Early Life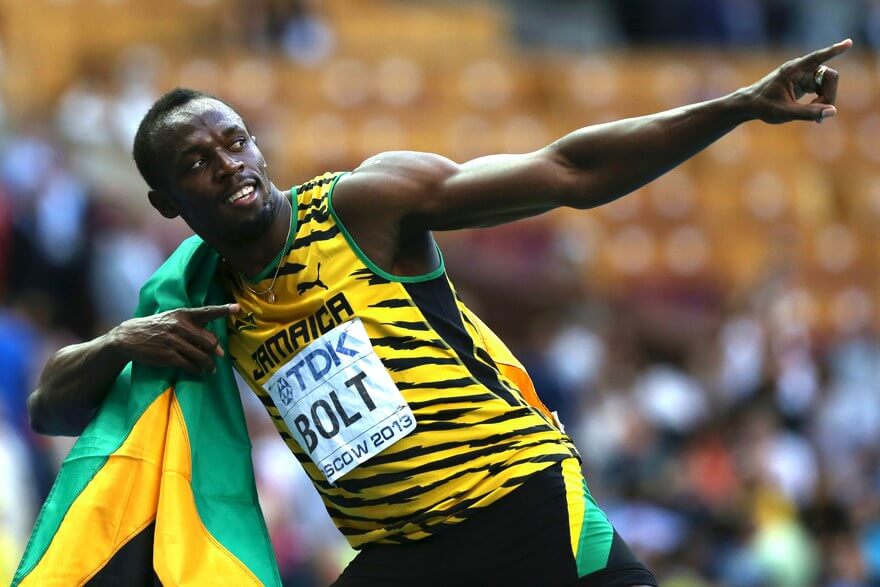 Usain Bolt went to Waldensia Primary School as a child and started showing his sprinting skills and potential while attending the annual national primary school meeting. When Bolt was 12 years of age, he became the fastest runner in the school for the 100 meters distance race track. His lifestyle, salary, and income now are nowhere close to the early phase of his life.
Usain Bolt Career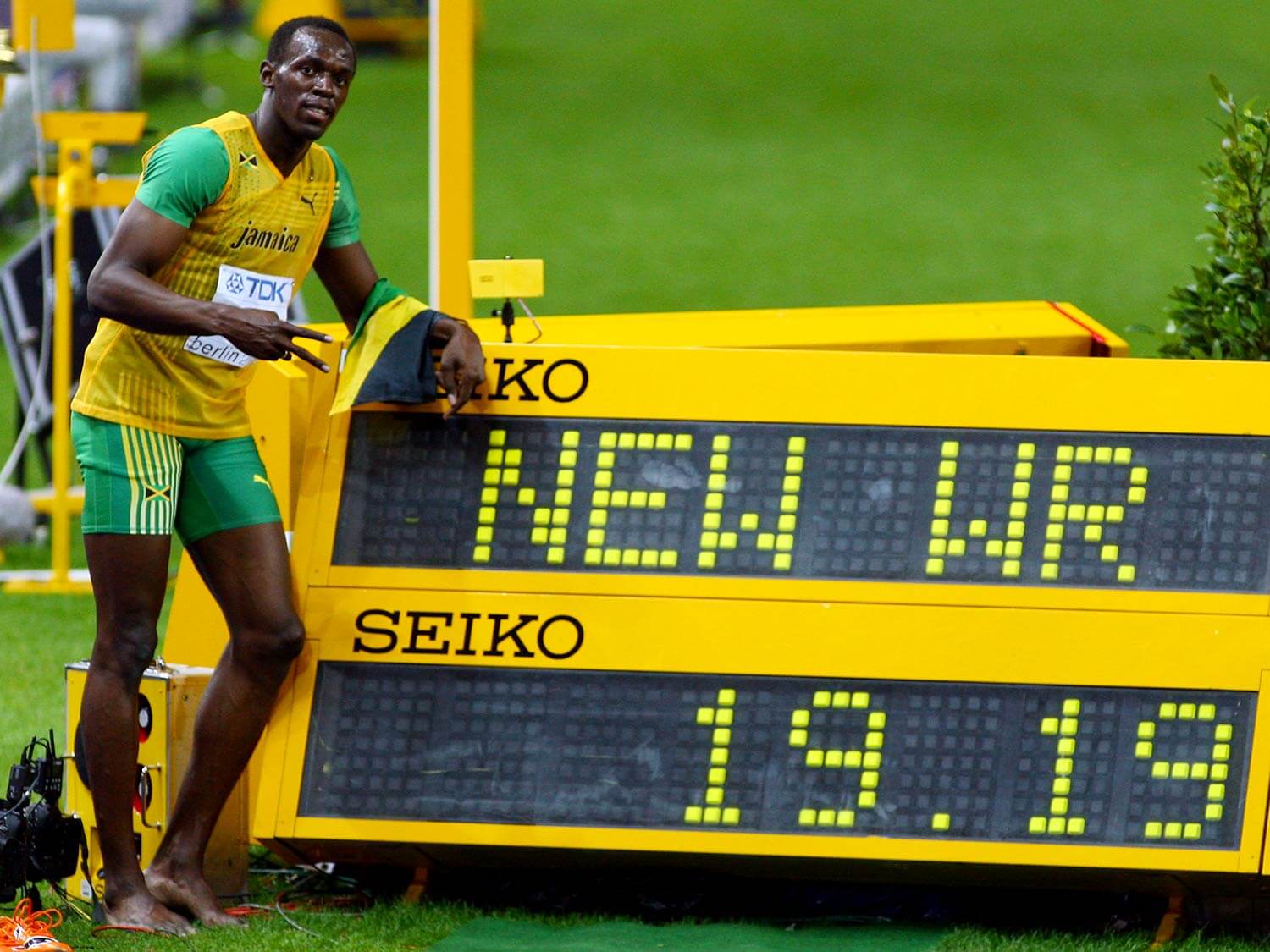 In the year 2016, he won his next three gold medals in the 4×100 meter relay, 100-meter track race, and 200-meter track race. These three consecutive victories in Olympics earned him a total of 11 world titles and nine gold medals over the whole course of his track race career. 
Usain Bolt Awards & Achievements
Usain Bolt has won the "Laureus World Sports Award for Sportsman of the year award thrice (2010, 2013 and 2017)

He has been awarded with "Best International Athlete ESPY" Award in the year 2009 and 2013.

He won "BBC Overseas Sports Personality of the year" award thrice(2008, 2009 and 2012)

He has won "Best Track and Field Athlete of the year" award in the year 2010.

He won the "Milliyet Sports Award for World Athlete of the year" award in 2010.
Also Check : Top 10 Highest Paid Athletes in the World
Usain Bolt Lifestyle & Net Worth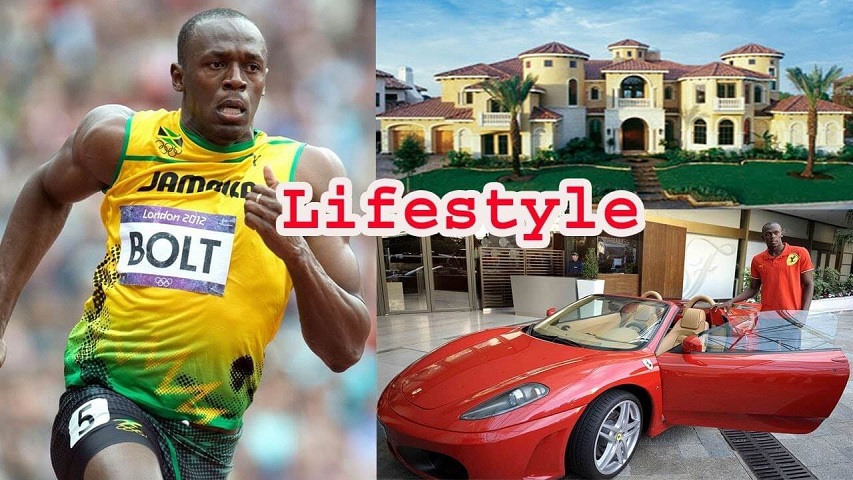 Usain Bolt, the track star is fond of premium and expensive cars. Bolt bought a Ferrari F430 car in 2013 that costs somewhere around 217,000 dollars. He also owns a Nissan GT-R car which costs around 96,800 dollars. The residence of Usain Bolt is in Kingston where he lives in a lavish mansion which is also close to the Racers Track Club at the University of West Indies and is a regular place to do the practices.
The Kingston mansion has a square boundary line with five rooms, ample space for car parking and other autos and a huge garden that has a ton of organic trees and plants. This big house of Usain Bolt also features a heated swimming pool and a Jacuzzi which was introduced later by him. Before moving to this house, Bolt was staying with Nugent Walker Junior who is a good friend of Bolt.
Usain Bolt also introduced a restaurant "Tracks and Records" which is a music and sports bar and is spread over about 7000 square feet. The restaurant has a Jamaican fusion menu with multiple bars, lounge areas, a retail shop that offers exclusive Bolt Brand products. The place also has over 45 flat screen displays to broadcast sports events and also features a 20-foot wide screen in the restaurant. His lifestyle, salary, and income are quite ravishing and fancy.
Usain Bolt Net Worth and Salary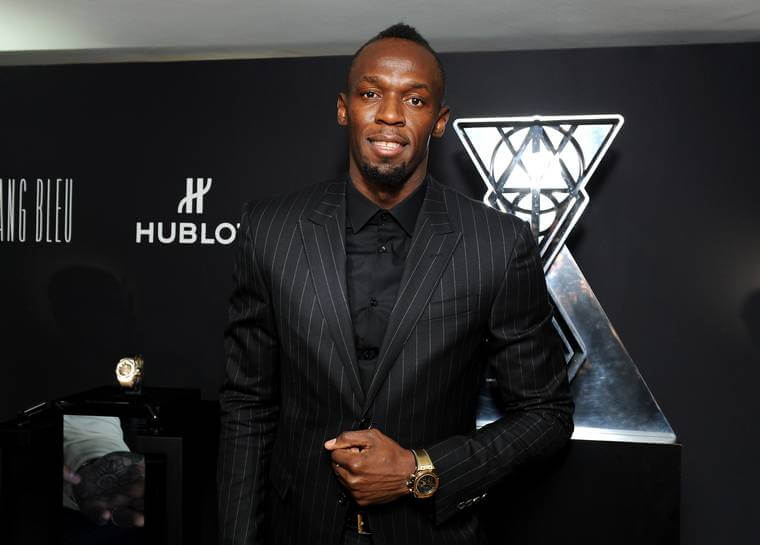 Net Worth of Usain Bolt : Usain Bolt ranks 45th in the worlds highest paid Athletes. Usain Bolt net worth according to Forbes is 31 million dollars. Out of which, only 1 million dollars come through the race which is the salary of Usain Bolt from the track. All the remaining 30 million dollars are earned through the endorsements. Usain Bolt is signed up for many sponsorships and brand endorsements. Most of the part of Usain Bolt's earning has come from the endorsements with some of the famous brands like Advil, Sprint, Visa, Virgin Media, Nissan Motors, Hublot, Gatorade, and Puma. The biggest endorsement deal of the player is with Puma.
Also Check : Lionel Messi's Net Worth, lifestyle & Annual Income
He has been with this brand since 2002 when his age was just 16 years. He gets at least more than 10 million dollars every year from the Puma deal as he used to get $10 million before the 2016 Olympics. Usain Bolt opened third of his restaurant named Track and Records this year in Jamaica. He has also signed up a contract to open 10-15 restaurants in the United Kingdom with one to open in 2018.