Top 10 Hottest Female Football Players : The game of football is often called "The Beautiful game" now that term is somewhat justified when it comes to women's football. The amount of beauty on display in a female football game is just insane and well it's a big plus for football fans, to witness all the good things on just one pitch.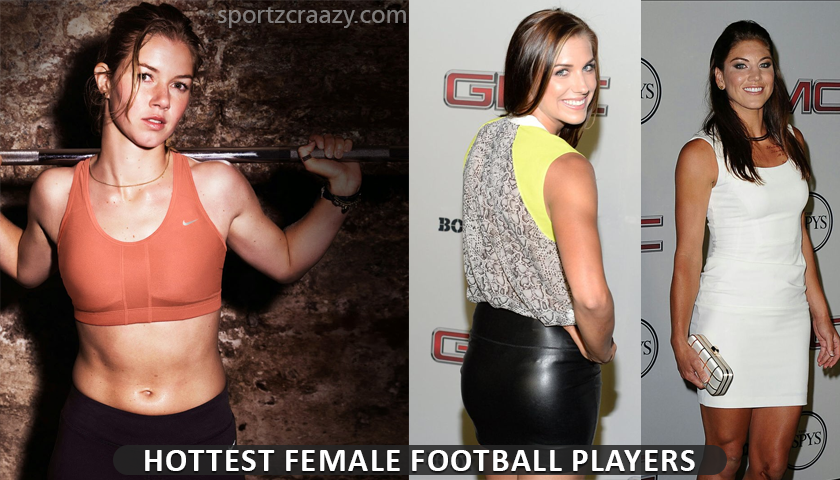 Over the years there have been some really mesmerising faces which women's football has gifted to the world. Many of them are equally as attractive with their physique and looks just as they are good with the ball on their feet. This is a compilation of the Top 10 Hottest Female Football Players:
Hope Solo (United States)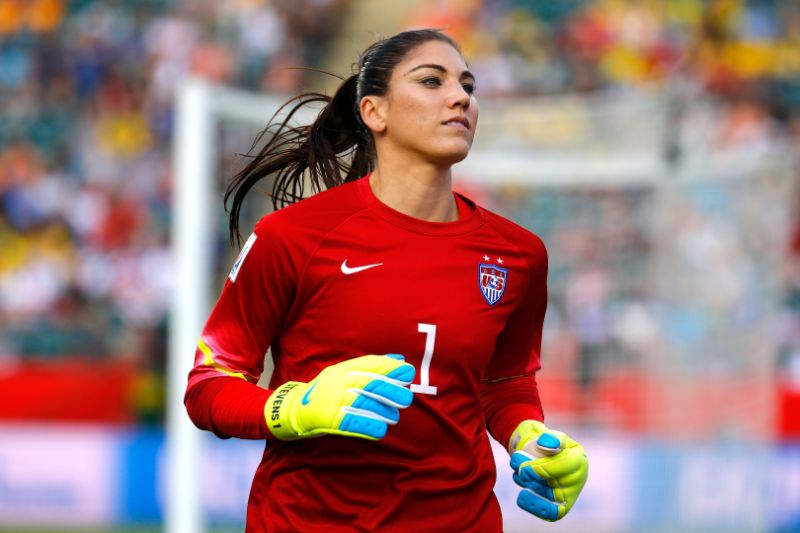 Image Source
Hope Amelia Solo is an American football goalkeeper who last played for Seattle Reign in 2016. She is a two-time Olympic Gold medallist and a former World Cup Winner. During her playing days, Hope was regarded as the one of the best women goalkeepers in the world.
The 37 year old helped the US to their third world title since 1991 and she was widely recognized for her performances to carry to the team forward. She was the gold medals in 2008 and 2012 Olympics with her nation.
Image Source
Erika is a Brazilian footballer who currently plies her trade for French club Paris Saint-Germain. The 30 year old is an exceptionally versatile player, as she usually played as forward for her club and at youth levels, however, she lined up a defender for the senior national team.
Erika was part of the silver medal winning team of Brazil at the 2008 Beijing Olympics, while she also represented the Selecao at 2011 Women's World Cup and 2012 Rio Olympics. The Brazilian collected well over 50 caps for her nation and is still going strong for her club side.
Image Source
Kyah Simon is an Australian footballer who plays as a forward for Houston Dash in the National Women's Soccer League which is the first division of the women's football league in America. She is the first Indigenous Australian player to score a goal in the FIFA World Cup. Simon achieved this feat in 2011.
The 27 year old has previously represented various clubs in her native Australia, before opting to move abroad and join her current employers. Simon has over 70 caps for her nation, and she has scored 24 goals for the senior national side.
Anouk Hoogendijk (Netherlands)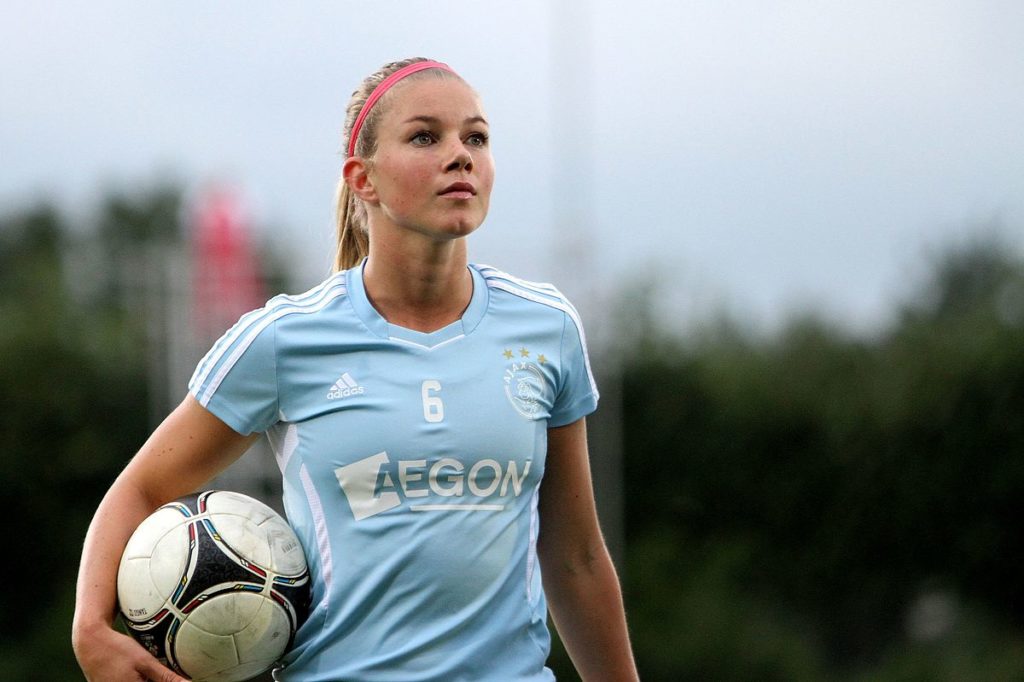 Image Source
Anouk Anna Hoogendijk is a Dutch professional footballer who last turned out for Ajax as a midfielder. Nicknamed 'Noukie', she is also able to slot in the back four as a centre-back.
The 33 year old has over 100 caps for her national team since 2004, and she was represented the national team in one FIFA Women's World Cup and two UEFA Women's Euros. The highlight of her career was when she signed for Bristol Academy Women in 2011.
Image Source
Selina Wagner is a German football player who currently plays for SC Sand in the Bundesliga which is the top tier of football in Germany. The 27 year old plays on the wing, mostly on the right.
Selina was the key cog when her former club VfL Wolfsburg won the Champions League in 2012-2013 season. She also has a past history of modelling for Playboy magazine during the 2011 FIFA Women's World Cup.
Heather Mitts (United States)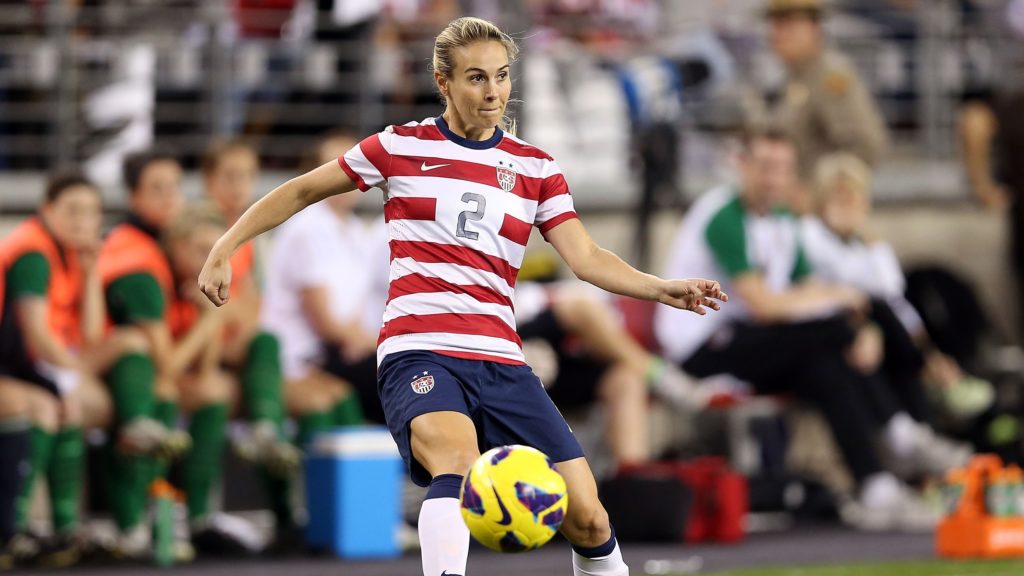 Image Source
A former American soccer player, Heather Mitts is a three-time Olympic Gold medallist and she also represented her nation at the 2011 FIFA World Cup. Mitts, played as a defender, but was able to slot in as a right-back too.
She previously turned out for Philadelphia Charge, Boston Breakers, Philadelphia Independence and Atlanta Beat in the Women's Professional Soccer league.
Image Source
Kaylyn McKenzie Kyle is a Canadian footballer who last represented Orlando Pride in the National Women's Soccer League in 2016. The 29 year old was part of the Canadian contingent that won the Bronze medal at the 2012 London Olympics.
Kyle is currently the ambassador of Right To Play foundation and after her adventure with Pride, she joined TSN which is a Canadian Sports channel in 2017. She has over a century of caps for the national team.
Image Source
Monica Gonzalez is a former American born Mexican football player who currently works for ESPN as an analyst and announcer. Gonzalez had a relatively short spanned playing career, in which she represented Boston Breakers and the Mexican national team.
In 2011, she hung up her boots and decided to pursue her career as a presenter. Over the course of her career, she amassed 83 international caps for Mexico while scoring on 10 occasions. Gonzalez is the only woman commentator for Champions League games.
Alex Morgan (United States)
Image Source
Alex Morgan is an American football player who previously won the FIFA World Cup and an Olympic Gold medal for her nation. Alex currently plays for Orlando Pride in the NWSL. In 2012 Morgan was named as the U.S Soccer Female Athlete of the Year while she was also the finalist for FIFA World Player of the Year.
The 29 year old forward has well over 150 appearances for the US national team while she has scored 90 times on national duty. Morgan also appeared on the cover of EA Sports's FIFA 16 alongside Lionel Messi. She made her acting debut in the movie named Alex and Me featuring her in the lead role.
Image Source
Laisa is a football player hailing from Brazil. She played as a forward for the national team. She is widely considered as the sexiest woman footballer on the planet, due to her sultry looks and being a Latin beauty she is worshipped like a goddess in her native country.
Football isn't Liasa only interest as she has done various modelling assignments, posing for nude photo shoots as well. The forward has previously turned out for clubs like Youth SC, UCS and Porto Alegre as well.
Also Check: