Rajyavardhan Singh Rathore Biography: Rajyavardhan Singh Rathore is a former Olympian and an Indian politician who served as Minister of State for Ministry of Youth Affairs and sports in the Government of India till May 2019.  
One of the most successful shooters from India, Rathore owns a total of 25 international laurels & various championship titles for the Double Trap Shooting including a silver medal at the Summer Olympics 2004 in the Men's Double Trap event.
Not just a successful shooter, Rajyavardhan has been a successful politician and has served as a commissioned officer in The Grenadiers regiment of the Indian Army before retiring in 2013 as a colonel. 
EARLY LIFE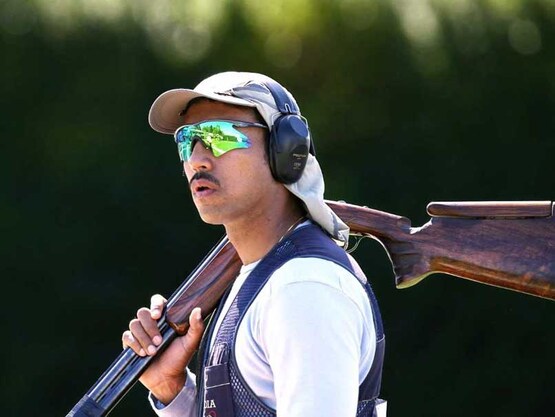 Rajyavardhan was deeply inspired by his father who was also an Army officer. Rathore always wanted to join the Indian Army since his childhood days. Rathore's army career began with a posting in the 9th Grenadiers Regiment (Mewar).
Rajyavardhan worked in the military in Jammu & Kashmir. He lived the real life of an army person, with all its trials and tribulations.
This period made him a stellar shooter as during this time Rathore picked up the gun and rest is history!
PERSONAL LIFE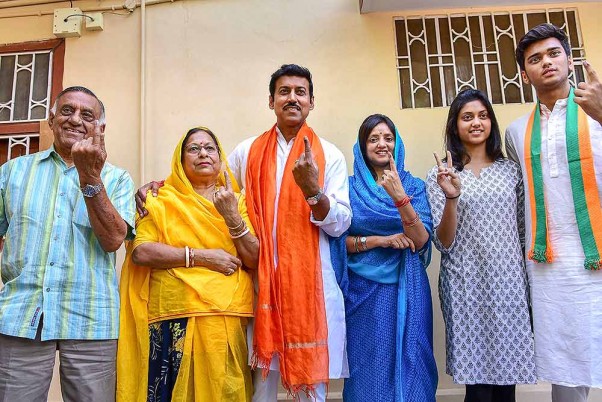 Rajyavardhan was born on 29th January 1970 in Jaisalmer, Rajasthan. He was born to Colonel Lakshman Singh Rathore (retd), who is an ex-army man and his mother Manju Rathore, a teacher. 
The Rajasthan based shooter is also a graduate of the 77th Course of the National Defense Academy.
After completing his graduation from the NDA, Rajyavardhan went to the Indian Military Academy. At IMA, Rathore was awarded the Sword of Honor for the best all-round Gentleman Cadet.
Rathore earned the Sikh Regiment Gold Medal for the best sportsman of the course.
In 1990, Rathore was commissioned in the Nineth Grenadiers Regiment. In 1992, Rathore was promoted to lieutenant & in 1995 he went on to become the captain.
The former shooter has also fought in the Kargil War. During his career in the Indian army, Rathore has also worked in Jammu and Kashmir where he was a part of the counter-terrorist operations. His unit was awarded the Army Chief's Citation.
In 1998, he tied the knots with Gayathri who is a doctor. The couple has a son named Manavaditya and a daughter named Gauri.
Manavaditya followed his father's footprints & became an international shooting champion himself. Although Rajyavardhan does not train him & guide him just as a father.
In 2004, he was further promoted to lieutenant-colonel & in 2009 Rathore received his final rank of colonel.
PROFESSIONAL LIFE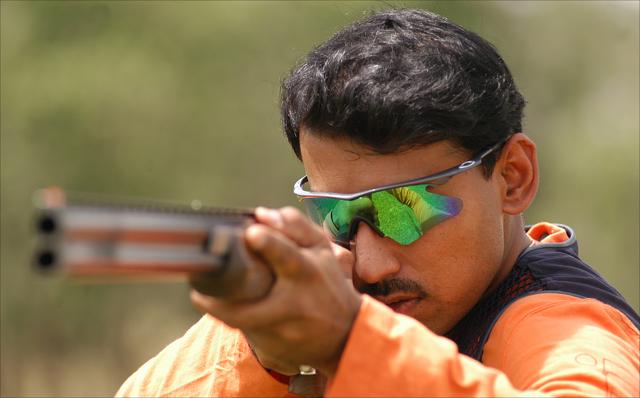 In 2002, Rathore earned a gold & set a new record at the Commonwealth Games with 192 targets of 200.
In 2006, Rathore further earned a gold at the Melbourne Commonwealth Games and this time it was a team gold along with Moraad Ali Khan.
He also clinched a silver medal in the team event along with Vikram Bhatnagar.
Rathore also earned two gold medals at two World Shooting Championships in 2004 (Sydney) & in 2006 (Cairo).
AWARD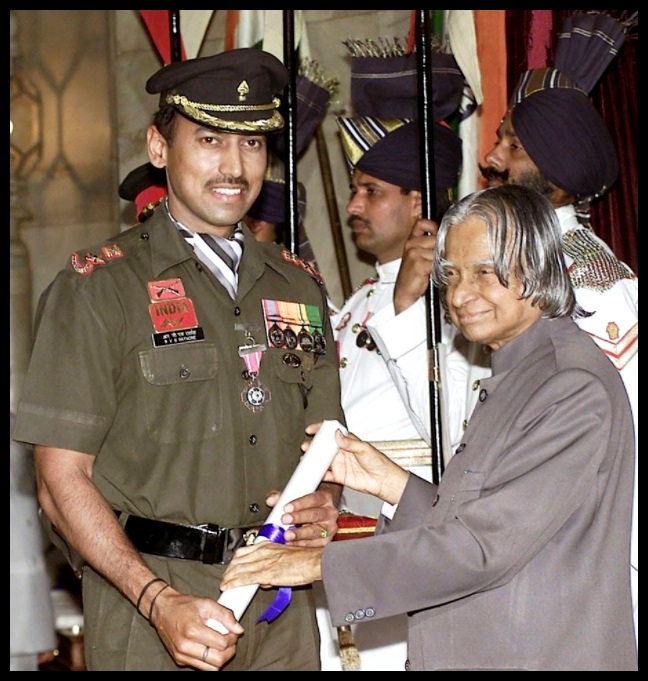 Padma Shri in 2005

The Rajiv Gandhi Khel Ratna (2004-2005)

The Arjuna Award (2003-2004)

Ati Vishisht Seva Medal

In the year 2008, Rathore was the flag bearer for India at the Summer Olympics held in Beijing, China

In the year 2006, Rathore was the flag bearer at the Commonwealth Games held in Melbourne, Australia
ACHIEVEMENTS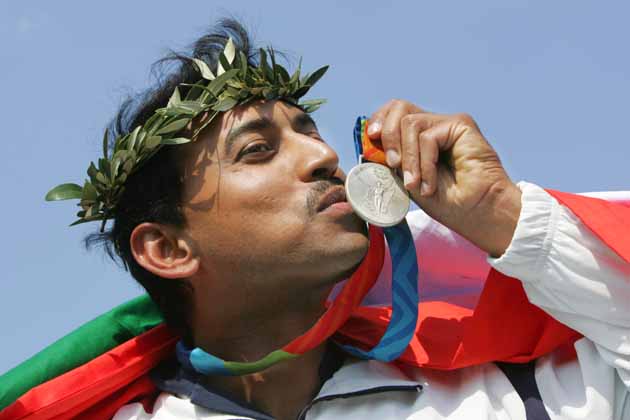 ASIAN GAMES
Silver: 2006, Doha: Double Trap Team

Bronze: 2006, Doha: Double Trap
COMMONWEALTH GAMES
Gold: 2002, Manchester: Double Trap Individual

Gold: 2002, Manchester: Double Trap Pairs

Gold: 2006, Melbourne: Double Trap Individual

Silver: 2006, Melbourne: Double Trap Pairs
OLYMPIC GAMES
Silver: 2004, Athens: Double Trap
WORLD SHOTGUN CHAMPIONSHIP
Bronze: 2003, Cyprus: Double Trap Individual
ISSF WORLD SHOOTING CHAMPIONSHIP
Bronze: 2006, Granada: Double Trap Individual

Silver: 2004, Sydney: Double Trap Individual

Gold: 2006, Cairo: Double Trap Individual

Bronze: 2003, New Delhi: Double Trap Individual
ASIAN CLAY TARGET CHAMPIONSHIP
Gold: 2003, New Delhi: Double Trap Individual

Gold: 2004, Bangkok: Double Trap Individual

Gold: 2005, Bangkok: Double Trap Individual

Gold: 2006, Singapore: Double Trap Individual

Gold: 2011, Kuala Lumpur: Double Trap Individual
PERSONAL INFORMATION
Name: Rajyavardhan Singh Rathore
Nickname: Rajyavardhan Singh Rathore
Sport: Shooting
Events: Double Trap
Country: India
Father's name: Col. Laxman Singh Rathore
Mother's name: Manju Rathore
Sister's name: Ritu Chohan
Wife's name: Gayathri Rathore
Coach name: NOT AVAILABLE
Height: 183 cm (6 ft 0 in)
Weight: 80 kg (176 lb)
Eye colour: Black
Hair colour: Black
Date of birth: 29th January 1970
Age: 49 years
Birth Place:  Jaisalmer, Rajasthan, India
Zodiac sign: Aquarius
Nationality: India
Hometown: Rajasthan
Religion: Hindu
CONTROVERSY
In 2013, Rajyavardhan Singh Rathore was accused of drug abuse as the shooter failed a dope test before his participation at the Athens Olympics.

In 2019, villagers of Rozda gram panchayat complained that Rathore made false promises of developmental works in their place.

In 2019, Rajyavardhan hit headlines when his name was dropped from the new sworn in the council of Ministers.
NET WORTH:    
The primary income and net worth of Rajyavardhan Singh Rathore is 12.8 crores that come from his position as a Member of Parliament in Lok Sabha.
SOCIAL MEDIA HANDLES: 
FACEBOOK– https://www.facebook.com/Rathore
INSTAGRAM– https://www.instagram.com/ra_rathore/
TWITTER– https://twitter.com/Ra_THORe