Matt Hardy has been one of those WWE superstars which have gained immense popularity during their two-decades-long career in the sports entertainment industry. Being one of the key members of the famous tag team " Hardy Boyz" Matt has proved his prowess with all the talent and skills that he posses in the Pro wrestling business.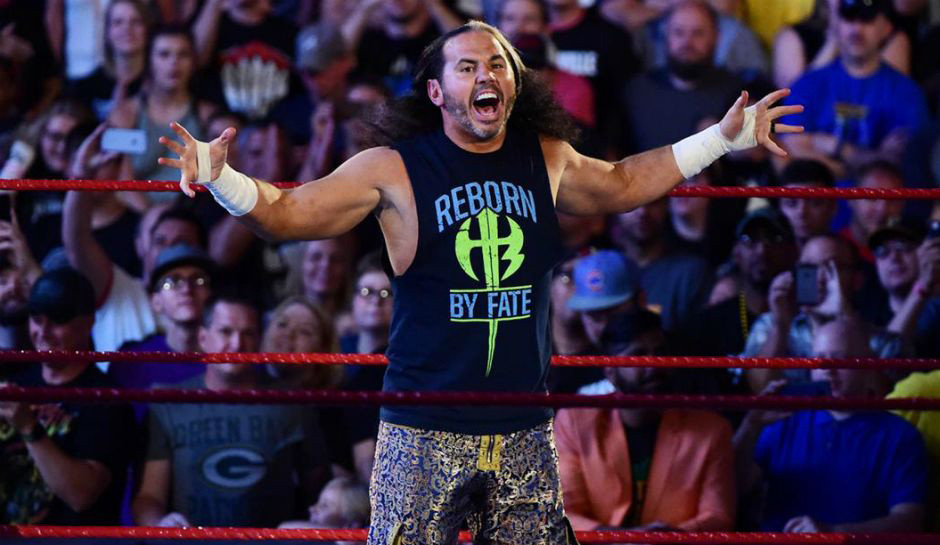 Known as the "King of the tables, ladders and chairs matches", he has been the 14 times tag team champion in the Pro wrestling world. Amongst the big list of his titles, he held six WWE tag team championships, three RAW tag team championships, one smackdown tag team championship, and one ROH tag team championship along with one each of WCW and TNA world tag team championship.
Introduction and Personal life of Matt Hardy
Matt Hardy was born on 23 September 1974 and competing in the pro wrestling world for the past three decades. Over the years, he has been a significant part of the WWE, WCW, TNA, ROH, and numerous other Pro wrestling brands.
Born in North Carolina, he was a son to Gilbert hardy and Ruby Moore hardy with his elder brother Jeff hardy also in the family. Unfortunately, his mother died to brain cancer in the year 1987 and this was where he has to compromise a lot on his studies and career in the coming times. Matt Hardy started playing baseball in his school days but stopped it once he went into the senior wing due to his increasing interest in football.
Even in football, he played as a linebacker or at the defensive position. He was a sincere student from the start and whilst studying in the Union Pines high school in North Carolina, he got nominated for the " Moorhead award" which was the biggest scholarship awarded to any bright student in any university in North Carolina. He then went on to pursue his engineering studies at the University of North Carolina in Charlotte but got to drop due to his father's illness.
The journey of Matt Hardy in WWE
Initially Matt Hardy along with his brother Jeff started their own wrestling federation named " the Trampoline wrestling federation" ( TWF). later they sent the tape of one of their gimmicks to WCW and started competing there with the name " High Voltage". Hardy started working as a jobber in WWE in 1994 but he only got to sign a contract in the year 1998. His first match was against Nikolai Volkoff and eh lost the same by submission.
He then went on to make a debut in WWE Monday Night RAW but again lost in his first match to WWE superstar Crush. His initial phase in WWE saw him losing most of the matches and he lost to a number of superstars like Razor Ramón, Owen Hart, Crush, The Undertaker and so on.
Teaming up with his brother to form "Hardy Boyz"
Matt Hardy spent the first few years competing as an individual competitor but after he saw a series of losses against most of the superstars, he then formed a team named ' Hardy Boyz" with his brother Jeff. This was the right push he was looking for in his WWE career and once getting along as a team, they both were been awarded the contracts with WWE.
The hardy boyz got famous for their High flying styles which saw them leaping from great heights on their opponents and receiving some big accolades from the Audiences in the process. The " Hardy Boyz" also appointed Michael Hayes as their manager and grabbed their first WWF tag team championship after defeating APA at the " King of the Ring" PPV.
This was the time when they dumped Hayes as manager and appointed Gangrel in his place after he turned heel on Edge and Christian. They secured big victories there forth against the Edge and Christian at "No Mercy' and against the Dudley Boyz at Royal Rumble. Eventually, these two matches were also their first tables, ladders and chairs match in WWE.
Getting released by WWE
It was during one of the matches against Kane at Summer Slam, Matt received some serious injuries and spent almost a year being sidelined from WWE. Eventually, he has been released by WWE in 2005 and it has been quoted that this release was mainly due to Hardy's unprofessional behavior on Social media about the real-life relationship of Lita and Edge. The move proved too costly to WWE as the fans started a petition with over 15000 signatures, asking WWE to resign Matt Hardy.
Moreover, Edge and Lita were always getting to receive numerous 'Boos and "Chants" from the audience whenever they attend any show or the event held by WWE.
Coming back to WWE once again
Matt Hardy made a surprise entry at the Wrestle mania 33 along with his brother Jeff for being one of the participants in the ladder match for the WWE tag team championships and interestingly own it against the teams of Luke Gallows and Anderson and Cesaro and Sheamus. They got to fight once again against the team of Cesaro and Sheamus and they retained their title once again at the "Payback" PPV.
He was absent from the ringside action for above six months during the same period and his injury has been quoted as the reason for the same. Eventually, he made a grand return at Smackdown event on Feb. 2019 and defeated Cesaro and Sheamus once against his brother Jeff alongside. He is currently a part of the Smackdown roster only.
Interesting facts about Matt Hardy
Matt Hardy was dating Lita since his start in the WWE and both of them went quite serious about their whole relationship until Lita broke up to him to date his rival Edge

After the breaks up with Lita, Matt was indulged in several backstage feuds with Edge and this has gained a lot of attention from all the WWE fans around.

Unlike most of the sportsperson of his era, Matt was really a bright student and got high grades during his school and college times.

Mat has been very good costume designer in the past and during the initial days of his " Trampoline wrestling championship" he sewed the costumes for most of the costumes for OMEGA( Organization of modern extreme grappling arts )
The net worth of Matt Hardy
Matt Hardy receives most of his earning from his income in WWE and he is also helping them in an offline role in the coming times. Talking about the number, his net worth is been estimated at around $10 million. Apart from Wrestling, he has acted in a number of movies in the past as well which earned him some good money in the process.
Also Check: