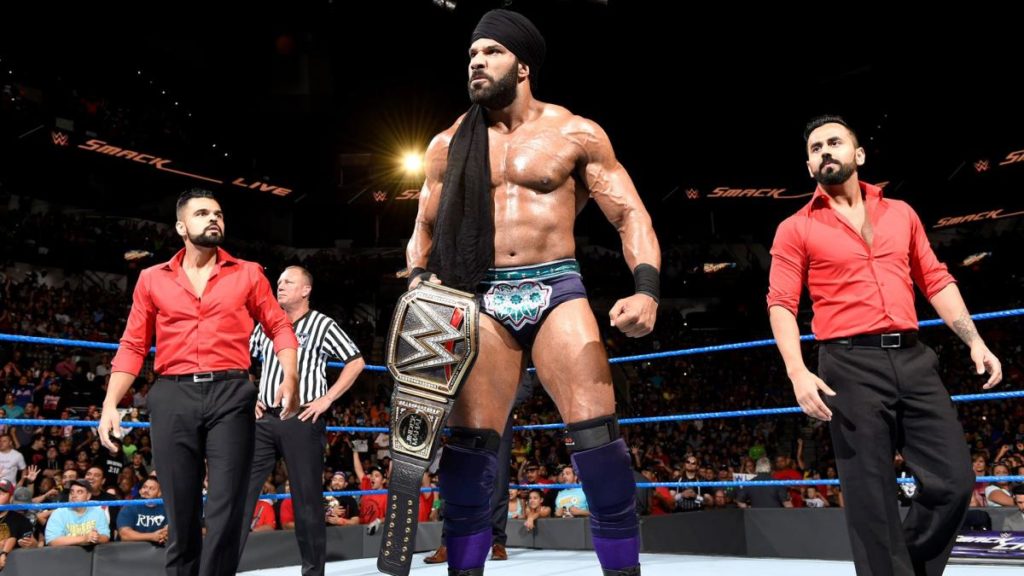 Yuvraj Singh Dhesi, born on 19th July 1986 is an Indo-Canadian professional wrestler currently signed to WWE and with ring name Jinder Mahal.
Dhesi started his career in professional wrestling at the Martial Arts Fitness center in Calgary, Alberta. He trained with Rick Bognar who specializes in Wrestling and Martial Arts Wrestling.
Jinder Mahal Personal Life
Dhesi was born in Alberta, Canada and is the nephew of legendary wrestler Gama Singh (of Stampede Wrestling fame). Dhesi also holds a business degree in communications and culture from the University of Calgary. He is also a member of the Legislative Assembly of Alberta for Calgary-Shaw Graham Sucha.
Jinder Mahal WWE Career
Dhesi made his first debut in Premier Martial Arts Wrestling (PMW) as Raj Dhesi. Afterward, we trained with Allen Coage and Gerry Morrow and wrestled in a revived Stampede Wrestling alongside fellow future WWE wrestlers Natalya, Tyson Kindd and Viktor. He changed his ring name to Tiger Raj Singh and won various titles in Stampede and Prairie Wrestling Alliance. He spent his early career with his cousin Gama Singh Jr. Dhesi and both were together known as new 'Karachi Vice' and also as 'Sikh & Destroy'.  
From 2008 to January 2010, Dhesi was PWA Heavyweight Champion. In February 2010, he tried for World Wrestling Entertainment (WWE)'s developmental promotion Florida Championship Wrestling (FCW). He used his Punjabi stunts to catch the attention and stand out from other wrestlers. His gimmick worked and he signed a contract with FCW and wrestled there for a year under the ring name Jinder Mahal.
His made his WWE television debut in 2011 episode of Smackdown and was introduced to Indian wrestler The Great Khali. He was pitted against Khali many times and is Khali's brother in law.
In 2012, he formed a trio group 3MB with Heath Slater and Drew McIntyre. And in 2014, he released from WWE contract. 2014 onwards he wrestled for Reality of Wrestling (ROW) under the name Raj Singh.
He also participated in Qatar Pro Wrestling (QPW) Souq Waqif Championship tournament in April 2015, where he ended up as the first runner up. On May 5, Singh made his debut for Japanese promotion Inoki Genome Federation (IGF), losing to Wang Bin. In 2016, he also wrestled for The Great Khali's wrestling promotion Continental Wrestling Entertainment (CWE) in India.
In 2017 in an interview, he revealed that he hit his rock bottom ever since he left WWE. There was news of WWE calling him back and prior to this, Mahal stopped drinking, started eating healthy and got in shape. Mahal underwent a remarkable transformation and evolved his style.
After returning to WWE in 2017, he won a six-pack challenge also involving Mojo Rawley, Dolph Ziggler, Erick Rowan, Luke Harper and Sami Zayn to become the number one contender for the WWE Championship. He was reigning the championship from 21st May 2017 to 7th November 2017. He is the 50th WWE champion and first Indian heritage wrestler to win the championship.  
The world is taking notice of the new WWE Championship winner, Jinder Mahal. With his talent, dedication and raw strength, he has the potential to continue his winning streak for years to come. It is far tougher to keep the WWE championship than to win it, but Mahal is ready to face any challenger. 
Jinder Mahal Net Worth
Known as "Modern Day Maharaja," he is a legend in making with a current net worth $300,000.
Also Check: