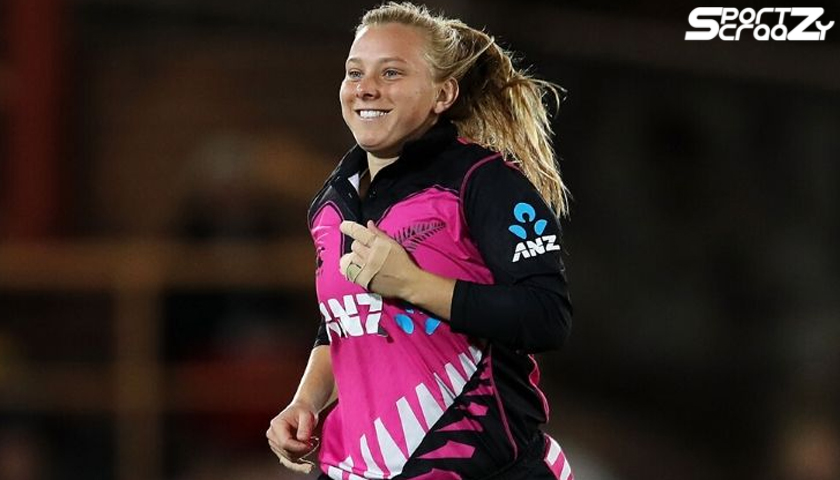 Leigh Kasperek is a Scottish cricketer who later moved on to New Zealand and played years of domestic cricket before making her international debut for New Zealand. She is a right-arm off-spinner who bats in the middle order for the white herns. She is a highly talented off-spinner who uses flight and drift in the air to her advantage and her ability with the bat in the middle order is an added dimension to her game, which provides balance to the teams in which she plays.
Early Life & Journey
Leigh Kasperek was born on 15 February 1992 in Edinburgh, Scotland. She started cricket early in her life, she played age-group cricket before making her senior national debut at the age of 15, playing for Scotland against English county sides in the 2007 County Challenge Cup. One of her first notable performances came against Hampshire in the 2009 edition of the County Championship, when she took 3/2 from six overs to help bowl the side out for 76.
One year after she had made her senior national debut she made her international debut came later in the year, when she appeared against Ireland and the Netherlands at the European Championship. Against the Netherlands at the 2009 European Championship, she scored a maiden half-century for Scotland, making 58 from 106 balls (including a 135-run partnership with Kari Anderson).
In 2008, Kasperek represented Scotland's in the 2008 World Cup Qualifier in South Africa. She went on to play in four out of a possible five matches, but it didn't go according to plan for her, as couldn't manage put in a performance she would have liked to.
Within a few years, she had established herself as one of Scotland's leading all-rounders. During the 2010 County Championship season, Kasperek scored 218 runs from her ten matches, behind only Kathryn White for Scotland. Her best performance was an innings of 68 against Hampshire, which was her only half-century.
Then came the move where she shifted to New Zeland and had to play domestic cricket there to be eligible for the national side. She had little success in her first season in New Zealand, as she could manage only 86 runs and a single wicket in her 8 matches. She switched to the Otago sparks for the 2013-14 season and went on to score two half-centuries. Kasperek impressed more with her bowling, as she took 18 wickets and finish as the competition's leading wicket-taker. Her season saw her pick up 6 wickets for 8 runs in one match against Canterbury. In the next season, she took 15 wickets and was the highest wicket-taker for her team. Her batting performances also saw an incline as she managed 313 runs in the season and was only behind Suzie Bates for Otago (and tenth in the competition).
After three seasons of domestic cricket in New Zealand, Kasperek met the ICC qualifications for representing the national team. She was unexpectedly named in the squad for the 2015 tour of India. Kasperek went on to play in every game on the tour, which comprised five One Day International (ODI) and three Twenty20 International matches. On her debut in the first ODI, she took 3/39 from 10 overs. Later in that year itself, she took 4/27, her maiden ODI four-wicket haul against the touring Sri Lankans. In a T20 International against Australia in February 2016, Kasperek took 4/7 from three overs. Amy Satterthwaite is the only New Zealander to take better figures.
Cricket & Stats
Leigh Kasperek made her ODI debut for New Zealand on 28 June 2015 against India.
Her T20I debut for the New Zealand team came on 11 July 2015 against India.
Kasperek has played 33 one-day internationals for New Zealand in which year scored 268 runs at an average of 19. 14. She has scored a century and her highest score is 113. When it comes to bowling in ODI's, she has picked up 51 wickets in 33 matches at an average of 20.70. She has three four-wicket hauls to her name and 1 five-wicket haul. She has an economy of 3.89 and her best figure in T20I's is 5 wickets for 39 runs.
In T20 she has played 36 matches and scored 90 runs at an average of 7.50. With the ball in her hand, she has 60 wickets in 36 matches at an average of 13. 11. She has an economy of 6.12 and has one four-wicket haul to her name. Her best spell in T20I's is 4 wickets for 7 runs.
BioData
Full name: Leigh Meghan Kasperek
Birth Place: Edinburgh, Midlothian
Current age: 27 years
Date of Birth: February 15, 1992
Birth Place: Edinburgh, Midlothian
Nationality: New Zealand
Domestic Teams:
Western Fury (2011-12);

Essex (2012-2013)

Wellington Blaze (2012-2013)

Otago Sparks (2013-15)
Major teams: New Zealand Women, Otago Women, Scotland Under-21s Women, Scotland Women, Wellington Under-21s Women, Wellington Women, Western Australia Women
Playing role: Batting allrounder
Batting style: Right-hand bat
Bowling style: Right-arm off-break