Joydeep Karmakar Biography: Indian shooter, Joydeep Karmakar became a National Champion in only his first Nationals in 1994. Joydeep was on the well knows Indian shooters, who represented India at 2012 Summer Olympics in Men's 50m Rifle Prone event. He is, in fact, the only Indian to earn a silver medal at the World Cup Prone. The athlete is also an author of his own book named 'My Olympic Journey', documenting his sore fourth in the London Games. Karmakar has competed in a total of 28 World Cups. Although he lost a London Olympics medal by a fraction, he has been honoured with the Arjuna Award for his sporting excellence.
In 2010, Joydeep Karmakar became the first and the only Indian athlete to earn a silver medal at the World Cup in the 50-meter prone event at Sydney. At the same event, he fired 599 to exceed the South Asian Games records.  The shooting star has a permanent mark on the target.
EARLY LIFE:
Ever since he acquired a victory at the National Championship in 2005, Joydeep Karmakar has been a potential world-beater. Not only in setting records but the shooter has also defeated the Indian shooting's poster boy, Abhinav Bindra. His biggest shot so far has been the silver medal at the ISSF World Cup where he failed to hit the world record and the gold to a whisker.
PERSONAL LIFE:
Joydeep Karmakar was born on 07 September 1979 in Kolkata, West Bengal, India. He was born to Santo Karmakar and Gayatri Karmakar. His father is a former National swimmer champion. At the age of 6, Joydeep has gifted a toy gun from his uncle. His uncle was an astrologer by hobby & he predicted that Joydeep will become a surgeon or a marksman. His uncle bought him a toy air gun & it was a hi-tech expensive one. Joydeep remotely controlled his target with his toy gun. The accuracy Joydeep shot with, helped him realize his hidden shooting talent. His talent fascinated everyone. At a tender age of 10, his neighbour suggested his parents enroll him in a shooting academy for professional training. He became serious about the sport when he was 14. In 1994, he became a National Record holder in Junior Championships with a silver medal. After this achievement, his parents struggled a lot to fulfil his sporting needs. They even couldn't buy him a rifle. Those were really long struggling years. Joydeep once thought to sell his kidney to own a rifle but then he built himself into a national champion with a borrowed rifle. But many people helped him as he was from a humble family. As an athlete, his journey was not an easy one. The hurdles were more than his achievements. There had been times when he had borrowed money before his competitions. His friends told him to take a loan as the sport is also part of education. Joydeep even stopped training and planned to quit. But then he got a job in the railways & things started changing. In 2003, he bought his first gun with a loan & some sponsorship. At 23 years of age, he had his own rifle.
His coach who was from Orissa was an expert in shooting. He was an old man with an old fashion mind. His coach asked him to leave if his father was not rich. The shooter took it as a challenge and from then he started his shooting journey. Within 4 years he became a National Champion.
He set up a Shooting Academy in Kolkata namely Joydeep Karmakar Shooting Academy in New Town region in Kolkata, where he along with many other International shooters train newcomers to the world of Rifle Shooting.
When Joydeep started his academy, he bought a rifle for every student from his own finance. This turned out to be his biggest achievement. Not only the number of well-wishers increased but they came forward to support & help him.
PROFESSIONAL LIFE:
In 1994, Joydeep Karmakar became a Junior National Champion in his very first Nationals. He successfully qualified to represent India at the Summer Olympics 2012 in the Men's 50-meter rifle prone discipline. His career-best world rank is 4 (Asia No. 1). He was qualified for the finals of the Men's 50 meters Rifle Prone event with a total score of 595.
In 2010, He had also competed at the ISSF World Cup held at Sydney & earned a silver medal along with an Asian Record score of 599/600. Joydeep is still the only Indian to have a silver medal in the World Cup in Prone discipline. Joydeep's national record scores of 594/600, 595, 598 & 599 from 2005 to 2012 was impressive as he has only improved his own record. Apart from his 50 National Medals, he also earned SAF double Gold, Individual Australian Open Cup, and Commonwealth Championships Pairs Gold.
AWARDS:
Arjuna Award for Shooting in 2012
ACHIEVEMENTS
| | | | |
| --- | --- | --- | --- |
| RANK | EVENT | YEAR | CITY |
| 4 | Olympic Games | 2012 | London |
| 8 | WCF | 2010 | Munich |
| 2 | WC | 2010 | Sydney |
| 26 | WC | 2012 | Milan |
| 30 | WC | 2010 | Beijing |
| 33 | WC | 2012 | Munich |
| 34 | WC | 2011 | Changwon |
| 35 | WC | 2011 | Munich |
| 36 | WC | 2010 | Fort Beginning |
| 40 | WC | 2011 | Sydney |
| 47 | WC | 2006 | Resende |
| 64 | WC | 2010 | Belgrade |
| 69 | WC | 2014 | Munich |
| 10 | ASG | 2014 | Incheon |
PERSONAL INFORMATION:
Name: Joydeep Karmakar
Nickname: Joydeep Karmakar
Sport: Rifle Shooting
Events: 50 rifle prone
Club: North Calcutta Rifle Club
Country: India
Father's name: Santo Karmakar
Mother's name: Gayatri Karmakar
Wife's name: Radhica Karmakar
Son: Adriyan Karmakar
Coach: Sunny Thomas
Handedness: Right
Master Eye: Right
Height: 177 cm (5' 69")
Weight: 73 kg (160 lbs)
Eye colour: Black
Hair colour: Black
Date of birth: 07 September 1979
Age: 40
Birthplace: Kolkata, West Bengal, India
Zodiac sign: Virgo
Nationality: Indian
Hometown: Kolkata
Religion: Hindu
CONTROVERSY: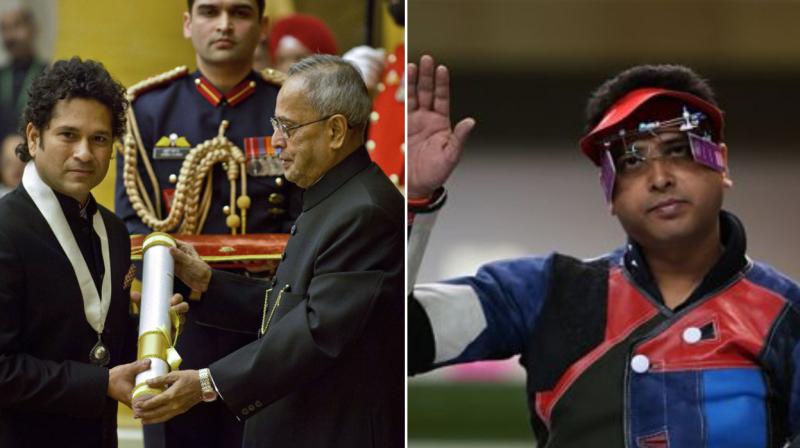 Apart from her glorious performances and achievements, a controversy erupted on social media when Joydeep Karmakar, posted tweet directly taunting master blaster, Sachin Tendulkar on his Bharat Ratna award. In his tweet, Joydeep took a taunting dig at the former Indian cricketer by pointing out his incorrect grammar in a distasteful way. Following his distasteful tweet, Joydeep faced a backlash on social media.
NET WORTH:
The primary net worth and income of Joydeep Karmakar comes from his shooting academy named, Joydeep Karmakar Shooting Academy and also his sporting profession. His aggregated net worth is unknown.
SOCIAL MEDIA HANDLES:
FACEBOOK- https://www.facebook.com/joydeep.karmakar.9
INSTAGRAM- https://www.instagram.com/joydeep_karmakar_official/
TWITTER- https://twitter.com/joydeep709