Sharmila Nicollet is a rising Indo professional golfer. She started playing golf out of fun in her childhood days but turned out to become an exceptional golf player in India.
EARLY LIFE
Bangalore born started playing in her early days. As a child, Nicollet never thought that she would one represent India. She has received full support from her parents. She played as a professional player at the age of 18. The athlete not only is appreciated for her stunning performances but her glamour is also greatly praised. She is also a former champion in sub-junior swimming at the national level.
PERSONAL LIFE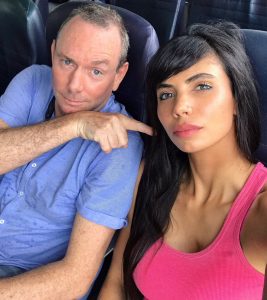 Sharmila was born on 12 March 1991 in Bangalore, India. The golfer's father, Marc Nicollet, is a software professional. Her mother, Surekha Nicollet, is a perfumist who runs Padmi Aroma Ltd, Bangalore.
Sharmila has completed her schooling from Bishop Cotton Girls' School & did her 10th and 12th class from Bangalore International School.
She did her graduation from a private college in Bangalore.
In 2002, Nicollet proceeded towards golf when she was 11. The golfer won her first tournament when she was 15. Sharmila is also a former national Sub-Junior Swimming champion by earning more than 70 gold medals, silver medals earned at the state level and also aquatic meet.
In her school, Bishop Cotton Girls School, Nicollet was a state-level athlete.
PROFESSIONAL LIFE
Nicollet's cousins played golf & they introduced her to the sport. But the young Sharmila initially started playing as a fun thing but with time she developed more interest in the sport. Soon her interest turned into a plan to develop her career in the sport. Nicollet denied major scholarships from United States University to chase her ambition of becoming an exceptional golfer.
The glamorous golfer represented her nation, India, at the 2006 Asian Games in Doha and also at Asia Pacific Junior Golf Tournament. She has participated in numerous international tournaments including the Callaway World Junior Amateur Championship in Sandiego, USA, Malaysian Open & the Queen Sirikit Cup in Japan. She was declared as number one girl junior golfer in India (2005-2006), Open Ladies Amateur Golfer (2007-2008) & Top Girl Junior. Nicollest was the youngest Lady Golfer to has a victory in the All India Amateur Championship (2007- 2008).
In 2009, Nicollet joined the Women's Golf Association of India. At WGAI, Sharmila developed into a professional golfer that helped to win at WGAI & international competitions. In 2009, Nicollet achieved two victories and top 10 finishes at the Thai LPGA event which was held in Bangkok. In 2010, Sharmila grew more in her professional life. She won the 2009-2010 Order of Merit & also five other major events. She showcased an awesome performance & finished the top Indian golfer at T23 at Heron Honda Women's Indian Open.
In 2010-2011, she also got international exposure through participating in the Ladies Asian Tour events in China, Indonesia, and Thailand.
In 2012, Nicollet was the youngest golfer who successfully qualified for the Ladies European Tour with a full tour card.
AWARDS
Lady Golfer of the Year, 2007
Player of the Year, 2010
ACHIEVEMENTS
2007-2008: Sharmila Nicollet won the All India Ladies Amateur Championship and created history by becoming the youngest lady golfer winner.
2009: Sharmila Nicollet became the youngest Indian golfer to qualify for the Ladies European Tour
2012: Sharmila Nicollet became the second Indian who earned a full card at the Ladies European Tour
2012: Sharmila Nicollet won Hero-KGA tournament
2015: Sharmila Nicollet earned Hero-WPGT tournament
PERSONAL INFORMATION
Name: Sharmila Nicollet
Nickname: Sharmila Nicollet
Sport: Golf
Events- Golf
Father's name: Marc Nicollet
Mother's name: Surekha Nicollet
Height: 1.81 m(5 ft 11 in)
Weight: 60 kg (132. 28 lbs)
Eye colour: black
Hair colour: black
Date of birth: 12 March 1991
Age: 28 years
Birth place: Bangalore, India
Zodiac sign: Pisces
Nationality: Indian
Hometown: Bangalore
Religion: Not Updated
CONTROVERSY
Indian athlete, Sharmila Nicollet, has always made headlines for her performances at various golf events. Otherwise, the golfer has been dragged into any such unnecessary controversy.
NET WORTH OF SHARMILA NICOLLET
Apart from golf, she also earns from modeling. The estimated net worth of Sharmila Nicollet is Rs 2, 00,000.
SOCIAL MEDIA HANDLES OF SHARMILA NICOLLET
FACEBOOK- https://www.facebook.com/SharmilaNicollet/
INSTAGRAM- https://www.instagram.com/sharmilanicollet/?hl=en
TWITTER- https://twitter.com/MissNicollet?ref_src=twsrc%5Egoogle%7Ctwcamp%5Eserp%7Ctwgr%5Eauthor