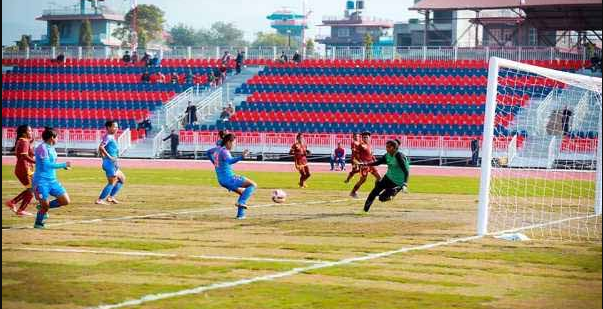 The Indian Women's football team stayed on the course of their South Asian Games title defense and booked their spot in the final of the ongoing South Asian Games 2019 with a narrow 1-0 victory against hosts Nepal in their final league game. Bala Devi was the lone scorer at the Pokhara Stadium on Saturday to help India claim the top spot in the round-robin stage.
The match was played in front of full house home crowd in Pokhara but the Blue Tigresses were unmoved by the crowd roar as they looked the better side of the two teams.
India started the match in an attacking fashion and was very close to taking the lead just 10 minutes into the game through Ratanbala Devi. However, Ratanbala's shot from a close range went wide.
Just eight minutes later Maymol Rocky's girls had their second chance and this time Bala Devi made no mistake as she successfully headed a corner from Dangmai Grace past Nepalese goalie to help India take a 1-0 lead. The hosts immediately looked to equalize but Indian custodian Aditi Chauhan stood tall in goal and made a fine save against a shot from inside the penalty area.
Indian eves then continued to threaten the opposition with some great dribbling skills. The Indian side almost doubled its lead when Bal;a Devi was up to the task again in the 41st minute but her shot in a one-on-one situation was fended off by the Nepal keeper. India went into the half time with the score reading 1-0 in their favor.
In the second half, the hosts looked determined to find and equalizer but the Indian defenders kept them in check and helped India to hold on to their 1-0 lead. The home side looked to threaten from set-piece positions. However, the backline led by Ashalata Devi remained rock-solid and closed out the game comfortably.
The win means that Maymol Rocky's girls will continue their perfect run in the tournament. The Indian team has registered 5-0 and 6-0 wins over the Maldives and Sri Lanka respectively on the road to the final.
India and Nepal will be seen in action once again fighting for the yellow medal at the same venue on December 9.