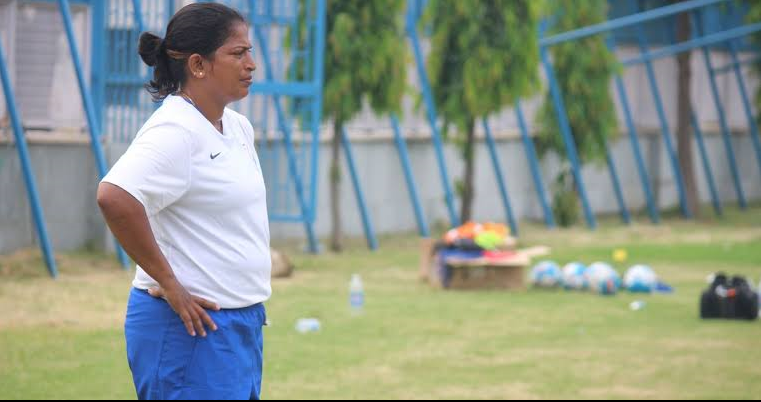 India Women's National Team will kick off their South Asian Games title defense when they take the field on December 3 against the Maldives. Head Coach Maymol Rocky radiated confidence ahead of the opening game and believes that the girls will put the right foot forward against the Maldives.
Women's football has featured in the two previous editions of the South Asian Games, in 2010 and 2016, and the Indian eves have managed to take the top spot by winning the gold medal on both occasions. The Indian team, who were sweating in Kolkata for over a week, flew down to Nepal on Sunday.
Speaking ahead of the team's take-off, the head coach said that the team will be aiming to continue its dominance in the South Asian Games. She said that the team which is going in the tournament as the defending champions is hungry to win the South Asian Games gold again this year. She added that the girls are prepared for the title defense as they have trained hard all year round, and have played many international matches against higher-ranked opponents.
The year 2019 has been a fruitful year for the Indian Women's Team. Maymol Rocky's girls have won the 2019 SAFF Women's Championship, finished third behind Spain U-19 and Villarreal Women in the 2019 COTIF Cup, and got better results against higher-ranked opponents like Uzbekistan and Vietnam.
Maymol insisted that these regular camps and matches against tough opponents like Uzbekistan, Vietnam and Spain u-19 has given the team a lot of confidence. She added that the team now never shies away from facing difficult teams.
Finally, the former International footballer concluded that playing matches on the road has given them the confidence to play higher-ranked teams. She also said that the girls give their 100 percent and this proves that they work hard, and are on the right path.
The Indian women's team will face the Maldives on 3rd December followed by matches against Sri Lanka and hosts Nepal on December 5th and 7th respectively.