Indian men's and women's volleyball teams successfully defended their South Asian games gold medals after winning their respective final matches at Kathmandu, Nepal. The men's team defeated arch rivals Pakistan to clinch the gold medal while the women's team overcame a tough fight from hosts Nepal to clinch the top honors.
First, it was the men's team who were up against Pakistan at the Dashrath Stadium in Tripureshwar, Kathmandu. India who looked confident before the game were shocked by Pakistan in the opening game 20-25. However, the Indian team did not lose their heart and made a strong comeback in the second game. The Indian made a roaring comeback to won back-to-back two games by 25-15 and 25-17. In the final game both the teams had a neck to neck contest but India players kept their composure and clinched the final set 29-27 to triumph over Pakistan with a total score of 3-1 to finish with a gold medal.
India was followed by Nepal and Sri Lanka who took the silver and bronze respectively in the men's volleyball event.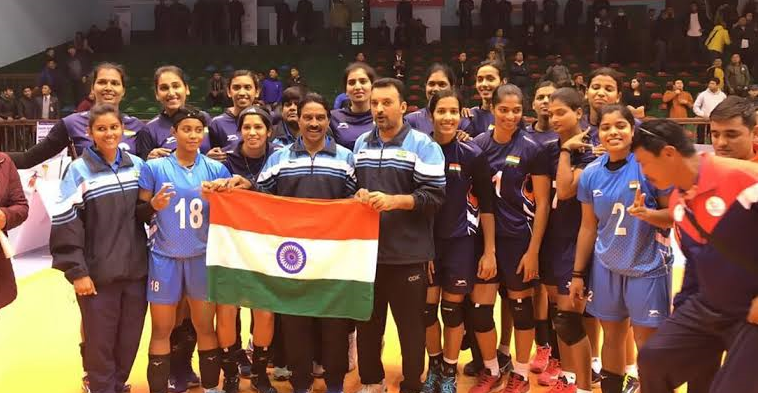 Later, in the day the women's volleyball finals saw defending champions India had to overcome a stiff challenge from the hosts to defend their title. The Indian eves were quick to take the lead as they won the first set 25-17. The hosts made a strong comeback and tension was clearly visible on the Indian coach as Nepal won the second and third set back-to-back, 23-25 and 21-25. With victory within their reach, Nepal faltered and thus allowed India to crawl back into the contest.
India eves put an end to Nepal's fight by winning the fourth set 25-20 and from there on it became a cakewalk for the Indian team as it felt the hosts did not put a fight in the deciding set. India pipped Nepal 25-6 in the final set to bite gold defeating the hosts with a score of 3-2.