Deepa Malik | Introduction
Life can be a great teacher at times. We learn so many things from her, we gain experience, find happiness. Quite often life can be a bit harsh on us too, but it is her way of giving us lessons, making us stronger. But what if life is outright cruel on you? What do you do? What would you do if life cripples you, brings you down and leaves to staring at a future without hopes and dreams? What would you do? What would the average person do? One could succumb to the shock arising from the situation, one could accept defeat and lead a life of compromises. However, once in a while, life comes across a free spirit who refuses to bow down to the harsh cruelties of reality.
Once in a while, life encounters a soul who refuses to break down, even under intense hardship. Someone who doesn't just makes lemonades out of lemons thrown at them, but also puts in a healthy mixture of flavors of their own. These people are blessed with so much inner strength that life itself accepts defeats and bends to suit their needs. These Champions then go on to excel in whatever path they chose and become an inspiration to the human race.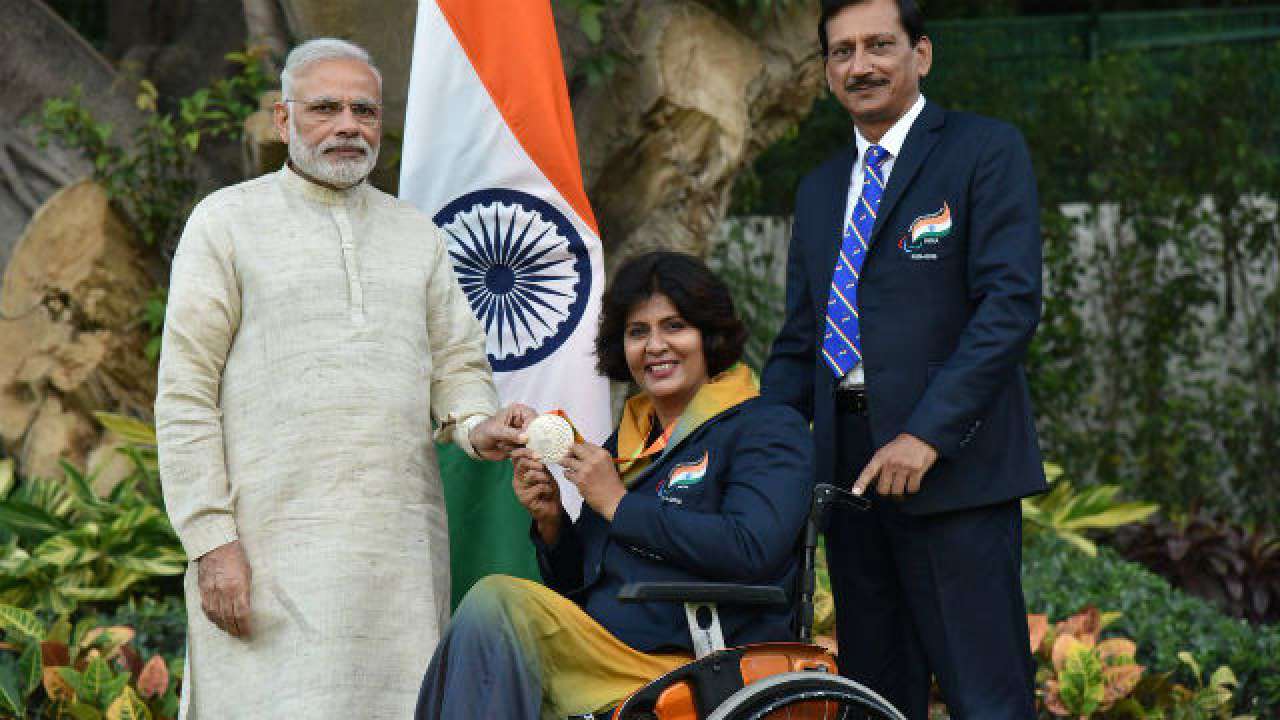 The modern sporting world has quite a few of such inspirational figures, and one of them is Deepa Malik, India's golden girl who became the first Indian woman to have a podium finish in the Paralympic Games. Her journey, though, was full of hardship and struggle and this is her story.
Early Life of Deepa Malik
Deepa Malik was born on 30th September 1970 in Bhainswal, a small village in the Sonepat District of Haryana. Her father, Colonel B. K. Nagpal was in the army, so Deepa was brought up under strict discipline. However, there were a few concerns during her childhood, as she was prone to paralytic shocks from the age of 8. Even though her family was extremely concerned, young Deepa was hardly affected, as she completed her schooling from Kendriya Vidyalaya, Fort Willam, Kolkata, and her college education from Sophia College, Ajmer. She grew up with an inclination towards sports and bikes. In fact, it was their passion for bikes that brought Deepa and her husband, Colonel Bikram Singh, together.
Deepa later revealed in an interview that the couple had first met each other in a park, a place where both of them would go for sprinting and daily exercises. One day, Bikram brought a motorbike along with him and Deepa could not resist the urge to ride the motorbike. She directly asked the shocked boy for the keys and went for a spin. Realizing her passion for biking, Bikram actually used a bike to ask her hand for marriage. Deepa was just 20 years old at that time but agreed to his proposal. The two of them got married on 27th June 1989.
It was a match made in heaven, and the two of them were happily married together. They even had two daughters, who added to their joy, but tragedy struck the family soon.
Choosing between a life of Paralysis and an easy death
Deepa was just 26 years old when life threw a lightning bolt on her. She was diagnosed with a spinal tumor, a life-threatening situation that needed immediate attention. Deepa was informed that it was a choice between a life of paralysis and easy death, and the lady chose life. And thus began her struggle.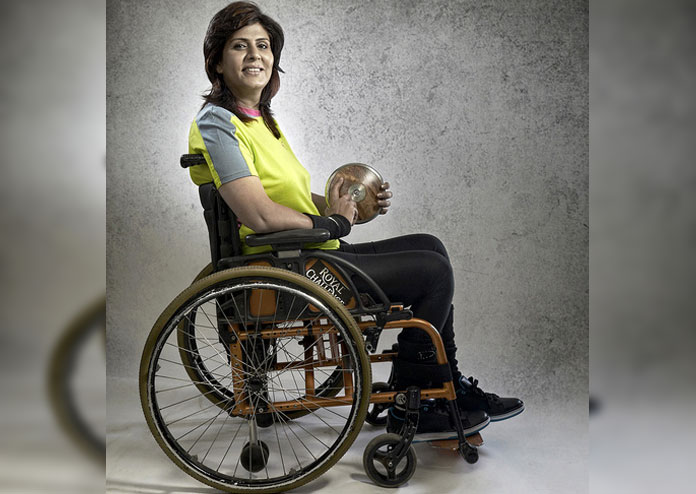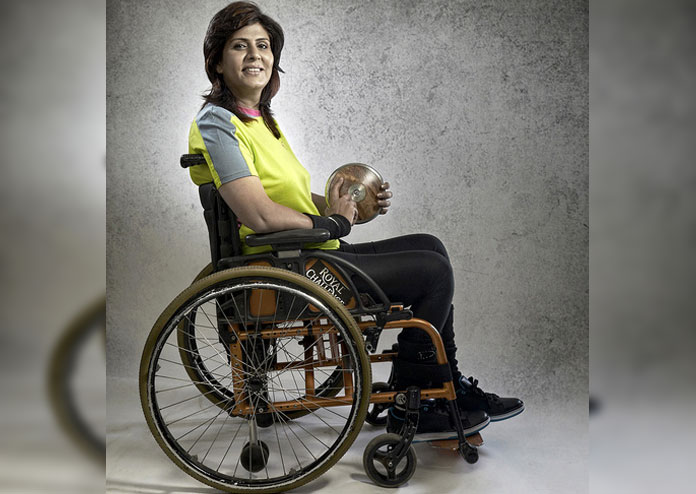 She had to undergo 3 surgeries and had 183 stitches in her body. She had 7 broken vertebrae and had to undergo numerous MRI scans. On the way to her final surgery, doctors informed her that she would be permanently paralyzed from the waist down. It was a heartbreaking moment for the bubbly lady, who had embraced sports all her life. Her husband was away at that time, fighting the Kargil war. It is said that she informed him of the news over the phone. As she sobbed softly over the line, Bikram Singh comforted her and promised her that he would carry her in his arms all his life.
When going through a tough phase in life, perhaps the greatest strength comes from the people closest in our lives. For Deepa, that strength came from Bikram, from his undying love and from the love of her daughters and father. Deepa found a new lease of life and charged at the hurdle with renewed vigor. She was not ready to give up on life just yet. Doctors had told her that she would never walk again, but Deepa was preparing herself for a life that would see her sail like a free bird on the northern breeze.
Deepa Malik's second phase of life
Deepa ventured into a catering business and successfully continued it for 7 years before she found her calling. She was so inspirational despite her hardship that the Maharashtra government awarded her the Swawlamban Award in recognition of her achievements, in 2006. However, at the age of 36, Deepa suddenly had a change of heart.
Despite her paralysis, Deepa was still very much a sportsperson at heart. She had lived a life of excitement before disability had temporarily slowed her down. Years later, she suddenly found herself on the crossroads again. She had a wonderful catering business going on in full swing, but Deepa yearned for more, she longed to feel the thrills of sports again. At 36 years old, when most people think of taking a breather and lower the pace of their lives, Deepa Malik decided to venture into sports with the enthusiasm of a teenager.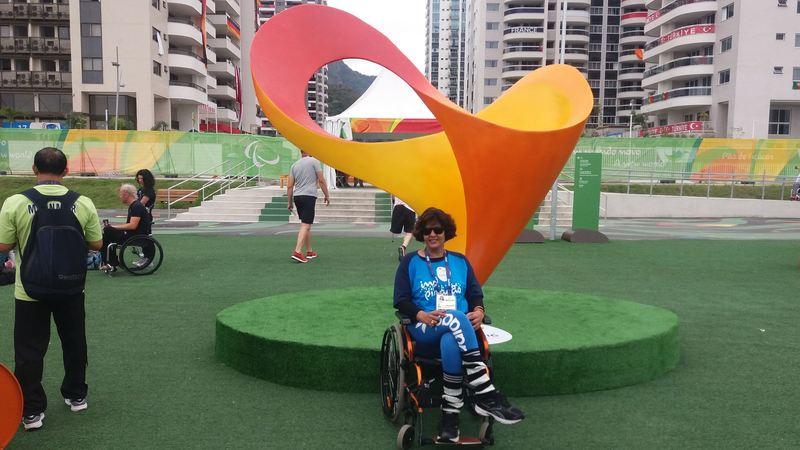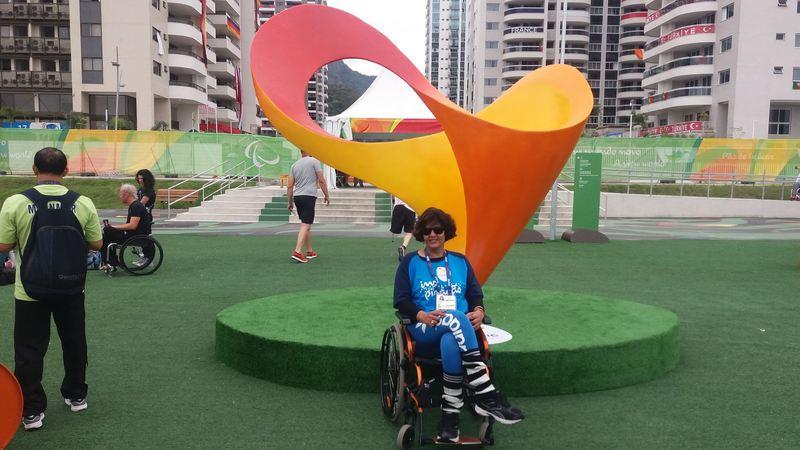 She knew that it was not going to be an easy road, especially since she was paralyzed from the waist down. Deepa discussed her desires with her husband and was overwhelmed by the same enthusiastic response that had made their marriage so successful. Bikram was immediately on board and the plans were in place to fulfill her dreams.
Javelin, Shot Put and Swimming in the Yamuna
In 2006, Deepa started her second outing into sports by throwing the javelin. She was quite good at it and a resolve to get better urged her to keep on practicing. Deepa did just that and soon added shot put to her skill set as well. She had also been a swimming enthusiast from quite some time and regularly hit the waters to stay in shape.
Deepa first came to the fore by finishing second in the S-5 Swimming backstroke, at the last edition of the FESPIC Games, Kuala Lumpur in 2006. The Far East and South Pacific Games for the Disabled was first held in 1975 and were a prestigious event for the para-athletes. Deepa's win brought her fame and also gave her the courage to keep going.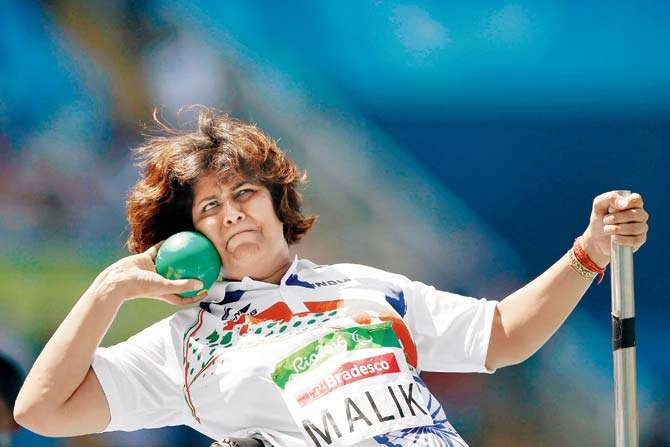 She next earned a diploma position in the International Wheelchair and Amputee Sports (IWAS) World Games held in Taiwan in 2007, contesting in the Javelin F53 Women category. This was followed by an impressive 10th position in S-5 swimming backstroke in the World Open Swimming Championship held at Berlin in 2008. In the same year, she was awarded the Haryana Karambhoomi Award.
It was also in 2008 that Deepa inducted her name in the Limca Book of records by swimming against the tide in the Yamuna for 1 km in Allahabad. For a lady whom doctors had not given any hopes, life had taken an exciting turn and more ecstasy was to follow.
Raid-de-Himalaya
Deepa Malik disability had failed to diminish her craze for motorbikes and in 2009, Deepa took a decision that would change her outlook towards life forever. She took part in the Raid-de-Himalaya bike tour, riding a special bike modified to suit her needs.
Raid de Himalaya was motorsport that was first started in the year 1999 and has gone from strength to strength since then. In 2009 Deepa endured tremendous hardship to complete a 1700 km trip in 8 days, through treacherous terrains and mind-numbing temperatures in the Himalayas. For Deepa, it was another opportunity to embrace life regardless of her disability. It was a feat that earned her a name in the Limca Book of Records once again.
Deepa Malik returned from the trip, more determined than ever to succeed and to touch greater heights in the sporting arena. In the same year, Deepa Malik won the shot put the bronze medal in the International Wheelchair and Amputee Sports (IWAS) World Games held in India.
Deepa Malik | Winning the Arjuna Award
Deepa Malik continued her strong performances in the next few years. Deepa Malik Malik swept the CP Sports held at Nottingham, England in 2010, winning three gold medals in Shot put, Javelin and Discus. This was followed by a bronze medal in the 2010 Para Asian Games held at China. Deepa Malik created history thereby becoming the first Indian Para-athlete to win a medal in the Para Asian Games. Deepa Malik then lit up the IPC World Athletics Championship held at Christchurch in 2011, where Deepa Malik won the silver medal in Shot put.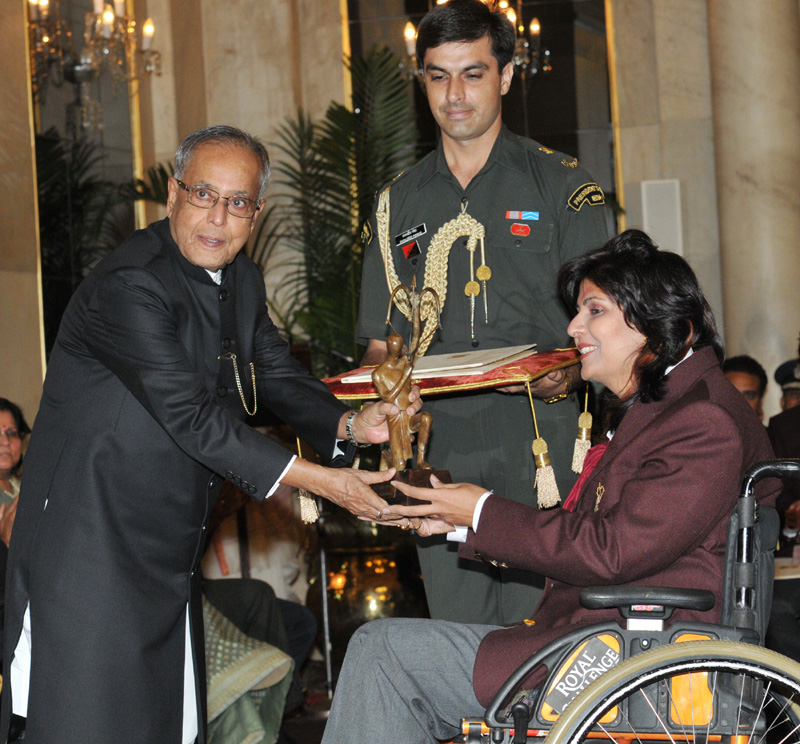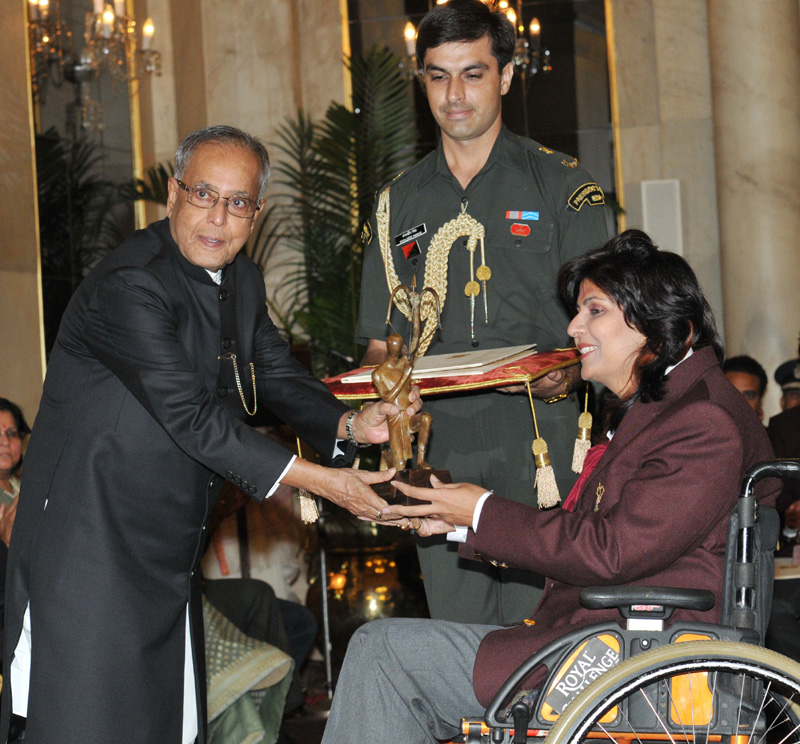 Deepa Malik continued her good form in the International Wheelchair and Amputee Sports (IWAS) World Games in the same year, held at Sharjah, by winning two bronze medals and creating two Asian records. Next on the cards was the First Malaysian Open Athletics Championship held in 2012. Deepa Malik enjoyed a brilliant run in the tournament, winning a gold medal each in Javelin and Discuss. In the process, Deepa Malik registered a new Asian record in Javelin and was felicitated by the great Milkha Singh and P. T. Usha.
In 2012, Deepa Malik won the Arjuna Award in recognition of her excellent service to sports in India. It was a great moment for a lady whose spirit and refusal to be defeated had already made her a role model to millions in the country.
Paralympic Games 2016
Deepa Malik had prepared herself to take part in the Paralympic Games held at London in 2012, but for various reasons, she could not take part in the tournament. Instead of culturing disappointment, Deepa Malik used it as an inspiration to keep her motivated. Deepa Malik put in more hours into her training, getting up early in the morning and training for more than 7 hours per day to sharpen her skills.
In the meanwhile, she kept competing in tournaments worldwide and continued to be successful. Most notably, she won the gold in Shot put, in the 2014 IPC 2nd China Open Athletics Championship, held at Beijing. In the same year, she won a silver medal in the Asian Para Games, in Javelin. Taking note of her achievements, Deepa Malik was awarded the President's Role Model Award in 2014.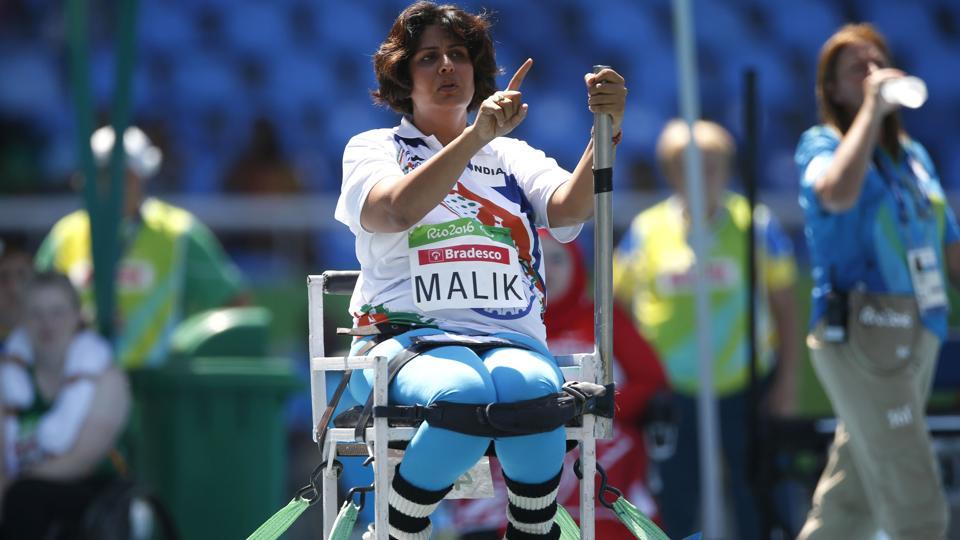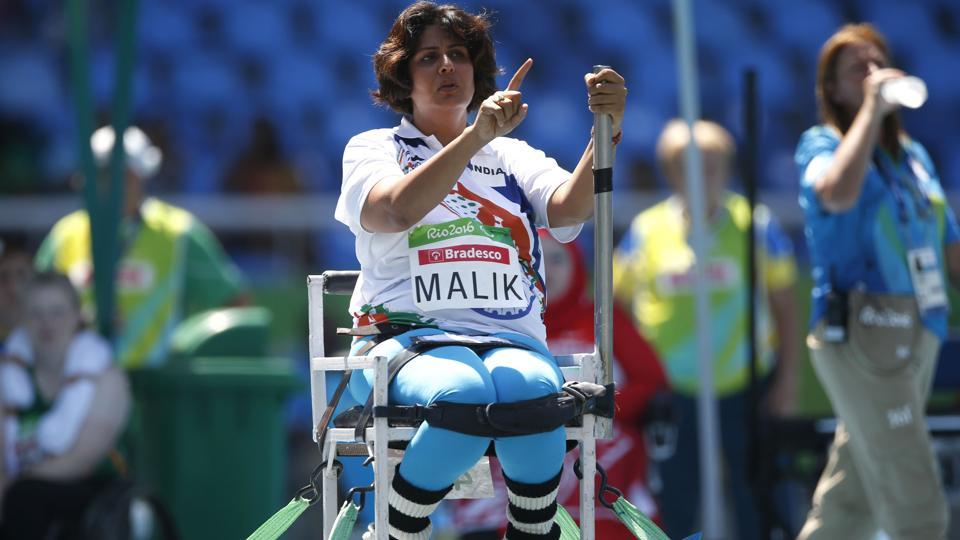 The IPC Oceania Asian Championship, held at Dubai in 2016 also turned out to be successful, as Deepa won gold in Javelin and silver in Shot put. However, all of this was the build-up to the big one, the Paralympic Games of 2016, held at Rio.
All of Deepa Malik's hard work was for this mega event and Deepa Malik did not disappoint either. Riding on the wave of expectations of her country, Deepa won the Silver in Shot put. In the process, Deepa Malik became the first Indian Woman ever to win a medal in Paralympic Games. It was a historic moment for the Golden Lady of India. From being told that Deepa Malik would never walk to being crowned a silver medalist in the Paralympic Games, her journey had been the perfect example for young athletes to learn from.
Deepa Malik | Winning the Padma Shri
Deepa's podium finish at the Paralympic Games in Rio ushered India to great heights in the world of athletics. It installed an impressive image of the country and Deepa's contribution did not go unnoticed. Deepa Malik had excelled not just in sports, but in other phases of life as well. Deepa Malik had developed into a fantastic motivational speaker, she worked diligently for the improvement of the life of disabled sportsmen in the country. All of those culminated into a recognition that she truly deserved. In 2017, Deepa Malik was awarded the Padma Shri, the fourth highest civilian award in India.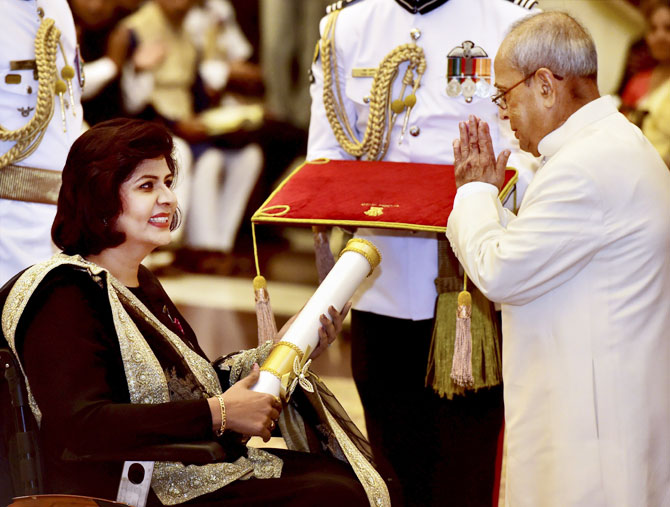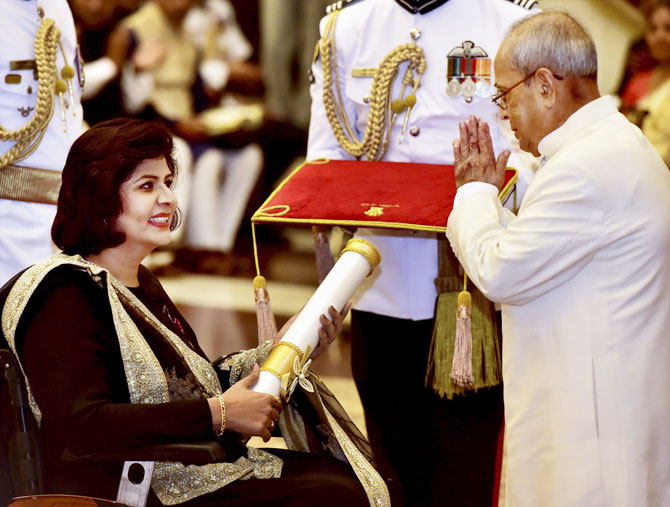 Like a truly Champions, Deepa did not stop after winning the honor. She continued her pursuit of excellence and won two bronze medals in the Asian Para Games in 2018, held in Jakarta.
A Real-Life Inspiration
Deepa Malik has been on a wheelchair since 1999. People who think that Deepa Malik is disabled must remember that Deepa has seen more of the world than most of us combined. Deepa Malik has competed in events in the far corners of the globe and has won accolades in foreign countries. Deepa Malik has brought honor to her country in far off lands. How can someone like her be a disabled person?
Deepa Malik has shown to the world that our disabilities are limited to our minds alone. If we strive to achieve something with all our hearts, there's no dream big enough and nothing impossible in the world. Deepa Malik has been a living example of the true spirit of life. Despite the fact that Deepa Malik started her sporting career at the age of 36 and from a wheelchair, Deepa has won 51 Gold. 5 Silver and 2 Bronze medals in the National and State level competitions. Deepa Malik also has 23 International Medals to her name and has created countless records too.
Deepa Malik journey continues to this day and she has shown no signs of stopping any time soon. For the lady who refused to bow down to death and disability, the sky truly is the limit.