An San Biography: A sport which requires skill, determination, patience, and practice, Archery is played at the International level and if there is one nation which has gained the maximum fruits in the sport, it's unarguably South Korea.
South Koreans have a rich history in archery, given the fact that they have bagged 39 Olympic medals in archery of which 23 are gold. The nation continues to produce young talents in the sport and one archer who has been making waves lately is Korean archer, An San.
An San is an 18-year old player who represents the Republic of Korea at archery.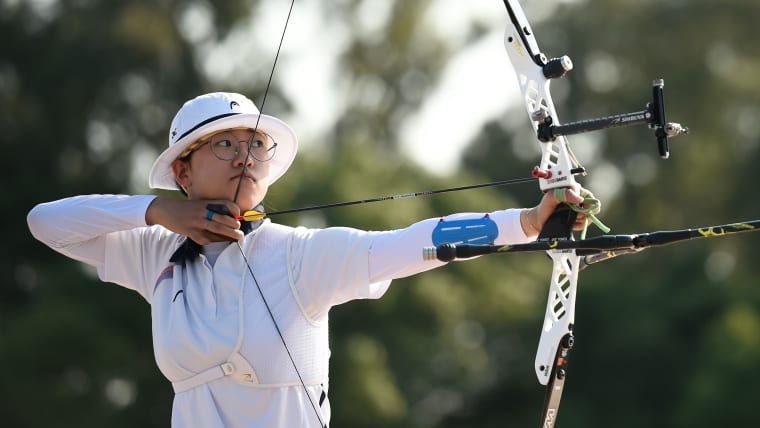 An San Personal Information
Name: An San
Age: 18
World ranking: 8
Match wins: 10
Win percentage: 83%
Average arrow: 9.27
An San Professional Experience
An San Finished Second at 2017 World Archery Youth Championships:
Korean archer, An San came into limelight after bagging silver in the mixed team event at the 2017 World Archery Youth Championships. Interestingly, it was only her first International assignment of her career.
An San Won her First Gold Medal at Hyundai Archery World Cup 2019:
Archer, An San defeated her teammate Jeon Ina in the fourth stage at 2019 Hyundai Archery World Cup 2019 to win her first International gold and thereby booking a place in the final at Mascow, organised between 6 and 7th September.
She showcased a stellar performance, finishing with 29, 29, and a perfect 30 points, beating Jeon Ina 27.6 average.
"It was so good and I am happy that I finished with gold at my first international match. Especially finishing so well," said An. "I am so lucky. I will go to Russia for the first time. I hope to do well." She said after the match.
An San Beat Deepika Kumari in the Final At Tokyo 2020 Olympic Test Event:
Korea's An San beat Deepika Kumari in straight set, 6-0, in the finals to bag the women's gold medal at the Tokyo Olympic Test event.
"At this moment, I'm not sure to make the national team for the Olympics next year. But I'm happy to have shot here," said An San.
"I think there is some pressure on the Korean team [for the Games next year]. But I will try hard so I can stand in the same place." Korean archer said post the victory.
"Hopefully, I will do my best for the days that are left for the Olympic Games and be here again at this venue, for the gold medal." She added.