World Cup 2019 Predictions
So, it is 2019, and cricket fans are gearing up for the most important World Cup in England. There are so many predictions and opinions from fans and experts of discussion in who is going to play final and who is going to win the world cup. Most of the experts predict an India vs England final, some predict an England win, some predicts an Indian win. Some come out of the box to predict west indies might shock the world by lifting their third trophy after 43 years. World Cup 2019 is here and the most prestigious event set to begin on May 30th in the land of British. Every team is coming out with their best squads in a dream to win the world cup.
What makes this world cup unique? It is the 10- team factor which makes all teams dream for the trophy. This format gives every team an extra chance to try again and win the world cup. Usually, if a team loses one or two games in the group stage, they get eliminated in the very first round, this time around each team will play 9 games in the group stage which make steam little more comfortable. In today's column, let us discuss the teams which can qualify for Semifinal and final.
World Cup 2019 Predictions | England
England is the red-hot contender to reach the semi-final easily and let us see why:
Keep the test cricket apart from this discussion, England always had some legendary batsman and line up in test cricket. But for the past decade, their batting line ups in ODI cricket has never been up to the quality it needed. Except for one or two batsmen, England one day side has failed to perform as a team. 2010 T20 world cup was an exception as Kevin Pietersen heroics has guided them to the maiden title in an ICC event. But that is not the case for the past 3 years, ever since their first- round exit in 2015 world cup, England one day side has evolved into something really extraordinary. Even if they lose 4-5 wickets under 50 runs, this England side has the capacity to score over 250 runs in the end. The depth in the batting is tremendous.  This will make England one of the favorites to win the world cup 2019 at home.
Their All- Round Ability
Ben Stokes and Moeen Ali, this is not a batting line up, these both all-around cricketers will play in the main 11 of England world cup team which once again makes them mighty going into the world cup that too when it happens in their own backyard. All-rounder is always an asset for the team and the fact that they are also brilliant fielders are another added fuel to the already growing fire. If this side fire collectively, we don't think anything can stop them and they have every chance of getting emerged as the champion.
What is One Weakness They Have?
England side looks very mighty and each and every player in the squad is outstanding. But there is a weakness in their fast bowling line up. They don't have a mighty bowling line up like India or Australia. Their bowlers tend to leak runs at times which will hurt them in the crucial situations. Compare it with England's test team, James Anderson, Stuart Broad, Mark Wood makes it an invisible bowling line up and one of the most dangerous bowling line up in the world, but their one day bowling does not provide the same level of quality and best proof for it will be the recently concluded series in West Indies. One day series ended 2-2, which is actually dominated by west indies and England bowling has been took for smashing. Even the target 414 was almost chased by the West Indies. This series has actually made people think of their world cup contenders tag. The tag has actually taken a beating and we will have to wait and watch how the bowlers respond to it in world cup 2019, like everyone says, let their success do the talking.
Let us now have a look at Pakistan
World Cup 2019 Predictions | Pakistan
Another unpredictable side with a bowling attack which will be well suited in the England condition, their aggressive play will be the factor which might prove positive to them. For example, let us turn back the clock, their aggressive approach in defending a small target in the 2015 world cup quarterfinal against Australia has won hearts all over the world despite their loss in the game. They won the world cup in 1992 and finished as the finalist in 1999. Then they had the worst time in 2003 and 2007 world cups as they were eliminated in group stages in both the editions. 2011 was decent for them as they made to the semifinal where they lost to India and got eliminated in a decent manner.
What Will Help Them

?
A fire and aggressive bowling line up which suits the conditions in England and the form of their batsmen might prove them lucky and qualify for the World cup.
Their Worry
Their batting is the most inconsistent despite Babar Azam being in form. This will make the process difficult for them.  An event like the World Cup will need a good amount of consistency to win.
their inconsistency in batting makes it difficult for them to play in the final but they somehow rearrange their plans and reach to the semi-final of the world cup. There is a good chance for them to make it to the playoffs. But if their batting clicks, they will be able to shock the world even further. But a final is a rare chance for them this time around.
Let's have a look at India
World Cup 2019 Predictions | India
They are the only team in this column who have every damn chance of becoming the world champions in England. With world's best batsman Virat Kohli leading the team, India looks red hot contenders along with England to win the world cup 2019 and bring home the glory which every crazy cricket fans in India is expecting. As most of the column say, In India cricket is religion and it is the religion with the greatest number of people in it.
Their Advantage
Top order, middle order, finishers, these three sections look strong along with a best bowling line up which can trouble the opposition. They have almost all boxes ticked which make them a sure shot contender to win the world cup. The World Cup is prestigious and it is compulsory that every team should be at near perfect or sometimes beyond perfect.
Weakness
They have been little shaky off late in the middle order, that might hurt in crunch moments, they will have to sort it out soon. but their number 4 spot is being a worry for almost 8 years now and that is not going to work on their favor in crunch situation of the tournament.
Our Prediction on India
Who is going face India on July 14th at lords? Yes, we are as confident as that, who will play India in the final. Chak de India!! Let us hope that all the above points work out during world cup and our boys will be able to come out with flying colors and come back home with a world cup trophy for the third time. possible? Yes, it is possible, we have the team to do it and this time it will be more special as Dhoni will be playing his last world cup. The legend deserves another world cup to his career kitty.  
Let us have a look at South Africa in the World cup 2019
World Cup 2019 Predictions |
South Africa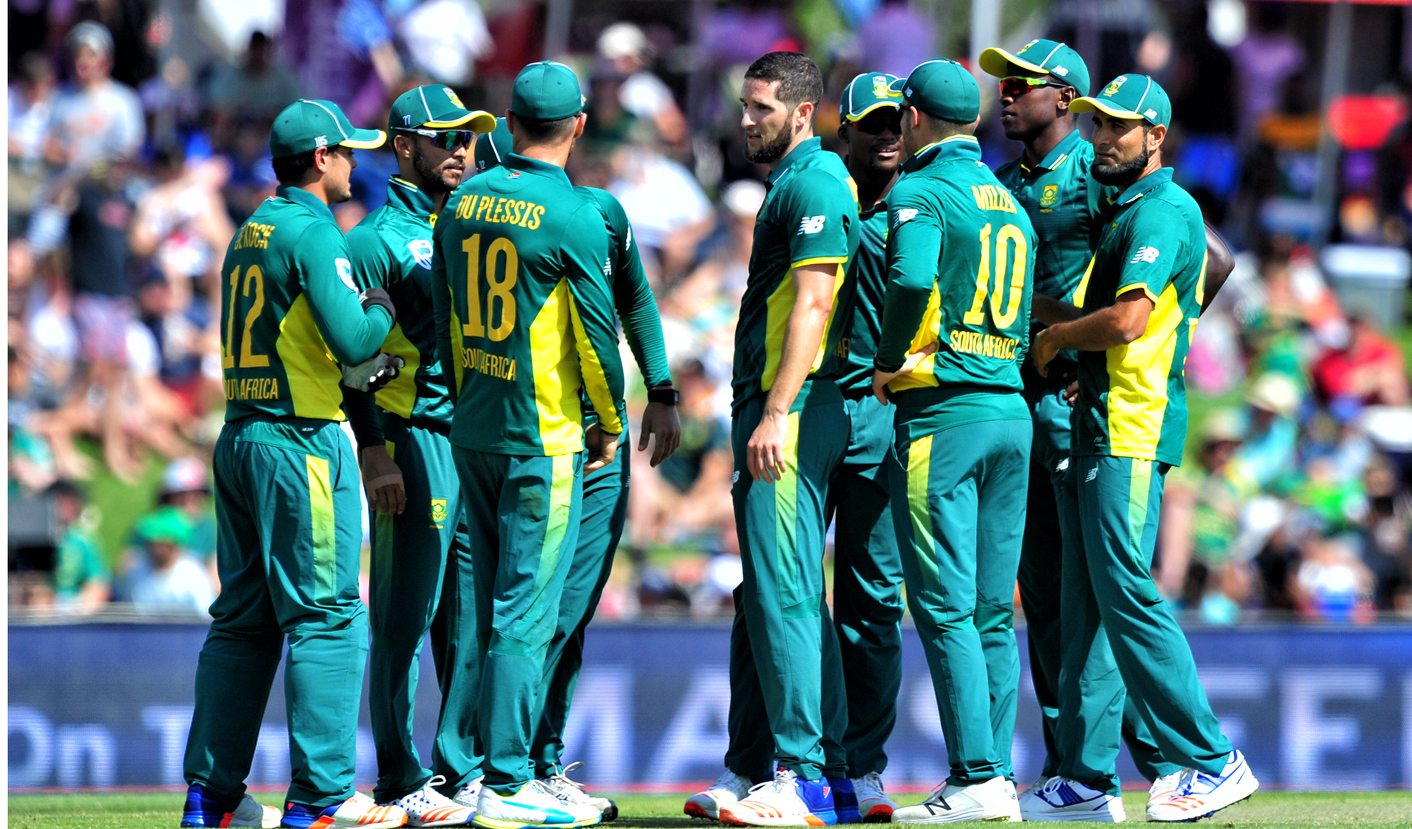 It is another world cup and another season of exciting cricket in the West Indies and this time around South Africa is playing well and looking good for the world cup.  They have all the chances to get qualified for the semi-final of the 2019 ICC cricket world cup in England. It is happening in England and if any team will have to qualify against Australia and that has to be South Africa. The games will be filled with the excitement of fans but fan support alone will not make you win the game. Nation South Africa will be expecting their first ever trophy back home. They recovered a lot in every game they played in previous editions but a target should be set this time around. Their aim should be is too high against the strongest batting line up of Any team as they have one of the best bowling lines up in the world.
They can play world cup like a cake walk and show the entire other teams an exit door and win the world cup and South Africa, where did they lose the previous world cups? When they bat first and setting up a target, they could have just played slowly for first 20 over and then could have boosted some runs. Even 250 could have proven too much in Semifinal in 2007 but getting bowled out under 150 did not help either. South Africa Had too many match winners but losing 5 wickets under 30 runs on the board was never going to help them. They lost both the games to Australia they played in that world cup and the second one came when it mattered the most. 2007 was one of the prettiest chances they missed in the world cup. Once again, they was back home without a world cup. Now from this memory, will they do it in England in 2019 edition? All the best proteas. Come on South Africa, Entire world will rejoice if this world is won by you.
Finalist – We predict India Vs England in the World Cup Final.
Every team as chance, but the fact is every team must perform to their potential every day because potential alone will not help.
Also Check:-