#1. Djokovic eased into the Quarter-finals for the 11th time
Four-time Wimbledon champion Novak Djokovic beat the 21-year-old Ugo Humbert to ease into the quarterfinals of the Wimbledon Championship this week on Monday. He crushed Humbert in three straight sets 6-3, 6-2, 6-3.
Djokovic was rock solid throughout the game, not committing any unforced error or casualties. Djokovic seemed to be in very good touch, whereas, Humbert found it hard to get his footing. He never seemed to be in control of his shots and serves.
Talking about the game after the match, Djokovic appreciated Humbert's efforts saying," I played against a very talented player today who made some big wins this tournament, and definitely has a potential to reach big heights in tennis because he's got quite an all-around game,"
The Serbian would face Belgium's 28-year old David Goffin who made it into his 3rd Grand slam quarter-final.
#2. Coco Gauff knocked out in the last 16 by Simona Halep
15-year-old Gauff, who rose to fame after beating former champion Venus Williams in the group stage, was beaten by Romania's Simona Halep. She lost in two straight sets 6-3, 6-3 that ended her fairytale run at the Championship.
Halep was clinical as she advanced into the quarterfinals and will now face China's Zhang Shuai. Gauff had been bidding to become the youngest Wimbledon quarter-finalist since fellow 15-year-old American Jennifer.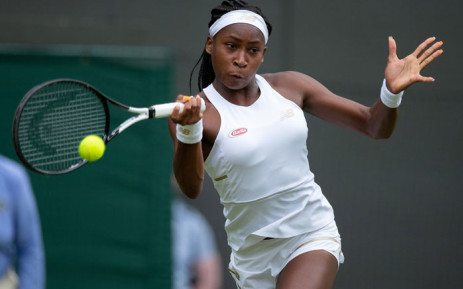 Though Gauff did try to stage a comeback Halep made sure that she didn't allow any room for it. After the game, Gauff quoted, "I wasn't feeling very well but I still played my best. I'm not sure what it was but I still had fun even though I was losing". She also said. "I learned a lot about how to play in front of a big crowd and how to play under pressure. I am really grateful for the experience.".
Unlike her calm and composed approach in the previous matches, Gauff looked rusty against Halep. Coco Gauff showed not a single sign of emotional breakdown as Halep eventually served out the set.
#3. Serena Williams – Andy Murray win the mixed doubles opener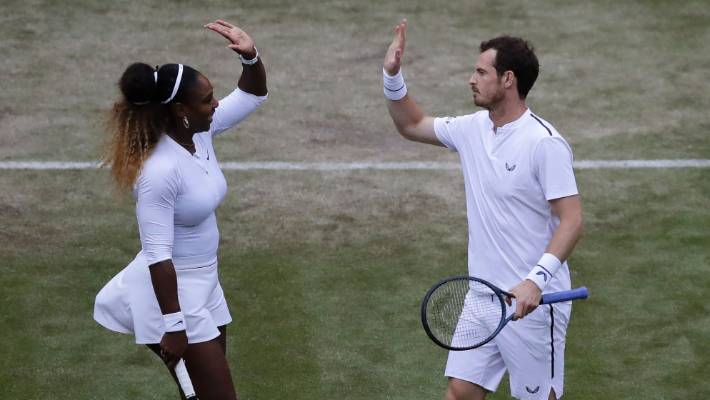 Serena Williams and Andy Murray had a terrific start to the mixed doubles as they started on the winning note. The high profile duo was greeted by a large crowd as they walked towards the court. The two former singles champions went on to beat Andreas Mies and Alexa Guarchi 6-4, 6-1 on the center court. For Murray, he was making a comeback as he had missed last year's tournament due to his hip i. As of now injury. As of now, he is only playing doubles games and not singles, It was their second match of the day each. Williams had already beaten Julia Georges 6-3, 6-4. Whereas, Murray and his duo Hugues Herbert lost in men's doubles.
Talking about playing together with Murray, Serena said, "It worked out well. We've never played together so it's always a learning curve.
#4. Serena Williams fined $10,000
Serena Williams was fined as much as $10,000 by the All England Club for damaging a court during her practice session. The report suggests that the damage was caused by her racket. This happened during the practice before the Wimbledon Tournament even started.
Not just Williams but Italy's Fabio Fognini was also fined because of his not so matured comment after a game he lost. Fabio was fined $3000 after his third-round loss when he said he wished a bomb would hit Wimbledon.
Australia's Nick Krygios was fined twice by the Wimbledon Authorities after his misconduct during the game which reflected his unsportsman ship nature. He was fined $3000 in the first round and another for the second round $5000. The Australian lost to Rafael Nadal in four sets in the second round.
#5. Roger Federer, Rafael Nadal advanced into the men's singles quarter-finals
Eight times champion Federer advanced into the quarter-finals for what seemed to be an easy win for him. He beat Matteo Barrettini 6-1, 6-2, 6-2 which just took him 73 minutes to achieve. For Federer, it was his 99th Wimbledon win after he crushed 17th seed Matteo Berrettini. It was probably one of his easiest win towards the road to the quarterfinals.
On the other hand, Nadal beat the Portuguese Joao Sousa 6-2, 6-2, 6-2 what seemed to be a totally a dominating performance. He has now made the quarter-finals of eight consecutive Grand Slam championships. It took him 105 minutes as he advanced to last eight for the 39th time. Nadal wasted no time putting pressure on the Portuguese, hitting an overhead that his opponent sliced into the net to break in the opening game of the match. After winning the game, Nadal also went on to appreciate his opponent's gameplay by saying "When he plays well, he can be very, very dangerous on all surfaces," Nadal said. "But of course, on fast surfaces, when he serves with his aggressive game, [he is] maybe more [dangerous]."
Both Federer and Nadal are likely to face each other in the Semi-finals if they win their respective games in the quarterfinals. Roger Federer will play Japan's K Nishikori. And Rafael Nadal will face Sam Querrey of United States tomorrow.