Virender Sehwag's Career Stat
| | | |
| --- | --- | --- |
| | Full Name: | Virender Sehwag |
| | Team: | India |
| | Club: | Kings XI Punjab (KXIP) |
| | Past Clubs: | Delhi Daredevils (DD) |
| | Jersey No.: | #00 (India), #00 (MI) |
| | Batting Style: | Right Handed Bat |
| | Bowling Style: | Right-arm offbreak |
| | Coach: | Amar Nath Sharma |
| | Test Debut: | 03rd November 2001 (SA) |
| | ODI Debut: | 01st April 1999 (PAK) |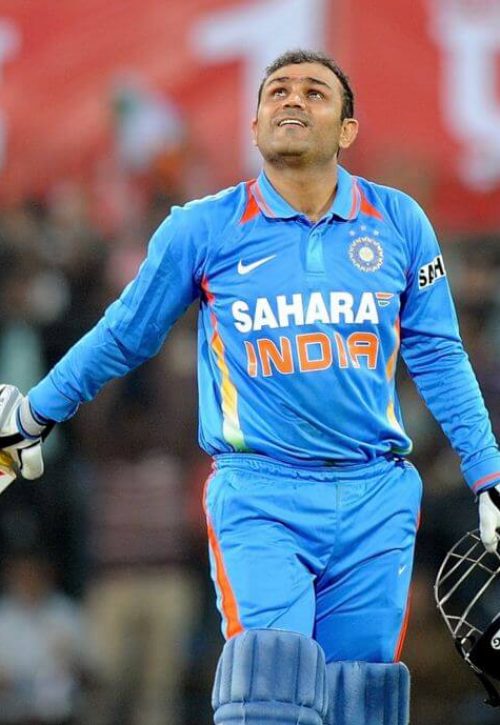 Virender Sehwag's Cricket Stat
Test Career
ODI Career
T20I Career
IPL Career
Test Career
# Batting Career Summary
| Match | Inn | Run | HS | Avg | SR | 50 | 100 | 200 |
| --- | --- | --- | --- | --- | --- | --- | --- | --- |
| 104 | 180 | 8586 | 319 | 49.34 | 82.23 | 32 | 23 | 6 |
# Bowling Career Summary
| Match | Inn | Run | Wkts | Eco | Avg | SR | 5w | 10w |
| --- | --- | --- | --- | --- | --- | --- | --- | --- |
| 104 | 91 | 1894 | 40 | 3.05 | 47.35 | 93.28 | 1 | 0 |
ODI Career
T20I Career
IPL Career
"See the ball, hit the ball", Virender Sehwag always kept it simple and never tried to complicate things while batting. A team that boasted of classy batsmen with the orthodox style of play, Virender Sehwag introduced the term explosiveness to his teammates. He would go after the ball from the very first ball itself. Confidence was his biggest strength. 
In his illustrious career, Virender Sehwag has played countless destructive cameos, allowing the middle-order to have the time to get settle and capitalize on the good starts. For nearly four years, Sehwag held the record for hitting the fastest ODI hundred. He is the first Indian batsman to have hit a triple-century in Test Cricket and the only Indian to have hit a double century in ODIs and triple century in Tests.  
On that note, here's a look at his cricketing journey from the day he made his debut for Delhi in Ranji Trophy: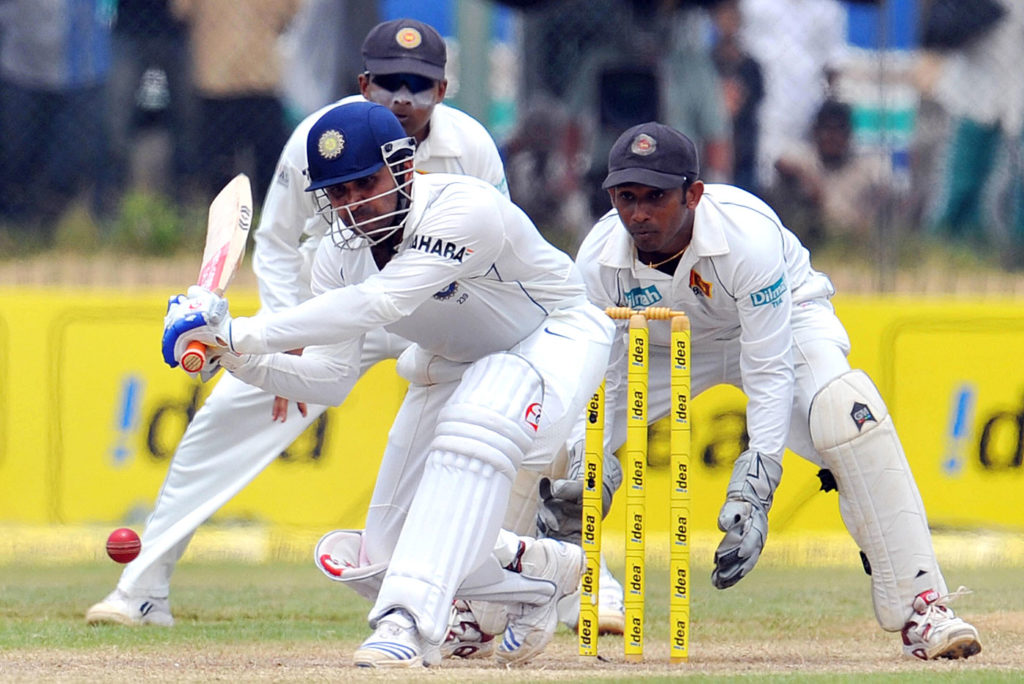 Playing for Delhi Cricket Team, Virender Sehwag first stepped into first-class cricket in the 1997-98 Ranji Season. The following year he was selected to play in the Duleep Trophy in 1998-99 season. Turning up for the North Zone cricket team, Virender Sehwag ended as the fifth-highest ru-getter in the tournament. 
He made headlines in the next edition of the Duleep Trophy where he played a 274-run knock against South Zone. In 2000-2001 Ranji season, Sehwag struck two heart-warming centuries and finished as the seventh-highest run-getter in the tournament as the national selection came calling.
International Cricket Career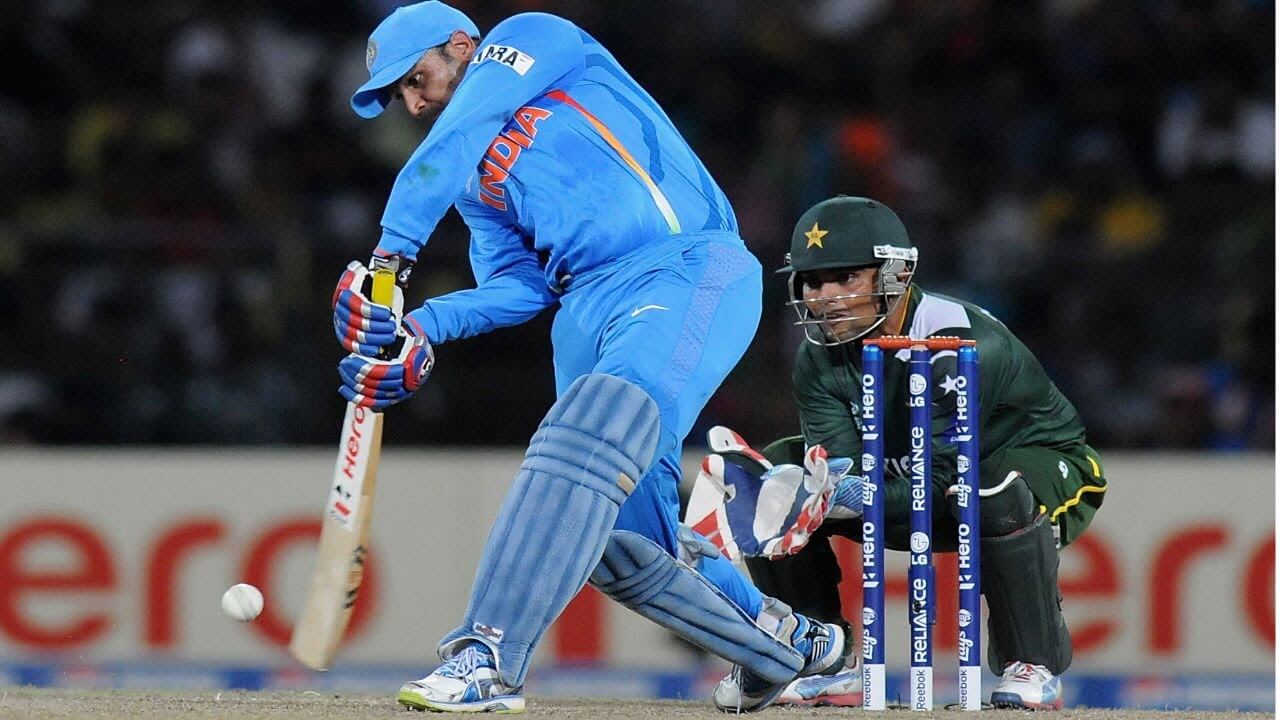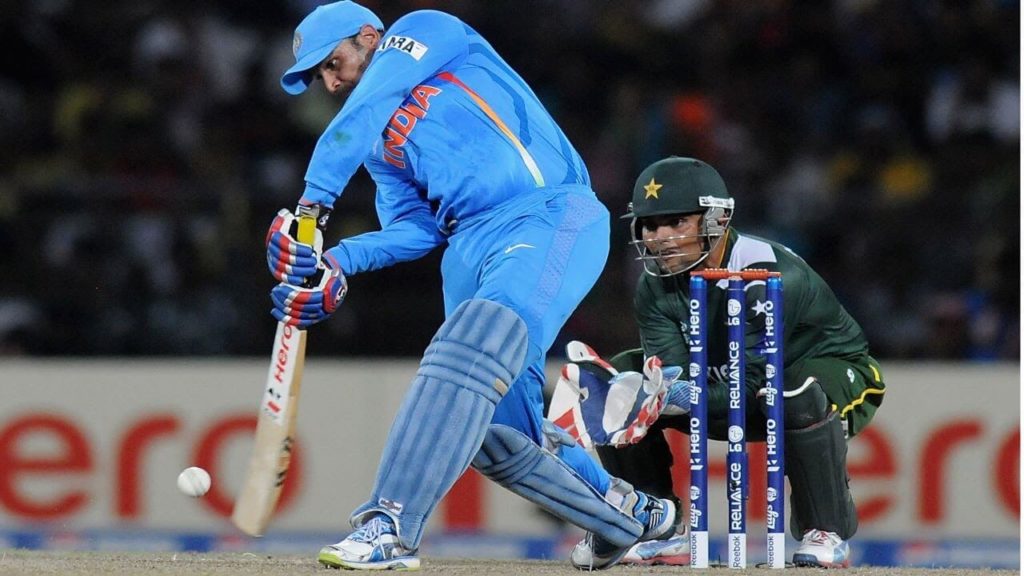 Virender Sehwag started his international career in the worst possible way, having scored just one run in his debut one-day game against Pakistan. He did not get a chance for the next 20 months. 
Sehwag scored his first half-century in December 2000 against Australia. He scored 58 runs off 54 balls also claimed three wickets and thereby won the man of the match award in the game.  
It took him a couple of years to become a mainstay in the India Cricket Team. 2001 became a breakthrough year for Sehwag as he was promoted up the order in the Tri-Series in Sri Lanka in 2001. He repaid the captain's faith in him as he struck his maiden ODI hundred against New Zealand. He brought up his century off just 69 deliveries. The innings helped him cement his position in the middle order. 
# 2002 ICC Champions Trophy: Virender Sehwag's destructing prowess came into the reckoning in the 2002 ICC Champions Trophy. The Indian opener went all guns blazing and finished as the leading run-getter in the tournament with 271 runs in 5 matches at an average of 90.33. His 126 run knock off 104 balls against England is still regarded as one of the most celebrated performances of his career.
Virender Sehwag's ODI Cricket Career
Virender Sehwag scaled heights in his one-day international career during 2004-05 period. His poor run of form ended when he struck a century against Pakistan in Kochi. Stellar performances in 2004 led him to be named in the World ODI XI by ICC. 
In his international career, Sehwag's form has been a roller coaster ride given the way he goes about his batting. 
# 2007 World Cup: Ahead of the 2007 World Cup, Virender Sehwag wasn't in the best of forms and was not in the scheme of things for the selection. However, he made the cut after skipper Dravid's insisted the management to keep him in the squad. 
Sehwag got out cheaply in the first game of the tournament. However, he came out strongly in the next game where he compiled 87-ball 114 run knock against Bermuda, helping the team post a massive 413-run total in the first innings. In the next game against Sri Lanka, Sehwag made 48 runs off 46 balls but couldn't help India win the game as the Men in Blues were knocked out of the tournament.
# ODI Cricket Stats in a Nutshell: Indian cricketer, Virender Sehwag is counted as one of the most prolific run-scorers for the team across formats. He played 251 one-day internationals and 104 Tests for India, scoring 8273 and 8586 runs respectively. He averages 49.3 in Tests and 35.0 in ODIs. In his illustrious career, Sehwag has notched 38 centuries and 70 half-centuries in his international career.
Virender Sehwag's Test Cricket Career
Virender Sehwag made his debut in Test cricket in the year 2001 against South Africa and compiled a beautiful century on debut. 
In the 2002 England tour, he scored 84 in the new role as an opener at Lords and then a century in the Second Test at Trent Bridge and has batted there in Test matches ever since. He scored his maiden home century of 147 in the First Test against the West Indies in 2002–03 home season in Mumbai, which was at the time his top score in Test matches, earning him his first man of the match award. After a poor tour to New Zealand, he scored passed 50 for the first time in 9 innings when he scored 130 in a Test at Mohali against New Zealand in late 2003.
# Border-Gavaskar Series 2003-04: Virender Sehwag impressed everyone in 2003-04 Australia tour where he finished as third highest run-getter for the team. He scored 464 runs in 4 matches at an average of 58.00. In the third Test at Melbourne Cricket Ground, Sehwag played one of the best knocks of his career, scoring 195 runs off just 233 deliveries, an inning which was studded with 25 fours and 5 sixes. 
# Highest Test Score: 309, Multan 2004: On 29th March 2004, Virender Sehwag became the first batsman in the history of Indian cricket to score a century in Test Cricket. He went hammer and tongs and compiled 309 runs against a destructive bowling attack and laid the foundation for a fine victory. Post Sehwag's heroics, he was named as "Multan ka Sultan."
# India-South Africa Series 2008: While the series ended in a draw, Virender Sehwag yet again wrote his name in the record books after scoring the fastest triple century in Tests. In his first test in Chennai, Sehwag scored a triple century off just 278 deliveries. He scored 319 runs off 304 balls, including 42 fours and 5 sixes. He went onto become the highest run-scorer in the series with 372 runs to his name in 3 matches at an average of 74.40 and a strike rate of 102.76. 
# Test Cricket Stats in a Nutshell: Virender Sehwag has impeccable numbers in Test cricket where he has scored runs at an average of nearly 50. He has scored 8586 runs in 104 Tests, including 23 centuries and 32 half-centuries.
Indian Premier League (IPL)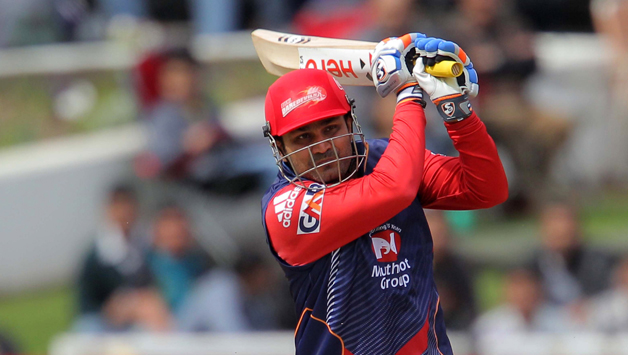 Virender Sehwag was given the task to lead Delhi Daredevils in the inaugural edition of the World Cup. To be honest, he did reap rewards for the team both with the bat and his leadership skills. 
His 41-ball 91 runs knock in the first season against Deccan Chargers should be one of the highlights of his IPL career. The Indian cricketer amassed 406 runs 14 matches at a superb average of 33.83. The next season witnessed a poor run of form from the Nawab as he averaged only 19.80. As a result, he quit his captaincy position in the third season, giving the baton to Gautam Gambhir. 
The fourth edition of the IPL saw only Sehwag being retained in the side and once again he was given the task to lead the side. Sehwag went all guns blazing in the fifth edition of the tournament and also became the first batsman to score five consecutive half-centuries. 
He finished the season with 495 runs in 16 games, averaging 33.00. He struck as many as five half-centuries in that edition. 
# Maiden IPL Hundred: In 2011 edition of the tournament, Sehwag struck his first century in IPL. Chasing a massive 176-run total against Deccan Chargers, Sehwag played a fiery 56-ball 119 runs knock and helped the team win the game by four wickets. His knock was laced with 13 fours an 6 sixes.  
Apart from Delhi Capitals, Sehwag played two seasons for Kings Eleven Punjab averaging 26.76 and 12.37 respectively. 
The best innings in his IPL career came in 2014 edition. Playing his first season for Kings XI Punjab, Sehwag played a match-winning 122-run knock in the semi-final against Chennai Super Kings, helping his team romp into the finals. 
In his illustrious career, Virender Sehwag has played 104 matches, scoring 2728 runs at an average of 27.55 and a strike rate of 155.44. 
Virender Sehwag's Centuries
In his illustrious career, Virender Sehwag has scored 15 centuries in One-Day Internationals and 23 centuries in Tests. The swashbuckling batsman has struck 32 and 38 half-centuries in Tests and ODIs respectively.
Virender Sehwag's Jersey Number
Virender Sehwag's jersey number is "00" as he considers it as his favourite. Sehwag, earlier used to wear Jersey number 44, however, (4+4=8) wasn't lucky enough for him and thus stopped wearing that number. On the suggestion of an astrologer, he also wore 46 but this too didn't work. In the end, Sehwag started wearing Indian jersey without any jersey number. 
The day when Sehwag played a scintillating knock of 175 runs against Bangladesh, his jersey had no number. 
The strange aspect of Sehwag's jersey has not gone unnoticed by the match officials, who spoke to the Indian team management about it during the tournament opener on Saturday.
"The match officials spoke to the Indian team management regarding Sehwag's jersey number. I don't know whether it (the number) is recorded or not, the match referee did speak to the Indian manager on this issue," ICC spokesperson Colin Gibson told MiD DAY.
Virender Sehwag's Records
Virender Sehwag holds the record of the highest score in an innings by an Indian batsman in the Test cricket.
1. He also holds the record for becoming the first-ever Indian batsman to score a triple century in Test cricket when he smashed 309 runs against Pakistan in 2004 at Multan, which earned him the nickname "Sultan of Multan". He has scored two triple centuries in his career. 
2. He became the first Indian skipper to score a double century in the ODI when he scored 219 runs off 149 balls. He led the Indian team in absence of the regular skipper MS Dhoni. 
3. Sehwag also holds the record of scoring the fastest triple century in Test cricket off just 278 balls. 
4. Sehwag has the most number of 290+ scores in Test matches (scored triple century on two occasions)
5. Sehwag is one and the only cricketer in the world to have a rare feat of taking five wickets in an innings along with two consecutive double-century partnerships in Test cricket.
6. Virender Sehwag is the only Indian batsman to have scored a double century in ODIs and a Triple century in Tests.
Virender Sehwag's Personal Life
Virender Sehwag was born in a Jat family in Haryana. Sehwag lived in a Joint family with his three siblings, sixteen cousins and uncle and aunts. After a few years of his birth, Sehwag family shifted to Najafgarh in Delhi where he attended his school and also enrolled himself into a cricket academy.
To know more about his family members and his love story with his wife. Click Here
Virender Sehwag's Social Media
There's no denying the fact that Virender Sehwag is a social media buff and his presence can be felt mostly on Twitter as he leaves no stones unturned in keeping his fans engaged and putting his honest opinions.
The swashbuckling opener has 5.3 million followers on Instagram, 20.6 million followers on Twitter, and 14 million fans on Facebook.
To know more about his social media activities and his most viral posts. Click Here