Virat Kohli On World Cup: Virat Kohli, Indian skipper and arguably the best batsman addressed the media along with Indian coach Ravi Shastri before leaving for England for the upcoming World Cup 2019 starting from May 30.
During a press conference in Mumbai on 21st May, here is what he said "It is the most challenging World Cup, any team can upset any team. The team will have to adapt very quickly,"
"We expect all kind of scores in the World Cup, but there would be few high scoring games looking at the predictions," he further added.
Coach Ravi Shastri too imparted his suggestions in the press conference stating "If we play up to our potential the World Cup will be here," coach Ravi Shastri said.
"The pitches might be flat, in England overhead conditions will matter. If you go to London, it will. You have to be prepared to be flexible,"
"This is an experienced unit, we have accomplished. Each one compliments each other," he further added.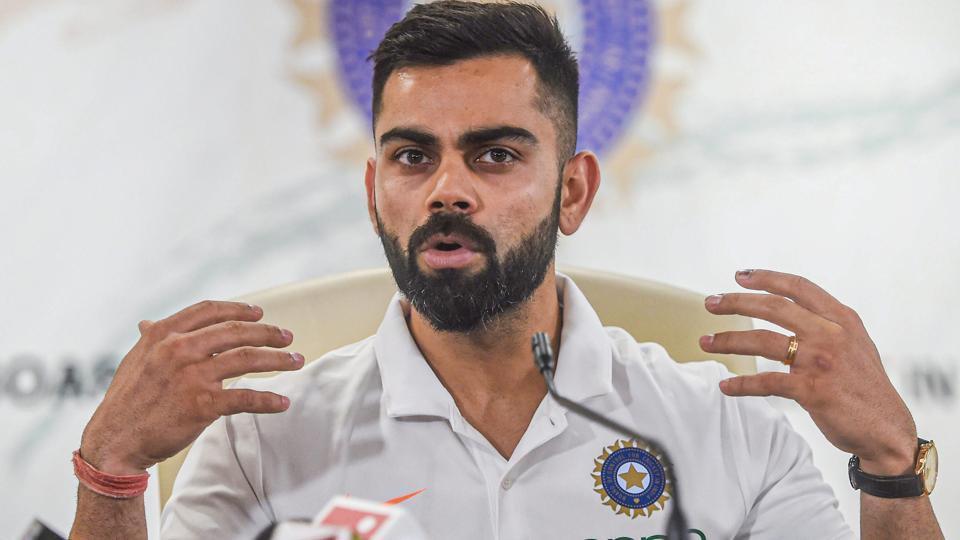 Virat Kohli himself will hold the key to enhance India's chances of winning the Quadrennial event. There is also another milestone waiting for him around the corner, he only needs 157 runs to become the ninth player in ODI history to cross 11,000 run mark.
"It's going to be challenging but the good thing is a gap, players will have time to re-group," Kohli said.
"In football player maintain their intensity for three-four months, like in the Premier League or La Liga," the Indian skipper added.
"You can take motivation from anywhere when you talk about Indian Army, if we can do anything for them, it will be the best," Kohli added.
"We can't think about one team in the World Cup, have to maintain the intensity throughout," Shastri said.
"Will have to be prepared for the World Cup at the best of our abilities, shouldn't think about any opposition," Kohli added.
India is one of the most balanced team with almost all key players firing at the right time. The pace bowling arsenal is equipped with the likes of Jaspreet Bumrah, Mohammad Shami, Bhuvaneshwar Kumar, whereas the spin department will be managed by Kuldeep Yadav and Yuzwendra Chahal.
The Indian batting mainstays Virat Kohli, Rohit Sharma, MS Dhoni, Shikhar Dhawan, and Kedhar Jadhav are in fine touch and can bamboozle the bowlers on the England flat tracks.
Although, the department that can do wonders is all-rounder department, the likes of Hardik Pandya and Vijay Shankar can change the shape of any game in just 5 overs. However, it is up to Kohli to decide the final playing XI.
India will play their first match against South Africa on June 5, 2019, at Southampton.
Also Check: