Dhoni Fans Criticize Sachin for his Statement
The fandom of India's two big cricketing superstars have engaged in a full-blown war when former cricketer Sachin Tendulkar expressed his disappointment with Dhoni's slow batting against Afghanistan, days after their World Cup match in Southampton on 22nd June. This shows how social media doesn't exempt even the 'God of Cricket' from criticism. 
Dhoni faced criticism for scoring 28 runs against 52 balls against Afghanistan, a bottom-ranked team in the World Cup which was a cause of worry for the rest of the squad. India could hence finish with only 224 runs in 50 overs by dint of the run rate that Mahi maintained. But the brilliant comeback from the bowlers gave a hard time to Afghanistani batsmen to chase the target and the Men in Blue invited victory for the nation by 11 runs.
Former cricketers like Tendulkar and Shoaib Akhtar remarked at Dhoni's innings post the match. Tendulkar seemed to have advised Dhoni to show a positive intent while batting. He also critiqued him claiming that he had not taken charge of the batting during his slow partnership with Kedar Jadhav, since Jadhav is not tested much in the tournament.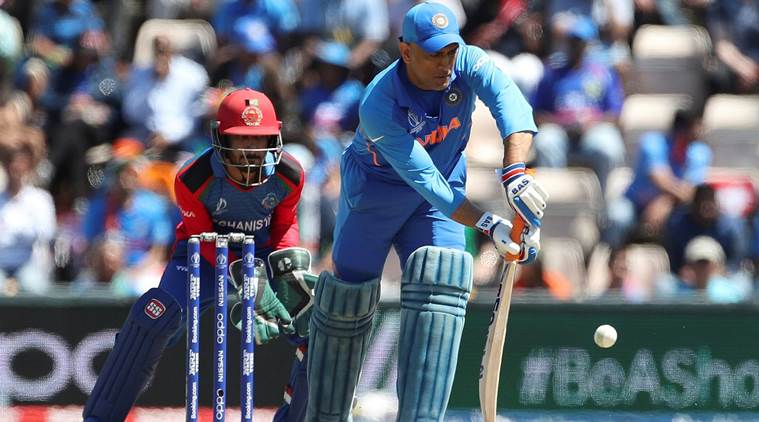 "MS Dhoni is a senior player and should show positive intent. Afghanistan's bowling is good but you can't score only 11 9 runs in 34 overs. He did not show any positive intent against Afghanistan." Sachin said.
"MS Dhoni has the ability to hit but yesterday his strike rotation was not good. He faced too many dot balls and this hampered a strong finish for India. The intent could have been much better by the middle order batsmen." 
"I felt slightly disappointed, it could have been much better. I was also not happy with the partnership between Kedar and Dhoni, it was very slow. We batted 34 overs of spin bowling and scored 119 runs," Tendulkar had said." He added. 
Also Check: Sachin Tendulkar Slams MS Dhoni for Poor Performance against Afghanistan, Tells him to Show Positive Intent
Dhoni Fans Criticize Sachin; Sachin Fans hit back
Dhoni fans were clearly unhappy about Sachin's remarks on Dhoni's performance. Some of them took to Twitter to show this unhappiness and discontent to target Sachin. Some of them scoffed Tendulkar raising questions about his playing career and how big he used to hit in his playing days while others alleged that he only played for himself. To this, Tendulkar fans also stepped in to defend their maestro.
The 46-year-old Sachin Tendulkar was a member of the Indian team led by MS Dhoni which went to win the World Cup in 2011. Tendulkar has a mammoth pile of runs as a batsman on his side, while Dhoni as a skipper has won all major cricket tournaments. In fact, he is the only captain in the world to win world titles in both One-Days and T-20s. 
Virat Kohli and Co. are currently sitting comfortably in the third position at the points table with 4 wins in five matches. They have secured 9 points so far with four matches still left to be played. India will play their next match against West Indies on Thursday. 
Here are Some Tweets
Sachin (about Dhoni): He did not show any positive intent against Afghanistan

Dhoni: Are you talking about the positive intent which you used to show in your 90s..

— Keh Ke Peheno (@coolfunnytshirt) June 24, 2019
The same man that won you the World Cup which you couldn't win in your whole career with one of the best Indian players around. Sachin acting like he was some big hitter, man used to struggle in his 90s. Someone should pull up his strike rate when he's been in the 90s??‍♂️ #Dhoni? pic.twitter.com/hCVQ5aBI9h

— Nim (@NimJTweets) June 24, 2019
Sachin Runs in 2003 and 2011 Worldcup finals combined : 22 Runs

Dhoni's Runs in one Worldcup final:91 Runs

? ? ??????? pic.twitter.com/rpE0yo5jc9

— Mr.Mamz (@vjfansalem) June 25, 2019
Dhoni: Let me know when sachin come to bat..

Sachin: Dhoni is the best captain I've played under..

Dhoni: Sachin was like God to all of us while growing up..

Sachin: Dhoni reminds me of my father..

Their fans* pic.twitter.com/BZrwY4NmCw

— Gaurav (@_iamgrv) June 25, 2019
As a professional cricket player, he knows how to play and how to win the match. He is a international player.
So no one have a rights to ask him a question…. He is playing more than 15 years of cricket. Sachin should have been criticise whole team instead of Dhoni?#Dhoni pic.twitter.com/toqu8NsnZi

— Keerthy Sathana (@keerthysathana) June 25, 2019
Dhoni playing for his team and that Sachin only playing for his career #Sachin

— Yogesh (@Yogesh06364044) June 25, 2019
Look who talking about strike rate #Sachin #Dhoni pic.twitter.com/kg8kCvF6nw

— karnsolanki8 (@karnsolanki8) June 25, 2019
Also Check:
Please follow and like us: