Here are the top 5 players with the most grand slam appearances in
tennis
Lleyton Hewitt is the youngest player ever to hold the top spot in the ATP rankings. He accomplished this in November 2001, just a few months after winning his maiden Grand Slam championship at the 2001 US Open, when he was 20 years and 8 months old. The 2002 Wimbledon Championships were won by Hewitt.
Hewitt competed in 20 straight Australian Open competitions from the time of his debut at the 1997 Australian Open at the age of 15 until his retirement from the event for singles in 2016. Hewitt played in 66 Grand Slam Singles matches overall during his 20-year professional Singles career.
Feliciano Lopez, who has a powerful serve and solid approach shots like a lovely single-handed backhand, enjoyed the faster grass courts in contrast to his fellow Spaniards. Feliciano Lopez has made 68 consecutive Grand Slam Singles appearances since becoming a professional in 1997. With his 66th consecutive appearance at the 2018 Wimbledon Championships, he broke a tie with Roger Federer.
3. Michail Youzhny (69)
Russian Mikhail Youzhny, also known by his stage moniker "Colonel," recently retired, had his highest Singles rank of 8 in 2008. The tenacious competitor, who has won the Davis Cup twice with Russia, has moved through the quarterfinals of all Grand Slam titles and twice reached to the semifinals of the US Open.
Youzhny has participated in 69 Grand Slam Singles since 2001 when he first qualified for the Australian Open Main Draw.
2. Fabrice Santoro (70)
Fabrice Santoro, a Frenchman who played tennis for 21 continuous years between 1989 and 2010, was renowned for his durability. Santoro won the most matches against top-10 rated players of any player who has never been ranked in the top-10, despite having a Singles ranking of just 17. His best Grand Slam performance came in the 2006 Australian Open quarterfinals. He had better results playing doubles and mixed doubles, where he won three Grand Slam tournaments. Santoro participated in 70 Grand Slam Singles overall.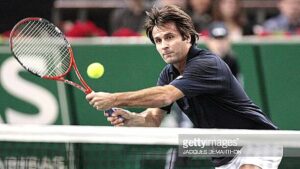 Roger Federer (74)
The person who is constantly at the centre of the "GOAT" argument has the record for both the most Grand Slam Singles appearances and the most Grand Slam Singles titles. Furthermore, it doesn't appear improbable that Roger Federer will stop adding to his incredible list of Grand Slam appearances and Grand Slam victories. Roger Federer has appeared in an astonishing 74 Grand Slam matches till date, beginning with his 1999 French Open wildcard Grand Slam debut.