Highest Team Totals in ODI
A time when anything above 270 was a winning total, the game has seen a drastic evolution. Boundaries have become shorter, while men standing outside the 30-yard circle have also been reduced, besides the addition of power-play overs. 
Given the fact that the game has tilted more in the favour of batsmen, scoring 300 runs in an inning is no more a winning total, while reaching 400-run total is no more an improbable feat.
Ever since Australia became the first team to reach past 400-run mark in one-day internationals in 2006, several teams went onto touch the landmark. Perhaps, it would be no exaggeration to say that the world could soon a see a team touching the 500-mark in one-day internationals.
In this article, we look at the top 5 highest totals in ODI Cricket:
#1. England 481/6 against Australia in 2018
2019 World Cup winner, England hold the record for posting the highest score in ODIs. In 2018 series against Australia, England bettered their own record of the highest score in One-Day internationals, after scoring 481 runs against Australia in the third ODI in 2018.
Batting first, England made a rollicking start, having reached 150-run mark inside 20 overs, courtesy a brilliant show by Jason Roy and Jonny Bairstow. Roy got out on 82, while Bairstow went onto score a mesmerizing century. Coming in at number three, Alex Hales did nothing but increased the run-rate. He played one of the best innings of his career, scoring 147 runs off just 92 balls at a strike rate of 159.78.
Australia, in reply, could muster up just 239 runs, losing the game by a big margin of 242 runs.
#2. England 444/3 against Pakistan in 2016
Post the 2015 world cup debacle, England made a huge change in their approach in the limited over's cricket and thereby made rapid strides in becoming one of the best sides in next three years. On their way to reach at the top of the rankings, they made many milestones. England's 444-run total against Pakistan in 2016 was one such record which definitely made the heads turn.
In 2016, England scored the highest ever totals in ODI till it was broken by them only, two years later.
England opener, Alex Hales once again starred in that game and his knock till date is arguably considered as his best in one-day internationals. He played a stellar knock of 171 runs off just 122 balls, which included 22 fours and four sixes.
Middle-order comprising of Joe Root, Joss Buttler and Eoin Morgan also made significant contributions with 85, 90 and 57 respectively.
England won that game by 169 runs, bundling them out for 275.
#3. Sri Lanka 443/9 against the Netherlands in 2006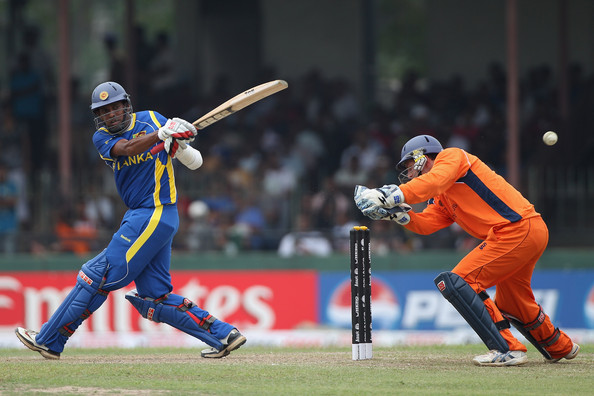 Though they haven't produced a lot of big hitters in their history, Sri Lanka is always been known for scoring big totals, irrespective of the formats. In 2006, they took everyone by surprise after notching a mammoth-443 run total in 50 overs. While many pointed out at the total being scored against a weak opposition, getting past 400-run mark at that time was itself a huge thing.
Sri Lanka's 443-run total against Netherlands is currently the third-highest total in ODIs.
Sri Lanka's destructive opener, Sanath Jayasuriya laid the foundation with a 104-ball 157, while Tillakaratne Dilshan remained unbeaten, scoring 117 off 78 balls.
Netherlands, nevertheless, did put up a fight but could only score 248 in the second innings.
#4. South Africa 439/2 against West Indies in 2015 World Cup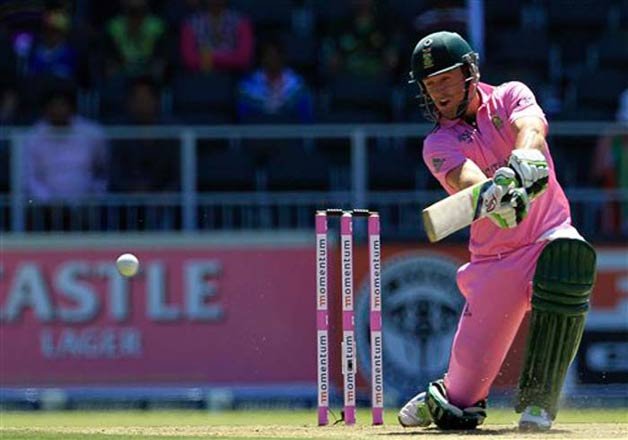 One who has no clue about this game is definitely not an ardent follower of the game or one can say, not a big fan of AB De Villiers.
South Africa's 439 run total against West Indies in 2015 World Cup will be always be remembered for AB De Villiers' belligerence on the field. The South African cricketer tore apart Windies attack, smacking almost every ball for a boundary.
He broke the record for the fastest hundred in one-day internationals, reaching the landmark in just 31 balls. Hitting as many as 16 sixes, AB De Villiers scored 149 runs off just 44 balls, completely overshadowing the spectacular knocks of Hashim Amla (153 off 142 balls) and RR Rossouw (128 off 115 balls) in that game.
South Africa 439 is currently the fourth-highest score in ODIs.
#5. 438/9 against Australia in 2006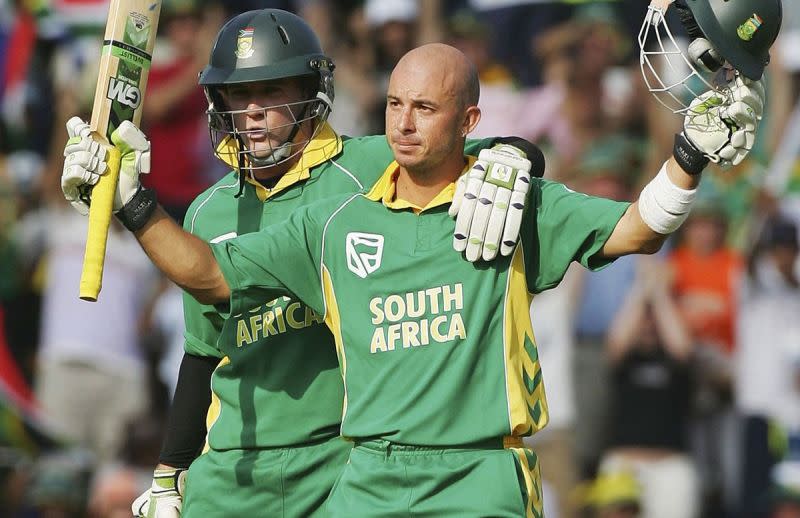 Whenever you talk about top-five one-day internationals of all-time, this game has to be there in the list. Australia-South Africa one-day international match saw the first time when a team went past 400-run landmark in one-day internationals. And to everyone's surprise, it happened twice in the same game.
Batting first side, Australia created history after scoring 434 runs, becoming the first time to reach the 400-run landmark in 50 overs cricket. However, nobody at that time would have imagined what was about to unfold next.
South Africa, made a spectacular run-chase and chased down the total with one ball remaining in the end. Having hit a boundary on the last ball of the game, South Africa scored 438 runs in the end, which is the fifth-highest score in ODIs, today.