Indian wrestler Sunil Kumar won the first gold medal in 27 years in the Greco Roman category of the Asian Wrestling Championship by defeating Azat Salidinov of Kyrgyzstan 5–0 in the final of 87 kg category on Tuesday. Sunil, who went on to win the semi-finals, easily beat his opponent in the 87kg category final at the KD Jadhav Indoor Stadium here.
Sunil showed some great moves on his way to the final as he impressed everyone by making a comeback after trailing 1-8 against Kazakhstan's Ajamat Kustubayev in the semi-finals. Sunil came back strongly to win 12–8 by picking 11 consecutive points. The last Indian Greco-Roman wrestler to win gold at the Asian Championships was Pappu Yadav who won the 48 kg title back in 1993.
Sunil Kumar had also managed to reach into the finals of this competition in 2019 but had to be content with the silver medal after losing in the title match. After winning the title, Sunil said,
"I am feeling happy to have earned India's first Gold Medal today. I have worked really hard on my ground techniques and it feels good to have done better than my last year's performance."
Another Indian Arjun Halakurki also won a bronze medal in the 55kg event of the Greco Roman category. The grappler who was making his debut at senior level overpowered Donghyeok Won of Korea to grab his first medal in his first senior international tournament.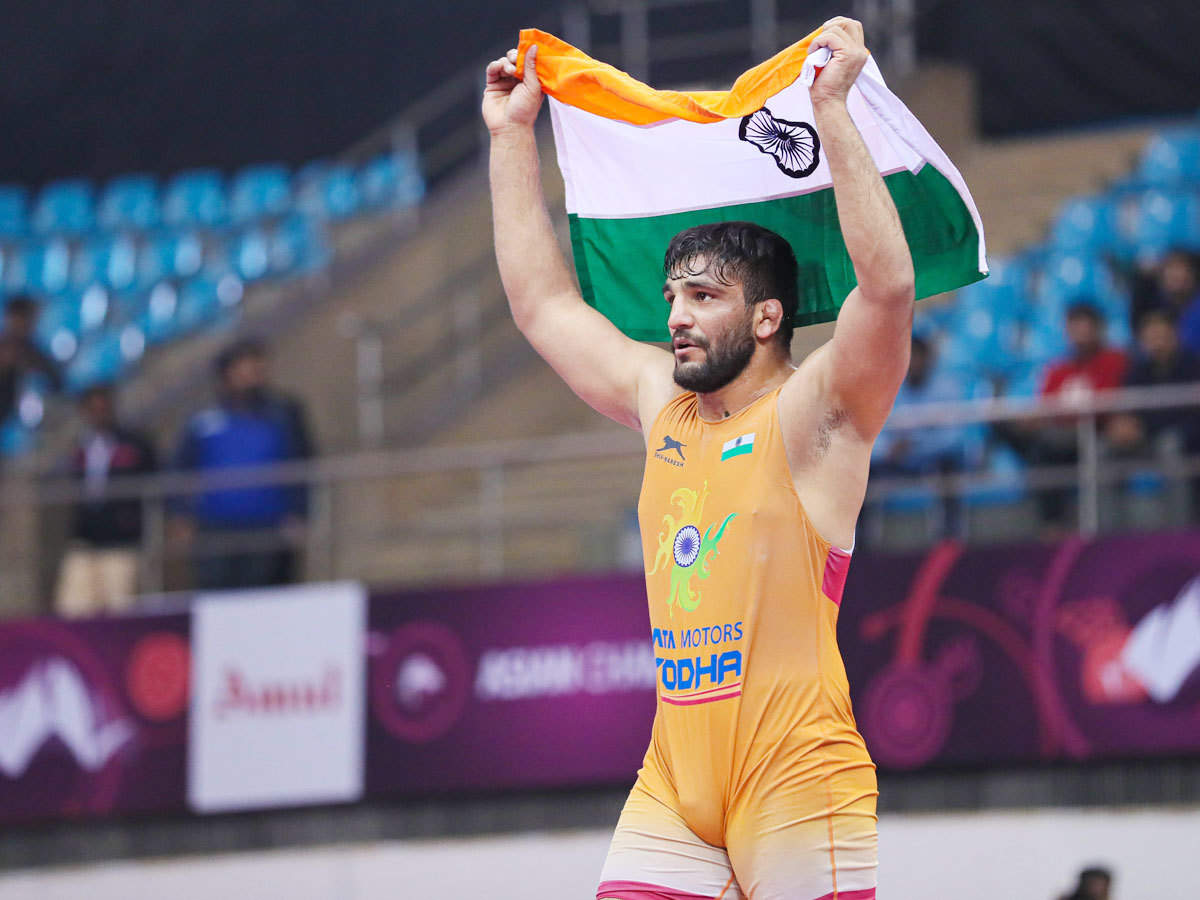 India missed medal opportunity as in the 130kg category semi-final, Mehar Singh suffered a 1-9 defeat to Korean wrestler Minsok Kim. Mehar then had the opportunity to claim a bronze medal but missed it by a whisker as he was defeated by a close margin of 3–2 Roman Kim of Kyrgyzstan. Three days before the start of the Asian Wrestling Championship, India's number one wrestler Naveen in the 130 kg category withdrew from the championship due to injury and he was replaced by Meher. Meher started well in the quarterfinals by defeating Daler Rakhmatov of Uzbekistan 4–0.
Sajan, considered to be a strong contender for medals from India, suffered a disappointing defeat in the 77kg category. Sajan suffered a 6-9 loss to Under 23 Asian Champion of 2019 Renat Iliazuulu of Kyrgyzstan in the first round.
In the 63kg category too, India faced disappointment. In this category, Sachin Rana of India was defeated by Elmurat Tasmuradov of Uzbekistan in the quarterfinals by a big margin of 8–0.