Indian batsman Sanju Samson has been included in the T20I squad for the three-match series against West Indies. But the possibility of getting a game is still a question due to past incidents.
Samson was included in the T20I squad for the three-match series against Bangladesh, but he didn't get any opportunity to play and he was also dropped for the West Indies series. But opener Shikhar Dhawan's injury turned into a blessing in disguise for the 25-year old as he was called as his replacement.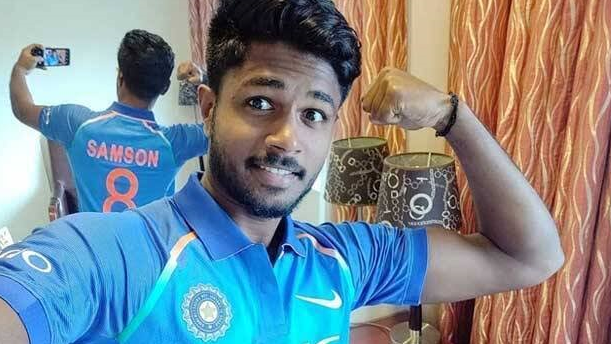 Samson made his International debut for India back in 2015, but he had to wait for another four years to get a recall in Team India. And in that series, he only got to warm up the bench. The series against the West Indies will be a massive one for the young batsman if he gets an opportunity.
Meanwhile, Samson's childhood coach Biju George has recommended India to play him as an opener which means to play him as an exact replacement of the injured Dhawan.
"Sanju should be made to play the first match. He has replaced Dhawan in the squad so he should be asked to open the innings. Confidence and domination are the keys to Sanju's success. I still remember one of his Ranji Trophy matches. It was a very bad wicket. The bowler bowled a short one and Sanju tried to play a pull shot."
"He got an edge and was dismissed. When he came in to bat in the second innings, the same ball was bowled and Sanju hit the bowler for a boundary. He scored in the 70s in that match. That's how Sanju's temperament is. He learns and adapts to things quickly," Biju told TOI.
Biju also declined to judge Rishabh Pant, who is currently India's wicket-keeper batsman, but honestly expressed his disappointment to see a talent like Samson getting overlooked in Team India.
"I would say, Sanju was overlooked on many occasions. Majorly selections are based on IPL performances. Sanju has also played decent knocks in the IPL. Management is there to decide. They are the ones who have the authority to select players. But I believe Sanju should have got at least one match."
"I am not the one who should judge Rishabh Pant. It's the selectors. It feels bad when a player who has faced some of the top bowlers in the world, can dominate at any position, can keep (wicketkeeping) and can field anywhere, is consistently overlooked. I am not in anyone's favor. Be it Rahul (KL Rahul), Rishabh (Pant) or Sanju (Samson), I believe everyone should be given a fair deal and an equal amount of backing," he concluded.