PR Sreejesh Biography: Parattu Ravindra Sreejesh is the full name of the famous Indian hockey player P.R Sreejesh. He plays the role of Goalkeeper in Indian National Hockey Team. He was born on May 8 of 1986 in Ernakulum District of Kerala. In his Hockey Journey, he has played for India for 13 years and has turned up for the National Team more than 200 times in his career. Sreejesh has been a stellar performer, which has earned him various accolades. He also has various prestigious government awards in like Arjuna Award (in 2013) and Padma Shri (in 2017) in his kitty.
PR Sreejesh Early Life
Sreejesh was involved in multiple other sports like sprinting, long jump, and Volleyball among others in his childhood, and Sreejesh never dreamt of himself becoming a hockey player. He spent his early days before entering hockey in GV Raja Sports School. The very essence of his school inspired him to give a shot in Hockey. As an obedient student, Sreejesh followed his mentor's advice and stared playing Hockey. The result of his coach's advice is that today Sreejesh is among the top goalkeepers of Hockey in the world, not just India.
PR Sreejesh Personal Life
Sreejesh got married to Aneeshya, who has been former long Jumper. The couple have two kids, a daughter Anusree born in 2014, and daughter Sreeansh, born in 2017 He is currently serving as Chief Sports Organiser for Kerala Government's Education Department, where he also dons the role of a player. He, in the past, has also been employed at Indian Overseas Bank, for whom he even played senior level professional hockey.
P R Sreejesh Professional life
It was the year of 2004 when Sreejesh made his debut against Australia in Junior International Hockey Team. He played marvellously in the field and was in the eyes of the selectors being bets goalkeeper for Junior Hockey Team. Soon within couple of months, he fixed his position in the senior team of Hockey Players. He made his first Debut in Indian Hockey Team in South Asian Games held in 2006 at Colombo. He played quite well, but he missed various times to the shot of opponents. This repeated various times in this tournament.
As he joined the team, he was not playing so great. He was generally the substitute in But as it is said, their player was in build and world was waiting to see him. It was in the year 2011 when defenced the penalty stoke of Pakistan team in 2011 at Asian's Champions Trophy Final. He was a national star after this match. This followed by him becoming the permanent member of the national team at every match.
After becoming a regular member of them he extensively worked on his skills to become the best goalkeeper. His efforts were quite reflected in his field performance also. Soon after finishing of Asian Championship Trophy he played a pivotal role in further championships as well. India could only win Asia Cup of 2013 with his continuous efforts. The award of the best goalkeeper in Tournament was added to his crown. He very easily left behind the top goalkeepers of Australia and Germany.
Spectators again rejoiced day his performance Championship Trophy Held in 2014. His attentiveness in the field helps the Indian Hockey Team on various fronts. In spite of India finishing 4th in the tournament, the skillset of Sreejesh begged him best Goalkeeper of the tournament. His magic didn't stop here. His marvellous performance brought Indian Hockey Team Gold Medal in 2014 Asian Games.
Indian Team always got benefitted from his strong decision-making capabilities and its good representation was done in Incheon Asian Games. As wine gets better with time, so did where the skills of Sreejesh got better day by day. Indian Hockey Team also performed very well in Champions Trophy and bagged silver medal. The team efforts soon reflected at pivotal games like the Olympics of 2016, but could only reach till quarterfinals.
The year of 2018 also brought great prowess to his skills when he brought India Silver medal in Breda Champions Trophy. He also added a Bronze medal to India's medallist at Jakarta Asian Games.
Well, Sreejesh took a little time to mature his skills in the initial days of his career. There was the time in Indian Hockey Team when he was even benched for longer time. Despite offering an extensive performance he was made to sit. But as it is said Fruits take time get sweeter, he finally fixed his position in Indian Hockey Team as a permanent member.
Sreejesh has been an excellent leader to his team, his detailed planning to every player led them to win the 2016 Champions Trophy. After his exuberant performance, he continues to captain the team. Son his captaincy hindered his overall progress as a team, so Manpreet was handed over the captaincy of the team.
Sreejesh also has a long career as a club player. He was bought by Mumbai Magicians for a whopping US$38,000 He played for Mumbai Magicians right from 2013 to 2015 in Hockey India League matches. Further, he played for UP Wizards for US$69,000 in 2015. He has in overall played 33 matches until 2017 for UP Wizards.
PR Sreejesh Achievements
Asian Games
He won Gold at Asian Games held in 2014 at Incheon.
His efforts brought to the third position at Asian Games held in Jakarta in 2018
Asia Cup
He won the silver medal at Asia Cup held in 2013 at IPOH
Champions Trophy
He won Silver medal at London games in 2016
He also won silver at Breda Champions Trophy held in 2018
Asian Champions Trophy
Asian champion's trophy of Ordos city in 2011 just got lucky for Sreejesh and he bagged Gold Medal in this games.
The 2012 Doha Asian champions trophy also were good, but he had to satisfy with the silver medal.
He also bagged gold at 2016 Kuantan Asian Champions Trophy games
The Asian champion's trophy of 2018 at Muscat, where India bagged a Gold medal.
World League
He also represented Raipur Team in 2014-15 at World League matches.
Commonwealth Games
The 2014 Glasgow games were good, but not great for Indian team so India had to satisfy with silver.
Physical Measurements
Height: 183 cm
Weight: 80 kg
Eye Colour: Black
Hair Colour: Dark Brown
PR Sreejesh Personal Information
Full Name: Parattu Ravindra Sreejesh
Age: 33 Years
Date of Birth: May 8, 1986
Hometown: Kochi, Kerala, India
Zodiac Sign: Taurus
Religion: Hinduism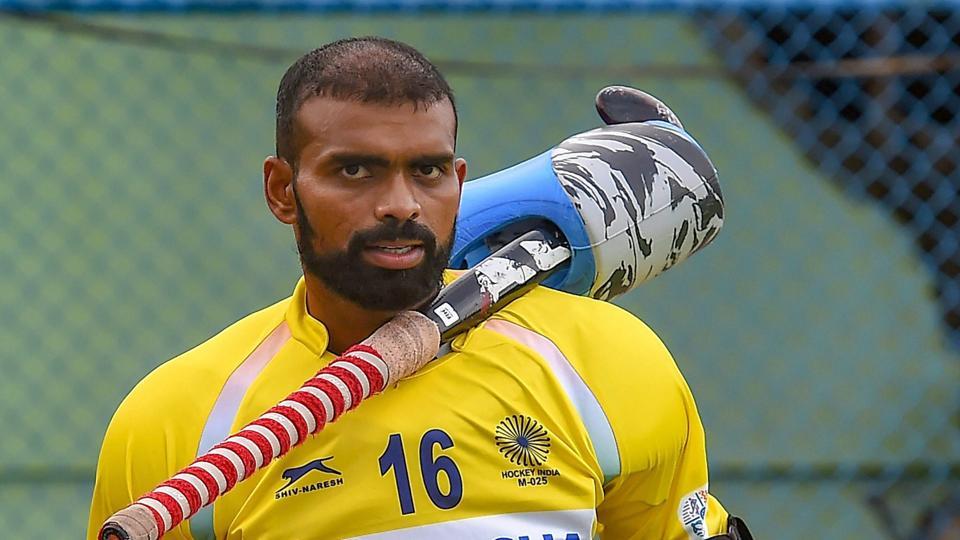 Education
Highest Qualification: Graduation in History
School: St Anthony's Lower Primary School, Kizhakkambalam
Hobbies: Shopping and Chilling
Favorite Food: South Indian
Dream Holiday Destination: Goa
PR Sreejesh Net Worth
PR Sreejesh's Net Worth is estimated to be in the region of INR 10 crores
PR Sreejesh Controversy
Sreejesh has never been involved in any kind of Controversy
Social Media Profiles
PR Sreejesh Facebook- https://www.facebook.com/sreejeshpr16/
PR Sreejesh Twitter- https://twitter.com/16sreejesh
PR Sreejesh Instagram Id – @sreejesh88