'The Waiter' a.k.a Toni Kroos is a German professional footballer who plays as a midfielder for the German national football team and Spanish Club 'Real Madrid', for whom he has been the part of several title-winning campaign, both at the domestic and international level. His experiences today have made him one of the most enigmatic footballers in the world. Some of his major contributions include lifting the 2014 World Cup for his national team, hattrick of Champions League titles with Real Madrid, and two consecutive Bundesliga titles for Bayern Leverkusen. Toni also became a part of the Team of the Tournament announced at the conclusion of the 2016 UEFA European Championship.
Toni Kroos Early Life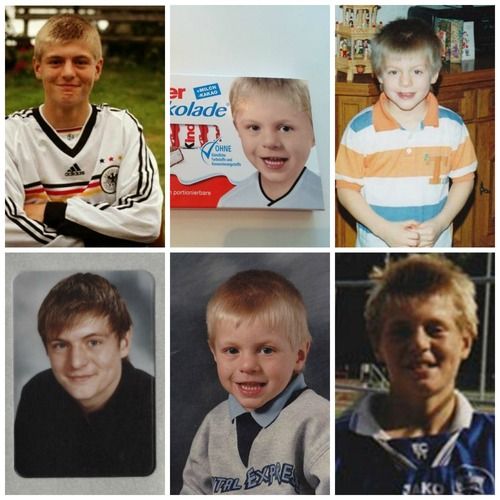 Tony Kroos was born on January 4, 1990 in Greifswald, Easy Germany to Roland Kroos and Birigit Kammer. His father was a former professional wrestler turned football coach while his mother was a former German badminton player turned biology teacher, hence being from a family with a long and prestigious history in sports, he was an ardent football enthusiast since his school days. Kroos was never good in his studies and spent most of his time playing football with his school's football team, seeing which his father Roland took the charge of training his son under his mentorship.
Within a few months, he developed amazing skills that eventually made him the best footballer in his school team. Initially, he joined a local football club Greifswalder FC for whom he played till he was 17. After leaving Greifswalder, he joined the youth wing of Bayern Munich, with the club he started training his football skills rigorously, completely ignoring his academics. His hard work and determination soon paid off when he was transferred to the Bayern senior team.
Toni Kroos Personal Life
Toni Kroos married his long-time girlfriend Jessica Farber, his school time love. The couple have two children Leon and Amelie. Despite being counted among the most successful players to have played the game, Toni enjoys very low-profile personal life with his family in their mansion in Mallorca Spain.
Toni Kroos Professional Life
For Bayern Munich he made his on-field debut in September 2007, when he was just 17 years old. His performances paid off through him being qualifying a place in the senior team that was the part of the team that was selected to compete in the UEFA Champions league of 2008. He joined Bayern Leverkusen to improve his skills in the 2008-09 where he made 13 appearances ending the season by scoring one single goal. In the next season his performance improved, he netted goals in all five matches he played, and conquer the title of Player of the Month award. By the end of the season, he appeared in 33 matches in which he netted nine goals.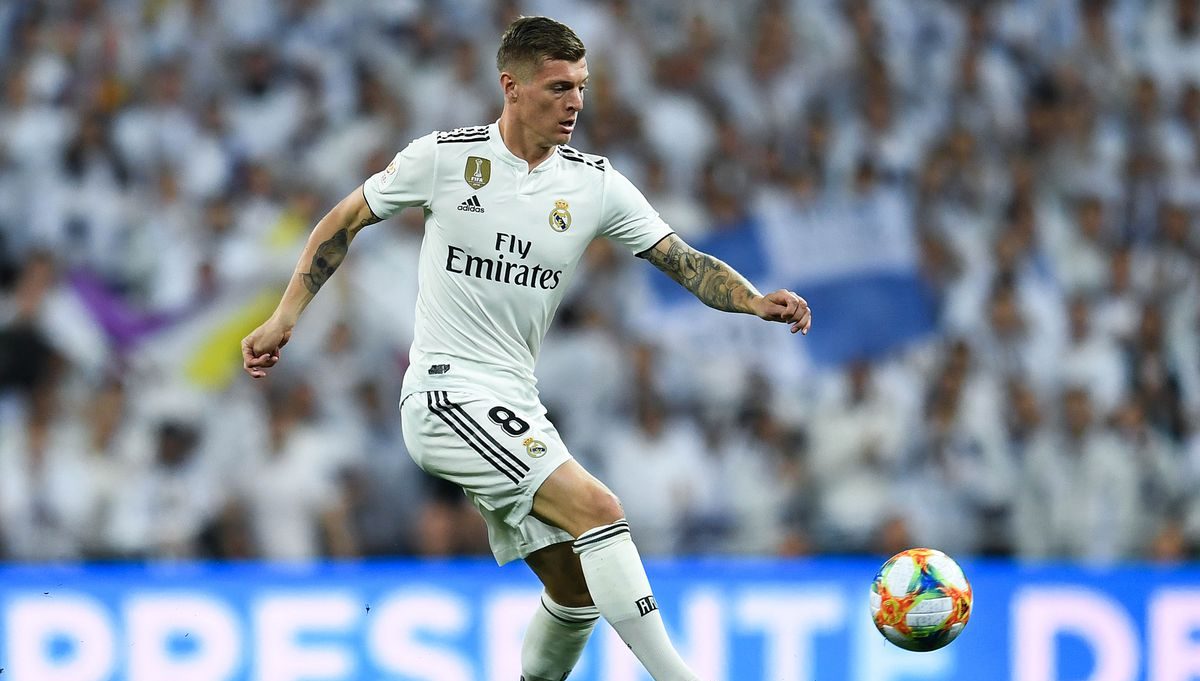 Back in Bayern Munich after completing his loan period with Munich Leverkusen he netted four goals in first five matches of Bundesliga. He helped his team to win lift the Bundesliga title in 2014. In 2014 he was acquired by Real Madrid till 2020, his official signing amount was never disclosed but according to rumours it was somewhere around 24 to 30 million Euros. On August 12th august 2014 he made his first debut for Real Madrid in a match against Seville in the UEFA Super Cup which Real Madrid won. He made his special contribution for Real Madrid winning the 2014 FIFA Club World Cup.
For his National team he was subsequently included in the German 2014, World Cup squad, where he defeated Brazil in the semi-final match by 7-1. The Castrol Performance Index stated Toni as the best 'Player of the Tournament' but couldn't reach beyond the top-10 shortlisted Golden ball
| | |
| --- | --- |
| Clubs | Season |
| Bayern Munich II | 2007-09 |
| Bayern Munich | 2007-09 |
| Bayer Leverkusen | 2008-10 |
| Bayern Munich | 2010-14 |
| Real Madrid | 2014-19 |
Toni Kroos Honours
Bayern Munich:
Bundesliga: 2007–08, 2012–13, 2013–14
DFB-Pokal: 2012–13, 2013–14
DFL-Supercup: 2012
UEFA Champions League: 2012–13
UEFA Super Cup: 2013
FIFA Club World Cup: 2013
Real Madrid:
La Liga: 2016–17
Supercopa de España: 2017
UEFA Champions League: 2015–16, 2016–17, 2017–18
UEFA Super Cup: 2014, 2017
FIFA Club World Cup: 2014, 2016, 2017, 2018
Germany:
Toni Kroos Achievement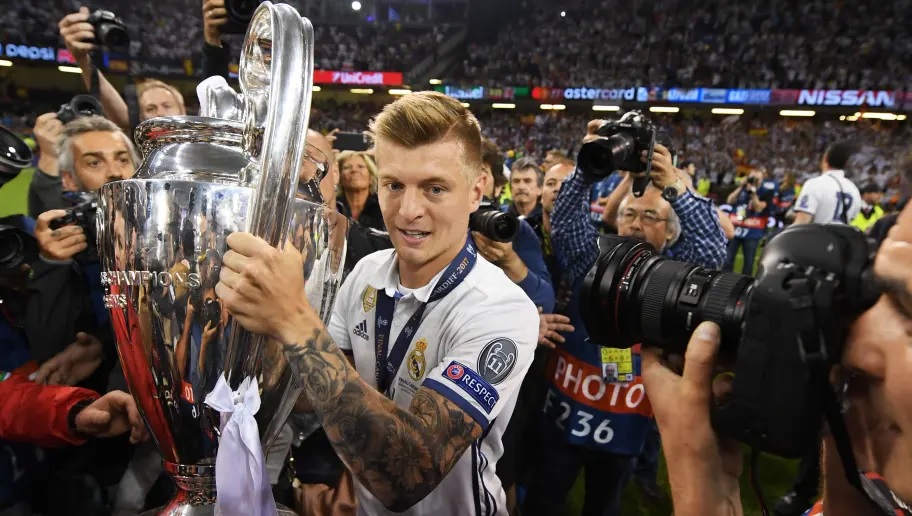 UEFA European Under-17 Championship Golden Player: 2006
UEFA European Under-17 Championship top goalscorer: 2007
FIFA U-17 World Cup Golden Ball: 2007
FIFA U-17 World Cup Bronze Shoe: 2007
Fritz-Walter-Medal U18 Gold Medal: 2008
Bundesliga Team of the Season: 2009–10, 2011–12, 2013–14
UEFA Champions League Squad of the Season: 2013–14, 2014–15, 2015–16, 2016–17, 2017–18
FIFA FIFPro World XI: 2014, 2016, 2017
FIFA FIFPro World XI 2nd team: 2015, 2018
UEFA Team of the Year: 2014, 2016, 2017
IFFHS World's Best Playmaker: 2014
FIFA World Cup All-Star Team: 2014
FIFA World Cup Dream Team: 2014
FIFA World Cup top assist provider: 2014
Castrol Performance Index: 2014 FIFA World Cup Castrol Index Winner
Silbernes Lorbeerblatt: 2014
Germany national team Player of the Year: 2014
FIFA World Club Cup top assist provider: 2014, 2016
UEFA European Championship Team of the Tournament: 2016
UEFA La Liga Team of the Season: 2016–17
EA Sports FIFA Team of the Year: 2016
IFFHS World's Best Playmaker Bronze award: 2016
IFFHS World's Best Playmaker Silver award: 2017
IFFHS Men's World Team: 2017
Footballer of the Year in Germany: 2018
Physical Measurements
Height: 6ft 0in
Weight: .74kg
Eye colour: Blue
Hair colour: Blonde
Toni Kroos Personal Details
Full Name: Toni Kroos
Date of Birth: 4th January 1990
Place of Birth: Greifswald, East Germany
Playing Position: Midfielder
Nickname: The Waiter
Education: Unknown
Relationships: Jessica Farber
Kids: Leon and Amelie
Hobbies: Playing football
Toni Kroos Controversy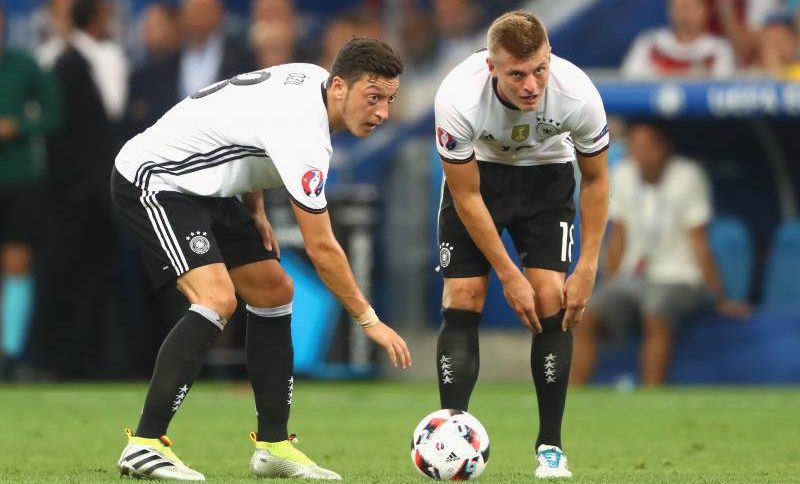 Toni Kroos termed Mesut Ozil's claim of racism and disrespectful baseless and 'nonsense'. He also claimed that Ozil's decision to retire was "not in order", accusing the midfielder "knowing very well that racism within the national team and the [German Football Federation] does not exist".
"Basically Mesut is a deserved international and as a player he deserved a better departure," Kroos told Bild newspaper. "But the way he resigned was not in order.
Kroos also made remarks on teammate and Manchester City winger Leroy Sane. He questioned his body language and intent, stating, "sometimes you have the feeling with Leroy's body language that it is all the same whether we win or lose. He has to improve his body language. He's a player who has everything you need to be a world-class player but sometimes you have to tell him he has to perform better."
Toni Kroos Net Worth 
Toni Kroos' Net Worth is estimated to be $25 Million dollars
Social Media
Toni Kroos Facebook: https://www.facebook.com/tonikroos
Toni Kroos Twitter: @ToniKroos
Toni Kroos Instagram: @toni.kr8s