Rupinder Pal Singh has been the most astounded hockey player and among the most versatile fullbacks in Indian Hockey Team. The childhood of Rupinder was very inquisitive and had a great inclination for playing in national Hockey Team. The family of Rupinder belonged to a very modest background. He was also inspired by his elder brother, who was a state-level hockey player. Rupinder has very successful, relived the dream of his brother and parents.
Rupinder Pal Singh Early Life
The hockey spirit runs in the family of Rupinder Singh, like his father who was a Hockey Player from Punjab. Unfortunately due to financial lose his father has to discontinue Hockey. But his father very effectively inscribed the dream of his to see his son playing in Indian Jersey right in Rupinder Singh heart. He was merely 11 years old when Rupinder got hold on his hockey. He has great bonding with international player Gagan Ajit Singh. His morale in hockey got boosted when he got selected in Chandigarh Hockey Academy.
Rupinder Pal Singh Personal Life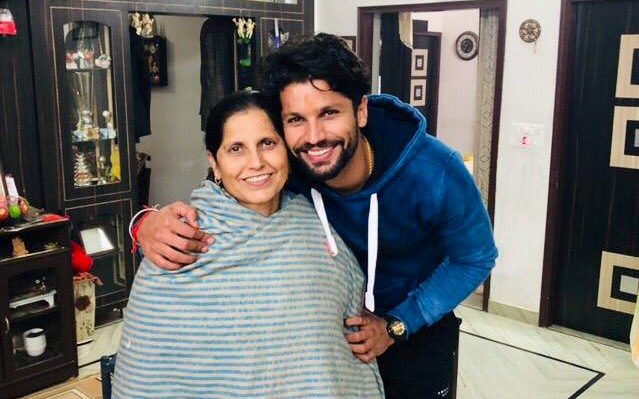 He today proudly dons the most desired Indian Hockey Team jersey. He is among the most relied upon drag flickers in the entire world. He has some very extensive skills to go upon. He is among the most versatile fullbacks in Indian team. This fabulous player has some very serious skills to boast upon. He made varied compromise in order to reach the position where he is today. He has traveled in sleeper class of train and has also skipped food various times. Today these compromises have beard the fruit of him achieving great heights of and purchasing a recent Lakhs car.
Rupinder Pal Singh Professional Life
Right at his initial part of the career, he scored his first Hat-trick in 2011 against none other than against Britain. He also played pivotal role in Indian winning gold medal at Sultan Azlan Shah Cup held in 2010. His skills set him out compared to other players. At initial he was selected in team due to absence of Sandeep Singh. It was none other than 2011 Asian Men's Hockey when Rupinder Singh put his skills at test and succeeded in a great manner.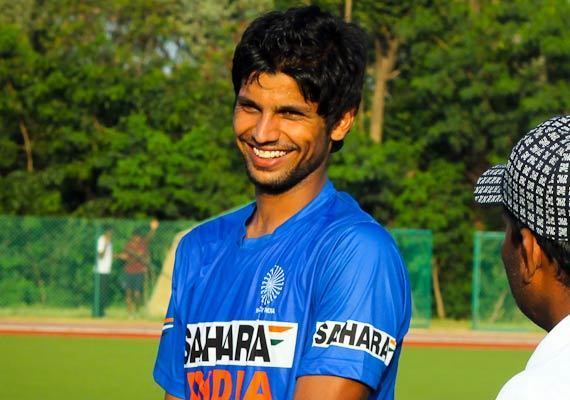 As every athlete goes throws up's and downright through his career. Such patch came when he got injured in 2012 while playing. His resistance to overcome the in hurry lead him to fix his position again in the team. He was selected for Asian Champions Trophy and remained top scorer in it. In total in the scored about four goals in Asian Champions Trophy. He even hit one goal against arch-rivals Pakistan.
The accolades kept on adding in his crown when he won the top scorer award at Sultan Azlan Shah Cup. The same year he hit around six goals at Men's Hockey Asia Cup which added a silver medal to Indians medallist. He was even successful in hitting a goal at Men's Hockey World Cup against Spain. The year of 2014 played a pivotal role in his overall career success. He was even part of the team in Commonwealth Games held in 2014 where India got hold over silver medal. He could not leave his impact in Rio Olympics, which initiated his on/off phase in team India.
Comeback in National side-
Indian Hockey Team was unable to perform exceptionally at Gold Coast Commonwealth Games held in 2018. This was the very match where India failed to capture even a single medal. Following this event, Rupinder Singh was dropped from the Team for the Indian team visit at Holland for Champions Trophy. His absence from the team could not be sustained for longer time, so he was included in the team for Asian Games.
Rupinder performance in Asian Champions was no hidden from anyone. He was soon signed by Delhi based Hockey Club. Well, his performance was on highest peak as usual and he hit 7 goals in league matches. His performance leads his team to stand at second position at the end of league. Being part of same in previous league he continued to excel in his performance. The season of Rupinder in Asian Champions was much better.
He led his team to win the by gold. He has overall scored about seven goals in this match. His this led him with accolades of declaring the Player of the Tournament of Indian Hockey League. The league club Delhi Waveriders maintained Rupinder in their team. His team performed greatly in further season as well. He took his team up to semi-final stage in 2017.
Rupinder Pal Singh Some Interesting facts
With about two Goals against Ireland and Germany, he was the top scorer of goals in Rio Olympics held in 2016
The most favorite thing about him after Hockey is his fitness.
Along with playing Hockey for the national team, he has also worked as a manager in Indian Overseas Bank, Chennai.
Rupinder is often referred to the name "BOB" known by his team mated as "BOB".
This six-foot stud from Punjab has not left hockey since ages. He had taken hockey stick at mere age of and after there has been no turning back. He is a well-known specialist of Penalty corner. He is unstoppable with his skill set.
Rupinder Pal Singh Achievements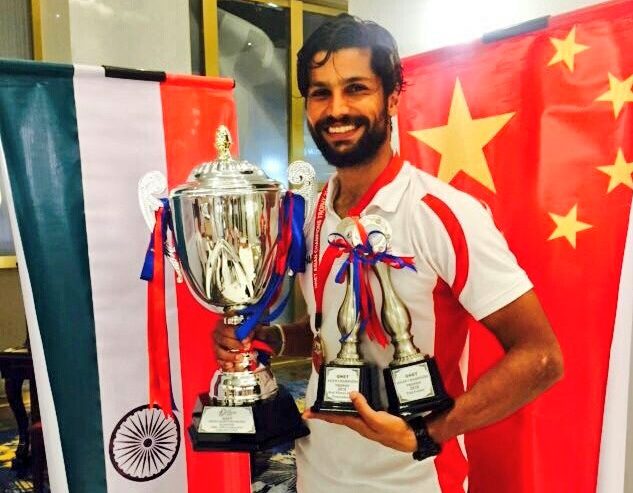 He scored gold medal at Asian Championship Trophy at Ordos City in 2011
He scored Silver medal at Asian Championship Trophy at Doha in
He scored silver medal at Asia Cup held in 2013 at Ipoh.
He scored Gold medal at Asian Games in 2014 held at Incheon.
He scored a gold medal at Asian Championship Trophy held in 2016 at Kuantan Malaysia.
He scored bronze medal at Asian Games held in 2018 at Jakarta
Physical Measurements
Height: 194 cm
Weight: 93 Kg
Eye Color: Brown
Hair Color: Black
Rupinder Pal Singh Personal Information
Full Name: Rupinder Pal Singh
Age: 28
Date of Birth: 11 November 1990
Hometown: Faridkot, Punjab, India
Zodiac Sign: Scorpio
Religion: Hinduism
Playing position: Fullback
Education
Highest Qualification: Graduation
School: Chandigarh hockey academy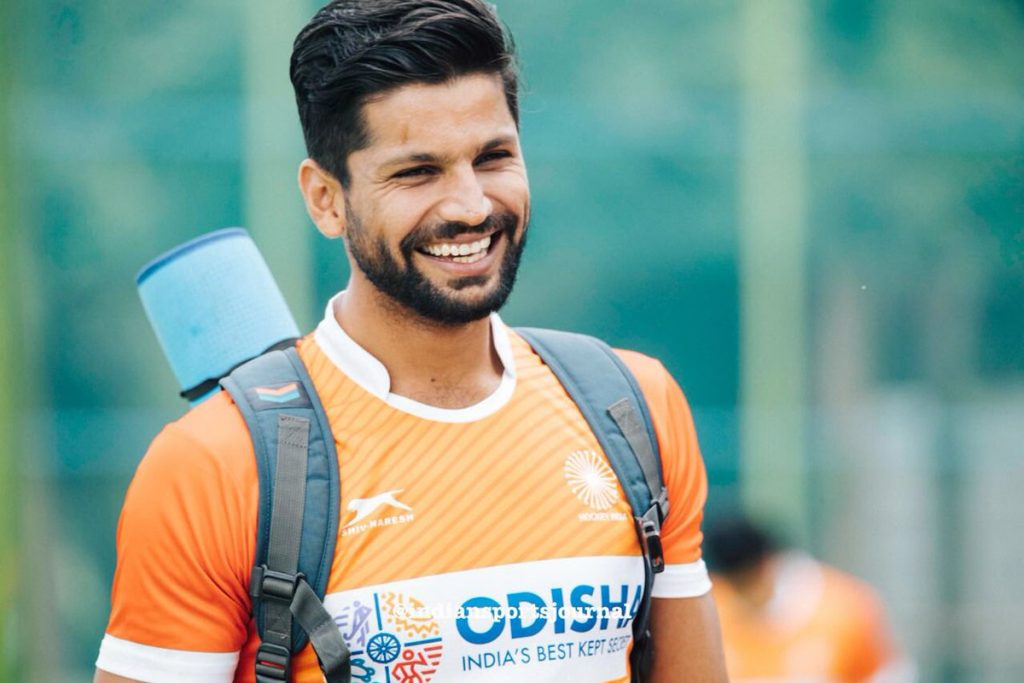 Favorite Celebrities & Other Favourites
Favourite Actor: N/A
Favourite Actress: Priyanka Chopra
Favourite Movie: Dilwale Dulhaniya Le Jayenge
Hobbies: Grooming his latest hairstyles and latest clothing
Favorite Food: Punjabi Dishes
Dream Holiday Destination
Favorite Colour: Blue
Rupinder Pal Singh Net Worth
Rupinder Pal's Net Worth is estimated to be in the region of INR 5-6 crores.
Rupinder Pal Singh Controversy
Rupinder hasn't been involved in any kind of controversy
Social Media Profiles
Rupinder Pal Singh Facebook- https://www.facebook.com/public/Rupinder-Pal-Singh
Rupinder Pal Singh Twitter – https://twitter.com/rupinderbob3
Rupinder Pal Singh Instagram ID – https://www.instagram.com/rupinderbob3/