Mary Kom is one of the unavoidable names in the history of Indian sports and continues to inspire millions of budding young generation who wants to be a successful sportsperson in the country. The name Mary Kom is now the symbol of power, pride, hard work and living for passion. Every successful woman will have an inspiring story behind them and Mary Kom is no different from that.
Born in a simple middle-class family to winning a bronze medal for India in Olympics the journey isn't a cakewalk for her. She had gone through millions of obstacles and hurdles to attain this grand success and she continues to work hard to retain the glory even today. She is doing different kinds of roles like Wife, mother of two and a sportsman who prepares for Olympics every day but still, she manages to maintain the proper work-life balance which every woman should have a look on it.
Mary Kom Early life
Mary Kom was born in a small village of Manipur named Kangathei. As a child she grew up in poverty and her parents were working in the agriculture fields for earnings and handed the responsibility of taking care of her younger siblings. She was determined to remove the poverty from her family, but she was only good at sports. She was very much interested and is fonder of participating in all kinds of sports and continues to perform well. Her parents never allowed her to take part in boxing as they considered it as a sport for men, not for ladies.
Mary's father Tonpa Kom is himself a wrestler but didn't allow Mary to take part in boxing events. The reason behind this is that they thought it will affect her marriage life. But Mary loved the sport very much and she thought it is the weapon that will remove the poverty from her home. Her passion and love towards the sport have grown up day by day and she decided to ignore her parent's words and took up the sport seriously.
Her journey towards Chasing the Dream
Mary was lagging with money to contribute her family expenses and but due to lack of proper training and boxing skills, she was not able to win the games. When she was 15 she decided to join the sports academy in Imphal and there she met Coach Narjit Singh. She decided to leave the home to concentrate boxing and the move proved to be the game changer in Narjit Singh was the head of Manipur state boxing identified her talent and realized that if she is nurtured properly definitely she will make India proud one day. She went on rigorous training sessions with Narjit Singh and that helped to horn her boxing skills. Undoubtedly Narjit played the vital role in the evolution of Mary Kom as a complete boxer.
Soon after Mary Kom started performing well and won the state boxing champions in 2000  her parents realized her dream and passion towards the game and started supporting her. This is one of the biggest turning points in both her professional and personal life. Mary met Onler Kom during 2001 national games at Punjab they fell in love with each other. Since then Onler Kom became the pillar of her success and started motivating her in each and every possible way. After dating for 4 years both married in 2005 and blessed with three children.
Her Achievements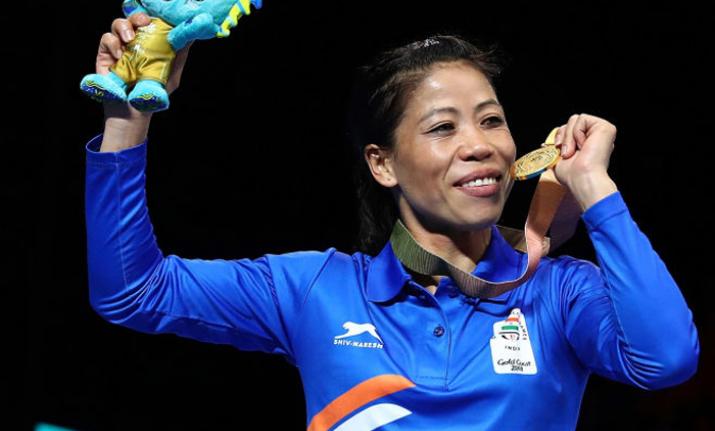 After giving birth to her first child mary started training again in 2008 and won the silver medal in Asian Women's Boxing Championship. She didn't stop from there she went on to win her fourth successive gold medal at AIBA Women's boxing championship in China. she continued her winning streak in Asian indoor games by bagging the gold medal.
Mary was unstoppable in 2010 as she clinched gold medals at Asian women's boxing championship and AIBA world women's boxing championship and this was her fifth consecutive world championship title. In the same year, she won the bronze medal for India at Asian games.
Mary was the first Indian women to qualify for 2012 Olympics where she went on to win a bronze medal by defeating Nicola Adams of UK. This was ultimately the high point of her career she was celebrated all over the country. That was the time when she got recognized for her hard work, patience over the years.
Interesting Facts about this Warrior
She is running a women's boxing academy in Imphal with world class infrastructure and she continues to prepare for the 2020 Tokyo Olympics.
Her biography was taken as a Bollywood movie with Priyanka Chopra in lead and directed by notable Sanjay Leela Bhansali and the movie was critically acclaimed and became one of the box office hits of the year.
She also has written an autobiography on her life named "unbreakable"
She is also lending her voice against sexual harassment for women and women empowerment
Undoubtedly a true warrior and true legend is an inspiring icon whom everyone should look upon. We wish him all success in her future endeavors.
Also Check: