The sport of Camogie finds its roots in Irish history. It is a prominent sport hailing from Ireland which includes a stick and ball. Camogie is a team game which played by only women and is very similar to the game of hurling which is played by men.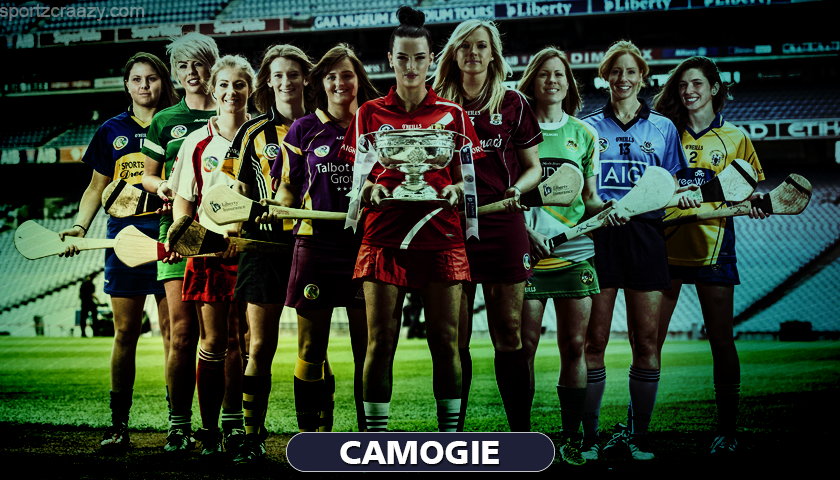 Collectively, this sport is played by approximately 100,000 women in the whole world while largely among Irish communities. Camogie is organised by the Dublin based Camogie Association that is the regulatory body for the game. This contact sport allows 15 players per side and requires the team to score goals. Obviously, the team with the most goals wins the game.
Every year All-Ireland Camogie Championship is held, which had a record attendance of 33,154 in the past. Currently, the average attendances vary anywhere from 15,000 to 18,000. The final is held over a live telecast which is said to have a reach near 300,000.
Camogie Sport History
Rules for Camogie were drawn upon an experimental basis in 1903 for a certain female stick-and-ball game by Séamus Ó Braonáin, Tadhg Ó Donnchadha , Seán (Sceilg) Ó Ceallaigh and Máire Ní Chinnéide.
Camogie was then officially launched on 17 July at a Feis in Navan, as its first public match took place between Craobh an Chéitinnigh (Keatings branch of the Gaelic League) and Cúchulainns.
The Camogie Association also is known as the An Cumann Camógaíochta was then founded in 1905 and was reformed in 1911, 1923 and 1939.
Máire Ní Chinnéide and Cáit Ní Dhonnchadha are credited with the distinction of having invented this game. They were prominent Irish-language enthusiasts and they were assisted by Ní Dhonnchadha's brother Tadhg Ó Donnchadha, the man behind the rules as he was a scholar.
Therefore even though women founded camogie and independently ran its operations they did have support from a few powerful males within the administrative ranks.
Format of the Game
Camogie consists of two halves of 30 minutes each. The half-time interval is of 10 minutes. If the scores are tied after normal time and the match ends as a draw, extra time of 10 minutes in each half may be added. Each team consists of 15 on-field players.
These are further divided into positions like a goalkeeper, full-back players, halfback players, centre-field players, half-forward players and full-forward players. Apart from a single goalie, only two centre-field players are needed. Rest all positions are trio based. Also, a minimum of 12 players must be present on the pitch at all times.
Furthermore, the size of the field is not fixed, but it may range between 130 m to 145 m in length. As for width, the range varies from 80m to 90m.
The goalposts used in Camogie are H-shaped. A team scores a goal if the ball goes between the posts. If the ball sails over the bar, one point is awarded, while 3 points are given if the ball is placed under the bar for a "goal".
The rules of Camogie are very similar to that of hurling:
Goalkeepers wear the same colours as outfield players. This is because no special rules apply to the goalkeeper and so there is no need for officials to differentiate between goalkeeper and outfielders.

A camogie player can handpass any score from play (hand passing a goal is forbidden in hurling since 1980).
Camogie games last 60 minutes, two 30-minute halves (senior inter-county hurling games last 70, which is two 35-minute halves). Ties are resolved by multiple 2×10-minute sudden-death extra time periods; in these, the first team to score wins.

Dropping the camogie stick to hand pass the ball is permitted.

A smaller sliotar (ball) is used in camogie – commonly known as a size 4 sliotar – whereas hurlers play with a size 5 sliotar.

If a defending player hits the sliotar wide, a 45-metre puck is awarded to the opposition (in hurling, it is a 65-metre puck).
After a score, the goalkeeper pucks out from the 13-metre line. (in hurling, he must puck from the end line).
The metal band on the camogie stick must be covered with tape. (not necessary in hurling)
Side-to-side charges are forbidden. (permitted in hurling).

Two points are awarded for a score direct from a side-line cut (since March 2012).
Currently, there are 537 Camogie clubs registered out of which 95.5% belong to the Irish shores. There are various competitions being held in camogie with the All-Ireland Championship being the biggest prize up for grabs.  There is also the National League which is held in winter-spring months in the four-tier division system wherein teams are graded according to their ability and merit.
Also Check: