Jaipur Pink Panthers Turn Around the Game: Jaipur Pink Panthers turned the game upside down in the last three odd minutes to register a 27-25 victory over Bengal Warriors at the NSCI, Mumbai today. Bengal Warriors were all over Jaipur Pink Panthers, and it was individual brilliance from Sandeep Kumar Dhull and captain Deepak Niwas Hooda that tilted the game in the Panthers' favour. Baldev Singh was the star yet again for Bengal Warriors, while Maninder got able support in raiding today, courtesy of K Prapanjan. Nabibakhsh had a relative off-day as he couldn't contribute much.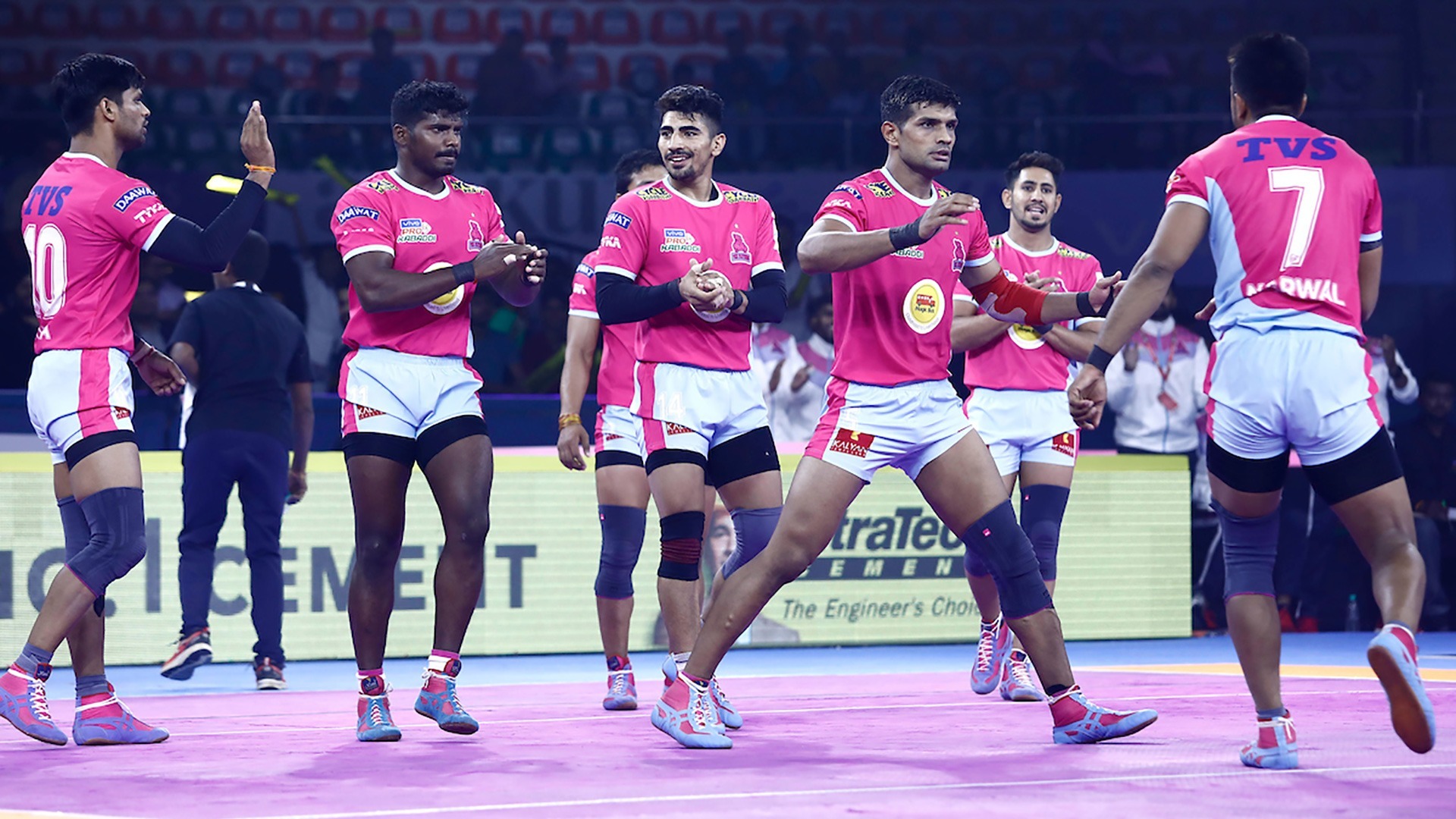 After an empty raid on either side, Maninder took the onus to get the first points of the evening as he got a touch point and a bonus in his second raid of the night. Nilesh  Salunkhe was then caught by Rinku Narwal on a do-or-die raid as the score read 4-0.
Panthers then caught Nabibakhsh, thanks to Sunil, and support from Amit Hooda, followed by a touch point from Deepak Narwal to crawl their way back into the game as the deficit was cut down to 1.
Vishal then committed an error as he tried to catch Maninder, but ended up giving a point to Bengal Warriors. RinkuNarwal then returned the favour as he made an unforced error, handing a point to Jaipur.
Maninder, Deepak and Vishal were in action again as Vishal yet again gifted Maninder a point, while Deepak got a touch on Maninder to send the Bengal captain on to the bench. The score was now at 9-6 in the favour of the Warriors.
A brilliant tackle from Amit Hooda, followed by a double-point do-or-die raid from Deepak Niwas Hooda got the scores back to even, 10-10.  The Bengal Warriors defence took over and first, got a super tackle on Deepak Narwal, and then tackled AjinkyaPawar to go into the half-time at 14-10, with a four-point lead.
Things started to get even in the initial few minutes of the half as Deepak Hooda got a touch on Jeeva, but RinkuNarwal dashed him out in the next raid. It was time for Jaipur defence to rise to the fore and Sandeep Kumar Dhull had his moments as he sent Mohammad Taghi and Prapanjan off the mat, as the score read 15-13 in favour of the warriors.
There was a moment of controversy that followed where Ajinkya stepped into the lobby without a touch, but the likes of Rinku and Nabibakhsh joined him to hand two points to Jaipur Pink Panthers, getting things closer than ever at 16-15.
It seemed as if it was going to be all Bengal Warriors from here as Maninder got a bonus and a touch on Deepak Hooda, before Deepak Narwal was tackled by the Bengal defence. Sachin though, got an important point for the Panthers in a do-or-die raid and the score now read 20-16. Jaipur defence then got another point, sending Bengal's best raider on the day, Prapanjan, off the mat.
It was all Maninder from here for Bengal as he got another couple of points, but Sandeep KumarDhull kept Jaipur in the game somehow and the score stood at 22-18 with about half of the second half to go.
But Baldev Singh had other ideas and he went in for Deepak Hooda in a super tackle situation and caught the Panthers captain to stretch the lead back to 5. Bengal then had brain-fade and lost their concentration somehow as they awarded a technical point to Jaipur for late entry of the raider. Sandeep Kumar Dhull then displayed another of his fine skills to cut short the gap to 2 now, with the score now reading 24-22.
Bengal Warriors now had two players on the pitch, Baldev Singh and Rinku Narwal with them needing to go for a raid. Baldev Singh went in to raid in wake of a point, but was caught out, and then Deepak Hooda got Rinku to inflict an all-out on Bengal Warriors, and for the first time, send Jaipur in the lead.
The score was now 24-26 and Maninder singh went in to raid with about 30 seconds to go. Maninder wanted to get more points, however, a Jaipur defender sacrificed and just gave the one point away to him. With the score at 25-26 and into the last raid of the match, Deepak Niwas Hooda played smart as he made the most of the desperate situation of Bengal Warriors and earned a point to end the match 25-27.
 Starting Sevens
Bengal Warriors – Maninder Singh, K Prapanjan, Baldev Singh, RinkuNarwal, Naveen Narwal, Jeeva Kumar, EsmaeilNabibakhsh
Jaipur Pink Panthers – Deepak Niwas Hooda, NileshSalunkhe, Amit Hooda, Sandeep Kumar Dhull, Deepak Narwal, Sachin Narwal, Vishal
Top Performers
Bengal Warriors
Top Raider – K Prapanjan (7 points)
Top Defender – Baldev Singh (6 points)
Jaipur Pink Panthers
Top Raider –  Deepak Niwas Hooda (6 points)
Top Defender – Sandeep Kumar Dhull (8 points)