The 2020 U19 World Cup is all set to kick-off in South Africa from January 17 where 16 teams will lock horns in the grandest stage of them all. There will be a total of four groups and top two teams from each group will advance to the Super League while the bottom two will play the Plate League.
India U19 the current champions of the U19 World Cup. They lifted the trophy after beating Australia U19 by 8 wickets in 2018. The defending champions are in Group A along with Japan, New Zealand and Sri Lanka while the runners-up of the last World Cup Australia are in Group B with England, Nigeria and West Indies. Hosts South Africa are in Group D with Afghanistan, Canada and UAE.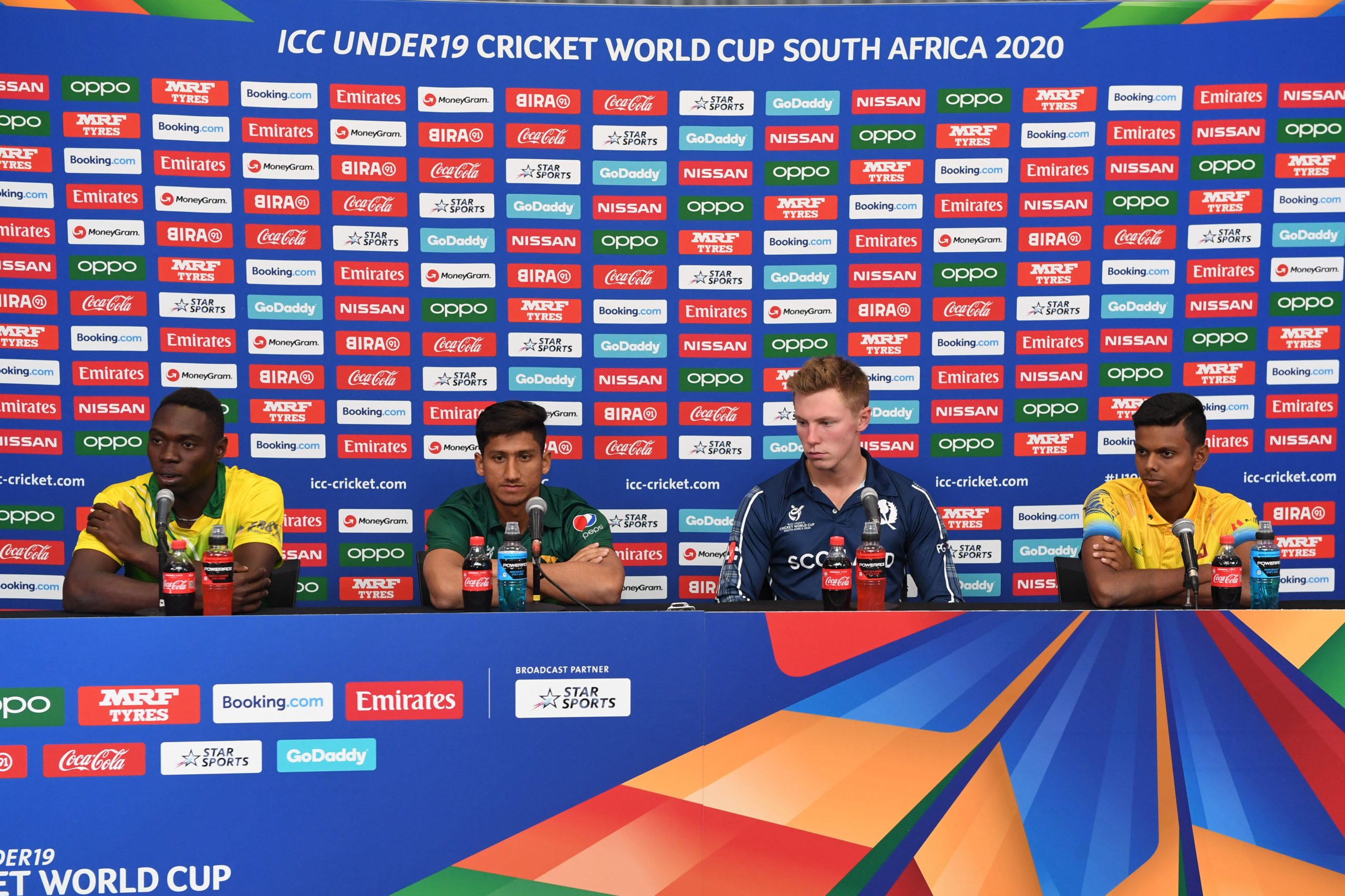 All the matches of the 2020 U19 World Cup will start at 1:30 PM IST. Star Sports will telecast all the matches. Live streaming will be available on Hotstar.
Groups:
Group A: India, Japan, New Zealand, Sri Lanka
Group B: Australia, England, Nigeria, West Indies
Group C: Bangladesh, Pakistan, Scotland, Zimbabwe
Group D: Afghanistan, Canada, South Africa, United Arab Emirates
Fixture:
Jan 17, Fri: South Africa U19 vs Afghanistan U19, 1st Match, Group D
Diamond Oval, Kimberley
Jan 18, Sat: Bangladesh U19 vs Zimbabwe U19, 2nd Match, Group C
Senwes Park, Potchefstroom
New Zealand U19 vs Japan U19, 3rd Match, Group A
North-West University No1 Ground, Potchefstroom
United Arab Emirates U19 vs Canada U19, 4th Match, Group D
Mangaung Oval, Bloemfontein
Australia U19 vs West Indies U19, 5th Match, Group B
Diamond Oval, Kimberley
Jan 19, Sun
India U19 vs Sri Lanka U19, 7th Match, Group A
Mangaung Oval, Bloemfontein
Pakistan U19 vs Scotland U19, 6th Match, Group C
North-West University No1 Ground, Potchefstroom
Jan 20, Mon
England U19 vs West Indies U19, 8th Match, Group B
Diamond Oval, Kimberley
Australia U19 vs Nigeria U19, 9th Match, Group B
Country Club B Field, Kimberley
Jan 21, Tue
Bangladesh U19 vs Scotland U19, 10th Match, Group C
Witrand Cricket Field, Potchefstroom
India U19 vs Japan U19, 11th Match, Group A
Mangaung Oval, Bloemfontein
Jan 22, Wed
South Africa U19 vs Canada U19, 12th Match, Group D
Senwes Park, Potchefstroom
Afghanistan U19 vs United Arab Emirates U19, 13th Match, Group D
North-West University No1 Ground, Potchefstroom
Pakistan U19 vs Zimbabwe U19, 14th Match, Group C
Witrand Cricket Field, Potchefstroom
New Zealand U19 vs Sri Lanka U19, 15th Match, Group A
Mangaung Oval, Bloemfontein
Jan 23, Thu
Australia U19 vs England U19, 16th Match, Group B
Diamond Oval, Kimberley
West Indies U19 vs Nigeria U19, 17th Match, Group B
Country Club B Field, Kimberley
Jan 24, Fri
India U19 vs New Zealand U19, 20th Match, Group A
Mangaung Oval, Bloemfontein
Afghanistan U19 vs Canada U19, 19th Match, Group D
North-West University No2 Ground, Potchefstroom
Pakistan U19 vs Bangladesh U19, 18th Match, Group C
Senwes Park, Potchefstroom
Jan 25, Sat
Sri Lanka U19 vs Japan U19, 21st Match, Group A
North-West University No1 Ground, Potchefstroom
Zimbabwe U19 vs Scotland U19, 22nd Match, Group C
Witrand Cricket Field, Potchefstroom
South Africa U19 vs United Arab Emirates U19, 23rd Match, Group D
Mangaung Oval, Bloemfontein
England U19 vs Nigeria U19, 24th Match, Group B
Diamond Oval, Kimberley
Jan 27, Mon
TBC vs TBC, Plate Quarter-Final 2
Witrand Cricket Field, Potchefstroom
TBC vs TBC, Plate Quarter-Final 1
North-West University No2 Ground, Potchefstroom
Jan 28, Tue
TBC vs TBC, Super League Quarter-Final 1
Senwes Park, Potchefstroom
TBC vs TBC, Plate Quarter-Final 3
North-West University No2 Ground, Potchefstroom
TBC vs TBC, Plate Quarter-Final 4
Witrand Cricket Field, Potchefstroom
Jan 29, Wed
TBC vs TBC, Super League Quarter-Final 2
Willowmoore Park, Benoni
Jan 30, Thu
TBC vs TBC, Plate Playoff Semi-Final 2
North-West University No2 Ground, Potchefstroom
TBC vs TBC, Plate Playoff Semi-Final 1
Witrand Cricket Field, Potchefstroom
TBC vs TBC, Plate Semi-Final 1
North-West University No1 Ground, Potchefstroom
TBC vs TBC, Super League Quarter-Final 3
Senwes Park, Potchefstroom
Jan 31, Fri
TBC vs TBC, Super League Quarter-Final 4
Willowmoore Park, Benoni
TBC vs TBC, Plate Semi-Final 2
Diamond Oval, Kimberley
Feb 01, Sat
TBC vs TBC, 13th Place Playoff
Witrand Cricket Field, Potchefstroom
TBC vs TBC, 15th Place Playoff
North-West University No2 Ground, Potchefstroom
TBC vs TBC, 5th Place Playoff Semi-Final 1
Senwes Park, Potchefstroom
Feb 02, Sun
TBC vs TBC, 5th Place Playoff Semi-Final 2
North-West University No1 Ground, Potchefstroom
TBC vs TBC, 11th Place Playoff
Diamond Oval, Kimberley
Feb 03, Mon
TBC vs TBC, Plate Final
Willowmoore Park, Benoni
Feb 04, Tue
TBC vs TBC, Super League Semi-Final 1
Senwes Park, Potchefstroom
Feb 05, Wed
TBC vs TBC, 7th Place Playoff
Willowmoore Park, Benoni
Feb 06, Thu
TBC vs TBC, Super League Semi-Final 2
Senwes Park, Potchefstroom
Feb 07, Fri
TBC vs TBC, 5th Place Playoff
Willowmoore Park, Benoni
Feb 08, Sat
TBC vs TBC, 3rd Place Playoff
Willowmoore Park, Benoni
Feb 09, Sun
TBC vs TBC, Final
Senwes Park, Potchefstroom
Please follow and like us: