Bodybuilding was first developed in England in the late 19th century. Bodybuilding is a fitness sport that involves intensive exercises and diets to maintain and control the musculature of the body. Bodybuilders are known to get ready and in shape for competitive bodybuilding by eliminating fat in their diets that isn't essential for their body and loading it with excessive carbohydrates in order to get muscular definition. Tanning is also preferred to accentuate these definitions. Meanwhile, competitive bodybuilding involves the bodybuilders getting lined up in front of the judging panel, striking poses to show off their physique and are judged accordingly.
The bodybuilding culture in India has fairly grown throughout the years with them being part of various advertisements and billboards relating to sports, fitness or otherwise. Particularly from the last two decades, bodybuilding has been more recognised because of its fitness element, what with personal training and fitness coaching being a booming business in recent years. IBFF (Indian Body Building and Fitness Federation) is a national organisation that represents the bodybuilding community in India that is acknowledged by the International Federation of Bodybuilding and Fitness. It's also recognised in Physique Sports Federation and Asian Bodybuilding.
The History of Bodybuilding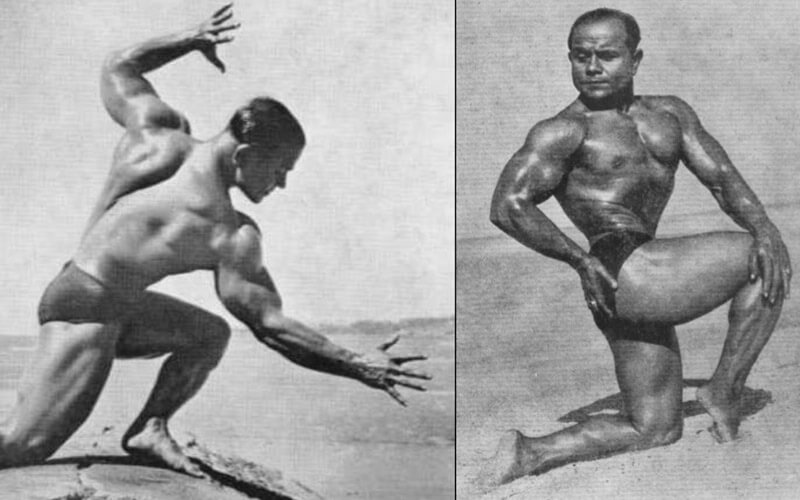 Though it is cited officially that the sport of bodybuilding took its origin in the western part of the world, the history of our country shows that it's not the case. Dating to as far back as medieval India, bodybuilding has always existed in some form or another, whether it be weightlifting, use of types of equipment like Mudgal or stone wheels to build up strong muscles.
A notable contribution to this fitness sport was made by a physician belonging to the South of India named K V Iyer. He worked for the Maharaja of Mysore in the 19th century. He's solely responsible for making the most important and also the earliest contribution to this sport by starting a gym dedicated to this in the year 1930 called the Hercules gym. Since Iyer was a vegetarian, it is noteworthy to observe that his diet practices only included strictly vegetarian food and yet managed to get successful results. This gym, even back then was so much in demand that it provided lodging facilities. Iyer's knowledge regarding bodybuilding was truly astounding and this can be clearly inferred from his work "Chemical Changes in Physical Exercise" published in the year 1938.
Monotosh Roy, the First Indian Mr Universe
Now let us talk about the first person of this country to ever win the Mr. Universe title, Montosh Roy. Born in Dhaka, Monotosh Roy didn't start out purely as a bodybuilder as you would imagine. Roy was trained in Yoga along with bodybuilding. He was trained under the younger brother of the author who wrote Autobiography of a Yogi, Bishnu Charan Gosh. Montosh Roy's road to this title wasn't any sort of smooth sailing.
He faced defeat and disappointment in the number of bodybuilding competitions he took part in initially. But this did not waver him. His perseverance wasn't faltered and it eventually proved to be fruitful as he won the East Indian Bodybuilding Championship and then he also went on to win the All India Bodybuilding Championship title in the year 1947. This 5 feet 5 inches bodybuilding hero stood the tallest as he later won the Mr. Universe title and was the first Indian to do so, making the whole country proud. His physique and charisma were such that there were people waiting in lines to get his autograph. He rightly became the person that laid out the foundation for bodybuilding in India and opened multiple gyms and sports centres and published books on the field.
Manohar Aich, India's Pocket Hercules
 The second legend of this sport is Manohar Aich. Though only around 5 feet tall, Manohar Aich more than made up for it in his physique. Manohar started out as a stunt man, surprisingly. He was part of the famous Sorkar magic shows. He was well known for bending spears and steel and just performing various other such stunts. The most interesting and fascinating part of Aich's journey towards eventual professional bodybuilding is how it all started. And start it did, when he was imprisoned for fighting against British brutality.
It is here, in prison where Aich started his training. He trained for almost 12 long hours a day which even managed to surprise the authorities. These authorities went on to make arrangements to get him extra food to serve the cause. Such was his dedication. Aich was released from prison after India got its Independence. Straight out of prison, he was poor and didn't have enough monetary funds to further his training, which was very unfortunate. But this did not deter him. He worked hard with complete dedication, which later paid off as he won the title Hercules in 1950, which even earned him the nickname 'Pocket Hercules'.
This was only followed by more merits to his name as he became runner up in the London Mr. Universe. And then he won the very title the following year, making India proud in the year 1952. He then kept his stride going by winning gold medals in Bodybuilding Championships in Asia. Manohar Aich lived not only a long life but also a full life with pure passion towards his craft.
Another Notable Bodybuilding veteran of India, Premchand Degra
Born in 1955, another important person in the history pages of bodybuilding in India is Premchand Degra of Punjab. Premchand Degra is a proud holder of two very prestigious awards of the country, Arjuna Award and Padmashree award. Like all athletes aiming for the big dream, he too had his own struggles. Degra started out as a wrestler initially. During this time, there wasn't much that happened for India in the bodybuilding area for the past three decades.
Fortunately, for some reason, Degra decided to pivot from wrestling to bodybuilding. And it proved to be the best decision for him as he later won the Mr. Punjab title, which was followed by Mr North India and then even Mr. India. Then he entered the international big leagues by winning the Mr. Asia title in the year 1983 at Karachi. He went on to participate in the World Championships in the middleweight class. The most memorable part of his career was in the year 1988 when he won Gold at Queensland, Australia and also the title Mr. Universe.
Also Check: Top 10 List Of Best Bodybuilders In India
Now let us move forward from the veterans of the sport to the present bodybuilders in the field making their strides 
Murli Kumari, belonging to the navy was an army man. So being a part of the bodybuilding world was a surprise to himself as much as it was to everybody else who knew him. Murli only ever started training for it at age 25, lifting weights. And now he's become such a strong presence in the community. He made his mark in the bodybuilding field by winning Mr. India two times, consecutively, in the years 2013 and 2014. In Vietnam, his performance at the Asian Bodybuilding Championship which was held in the year 2012 was nothing short of phenomenal. Hence, this makes him undeniably one of the best bodybuilders India has to offer.
Mr Universe & World Indian Bodybuilder Sangram Chougule hobbies are reading, acting,modelling #CelebHobby #hobbygiri pic.twitter.com/p7tVWaf7Xu

— Hobbygiri (@hobbygiri) May 1, 2016
Another champion who has left his mark is Sangram Chougule. Sangram actually happens to hold a degree in electrical engineering but the country knows him as a bodybuilding icon. Rightly so, since this man hailing from Pune, has won Mr. Universe title held in Bangkok, Thailand, in the World Bodybuilding Championship in the year 2012. He has also proven undefeated in many domestic and international championship competitions.
 Then there is Suhas Khamkar, born in a family of bodybuilders, brought up to be a bodybuilder as if this was his destiny since forever. He's more than a proud addition to the bodybuilding community of our country. This guy has not only won the title Mr. Maharashtra seven times but also the title Mr. India nine times. He has also won Mr. Asia and Mr. Olympia. It's noteworthy to mention that he was the first Indian bodybuilder to win a gold medal and become Mr. Asia in the year 2010.
 Another army man to dominate the country's bodybuilding sport is Rajendran Mani. For 15 years, Mani was in the Indian Air Force. Then the sport of bodybuilding called out to him. This calling later led to him winning Mr. India. In Budapest, Hungary, he bagged World Bodybuilding Championship in the 90kg category and also made a record in his name by winning Champion of Champions for a total of eight times.
Amit Chhetri is another bodybuilder from Gorkha hailed as the best among the best, by being chosen as the best in multiple weight categories. In the year 2013, be bagged the Champions Federation Cup.
Varinder Singh Ghuman is another notable bodybuilder. He's one of the very few pure vegetarians in the field and also the most popular, who happens to be trying his luck in the cinematic universe too. His popularity led to even Arnold Schwarzenegger asking him to be a part of promoting his fitness products in Asia. He has won Mr. India in the year 2009 and came in second place in Mr. Asia.
Ankur Sharma is one of the young bodybuilders now present in the game and is already said to be the best among the young bunch. Apart from winning a lot of domestic titles, he has won Mr. India in the year 2012 and got second place in the year 2013. In WBPF World Championship in 2013, he won gold. Neeraj Kumar is another such young and upcoming bodybuilder with a gold and bronze in his name at WBPF Mr. World in the year 2013.
Thakur Anup Singh, a trained pilot, television actor along with being a bodybuilder is another notable person. In Thailand, he won gold at WBFP championships in the fitness physique category and in Tashkent at Mr. Asia, he won bronze. Wasim Khan is another bodybuilder to ever have won IBFF titles back to back, twice.
Balider Galpa
Balider Galpa is undoubtedly one of the most notable literary works in bodybuilding and a gem that is now sadly out of print. It was written by Sachinder Majumdar, a 200 pages work that gives a deep analysis of the working of bodybuilding and the bodybuilding pioneers (including both men and women) and also some very rare reminiscent photographs. It was published by Deb Sahitya Kutir in the year 1940, a publication house based in Kolkata. The book is dedicated to Gobar Goho, who happened to be a close friend of Majumdar as they both attended Metropolitan Institution that was then called so, in Calcutta.
The book seems to be a compilation of Majumdar's experiences with weightlifters, strongmen and his fascination surrounding them. Though it may seem random with no chronological order, he somehow manages to tie it all up together in a way that is both informative and also entertaining. Be it the legendary fight between Gama (then only 26 year old) and Raheem Baksh in an exhibition site that happened to be the considered one of the greatest Dangal fights of all time or when the famous German bodybuilder, Eugen Sandow performed in the year 1905 in Kolkata as both Majumdar and Goho watched in awe as they sat wide-eyed in the audience, it's a well-written tale of strength and stories altogether.
Bodybuilding is as much a sport as it is an art form. And our country has produced the best bodybuilders playing the international circuit. Though our Bodybuilding federation has won numerous international titles, awards, championships and prestigious competitions, the Indian government seems to be oblivious to its success and achievements and refuses to give it the attention it rightly deserves. We, as the audience, should step in and encourage the sport and get it recognized by the government. Because the bodybuilders more than deserve this said recognition. Being the cricket centred country that we make ourselves to be, let's not forever keep this amazing sport with a lot of history and even more accomplishments in sidelines and give it the platform it deserves before it's too late.
Please follow and like us: