Former Spain Center-back and 2010 World Cup winner, Gerrard Pique is all set to bid a goodbye to his illustrious senior club career after 18 years. 4 years since he retired from International football after the 2018 World Cup, Pique announced his decision to leave FC Barcelona on Social media. 
Regarded as one of the most decorated Center-backs, the tall Spaniard influenced a lot of players from this generation. In his overall club career with Manchester United and FC Barcelona he has won a total of 33 trophies. During his 4-year stint at Manchester United from 2004-2008, Pique won 3 trophies including the English Premier League, the Carabao Cup (EFL) and the Community shield.
He started his club career in 1997 when he joined Barcelona's academy "La Masia". Pique's grandfather was a member of the Barca board at that time but his first professional contract was not with the Spanish club. After starting off as a Defensive midfielder at youth levels, the Spanish footballer switched his position to become a Center-back.
The last few weeks, months, people have been talking about me. Until now, I have not said anything, but now I want to be the one who is talking about me. Like many of you, I have always been a Barcelona fan. I was born into a football-loving family. From a very young age, I did not want to become a footballer, I wanted to play for Barca. Recently, I have thought a lot about that kid. If he had been told he would fulfil all his dreams that he would play for Barca, that he would win every trophy possible, that he would be a European and world champion. "That he would play with the best players in history, that he would become one of the team's captains. Football has given me everything. You, the fans, have given me everything. And now my childhood dreams have been fulfilled, I want to tell you that I've decided that now is the time to bring this journey to its end. I have always said that after Barcelona there will be no other team, and that is how it will be. This Saturday's game will be my last at Camp Nou. I will become a regular fan, I will support the team and transmit my love for the club to my kids, like my family did with me. And you know me, sooner or later I will be back. See you at Camp Nou. Visca Barca, always and forever. – Pique said in a video posted across social media.
Gerrard Pique's Game play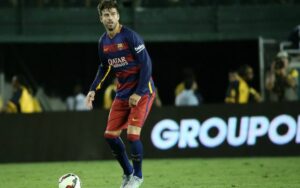 He was a versatile player and he could play in several offensive positions too. The 35-year-old was often seen deployed as a Sweeper who can clear the ball even when the defensive line has been broken by the opposition. Sweeper is a much more fluid position than Center-back as a they not only protect the back line but also starts the attack. 
Pique's height and strength was one of his biggest asses in his game. He was very effective on the air, helped building attacks, moved to goal scoring positions and added another attacking threat. However, there were some flaws in his game too as some were of the view that he lacks pace while some regarded Pique as inconsistent.
A cabinet full of Trophies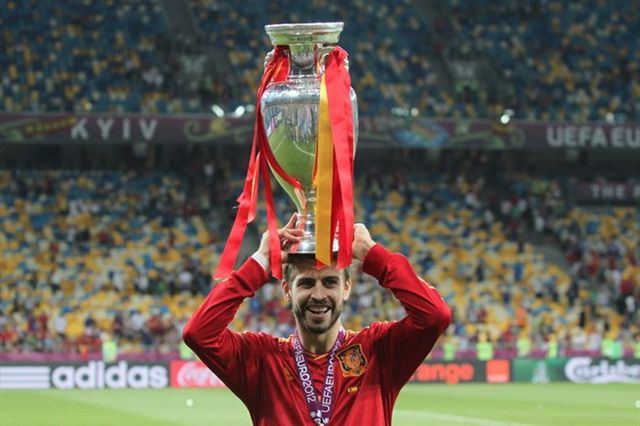 Once Gerrard Pique completed his academy tenure he moved to the English Premier League and signed for "Red Devils" Manchester United in 2004. His 4-year stay at the club included a season-long loan back to Spain with Real Zaragoza. In 2008, he returned to his boyhood club and became the Gerrard Pique we all know about. 
Current Manchester City manager Pep Guardiola was the manager of Barcelona at that time and under his leadership both Pique and Barca reached new heights. In his very first season, the Center-back won the famous treble (2008-09).
On May 13 2009, he helped the Blaugrana win 4-1 against Athletic Bilbao in the Copa Del Rey final. Within the next three days, Pique won his second trophy of the season as Real Madrid's loss against Villareal handed the Catalonians  with the La Liga title. 10 days after winning the Spanish League, Pique met his former club Manchester United during the UEFA Champions League final at Rome.
The Spanish outfit defeated United by 2-0 to become the first club from Spain to clinch three trophies in a season – (including the UCL). The 35-year-old scored the winning goal during the 2011 UEFA Champions League semi-final against 2010 winners Inter Milan to enter the UCL final for the second time in three years. 
FC Barcelona faced Alex Fergueson's Manchester United yet again the final and this time Guardiola's men won the final with a better score line of 3-1. After Barca took the lead through a goal by Pedro, Wayne Rooney equalized for Man United but extraordinary performances from Lionel Messi and David Villa helped Barca hammer United for the second time in three years.
In 2015, Barca won the treble once again this time under Luis Enrique's leadership. Barca had the famous attacking trio of MSN – Messi, Suarez and Neymar where Pique played an important role once again. In total, Pique won 31 trophies with the Catalonian side – 8 La Liga, 7 Copa Del Rey, 6 Spanish Super Cup, 3 Club World cups, 3 UEFA Super Cups and 4 UEFA Champions League titles.
The 35-year-old tasted success with his national side too – winning the FIFA World Cup in 2010 and the UEFA Euros in 2012. 
Falling down the pecking order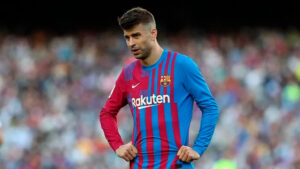 Despite all the success early on in his career, Pique's form and enigma has fallen down severely. The last 4-5 years have been extremely tough for FC Barcelona as they were facing financial obligations alongside failing to win major trophies. Pique has been at the center of everything and has helped the club revive. 
He is one of the players in the team who agreed to play for the club with reduced salaries but his performances have been disappointing lately. Moreover, the presence of young defenders like Jules Kounde, Andreas Christensen, Marcos Alonso, Eric Garcia and Ronald Aruajo has made it tougher for Pique to break into Barca's playing 11.
Current Barca manager Xavi Hernandez has favored other defenders more than Pique and the veteran 35-year-old has appeared only 9 times this season. Pique was a part of Barca's glory but he was also a part of their most humiliating phases.
FC Barcelona's disappointing loss against Liverpool in 2019 UCL Semi-final by 4-0 despite being 3-0 up in the first leg, followed by an unbelievable hammering to the hands of Bayern Munich by 8-2 and for the last two seasons the Catalonians have failed to proceed to the last 16 of the UEFA Champions League. 
Pique has seen every phases of FC Barcelona and served the club with 100% loyalty. He will play his final game for his boyhood club this Sunday against Almeria at Camp Nou.
Also Read – Fans in Kerala made "Messi Walk on Water"