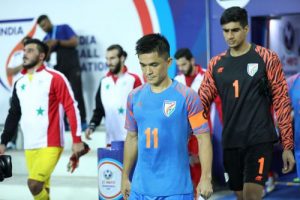 The Indian men's senior football team held on the 108th position in the year ending rankings released by FIFA on Thursday. India, however, lost 11 places throughout the year. Belgium is the leader in the FIFA rankings once again. The remainder of the top 10 consists of a European and South America nations, with Uruguay, Croatia, Portugal, Spain, Argentina, and Colombia rounding out the cream of the crop.
Among the Asian countries, India, with a total of 1187, is ranked 19th. The Asian countries' ranking is dominated by Japan. Japan is among the biggest climbers this year, from No. 50 to being Asia's top-ranked team and at No. 28 in the world. Japan is followed by Iran (33), Korea (40), Australia (42) and continental champion Qatar (55).
The hosts of FIFA Wold Cup 2022, have been the biggest gainer in terms of points as they gained a total of 138 points over the course of the year. They were benefited by being clinching the Asian Cup title. Qatar also saw the highest surge of 38 places throughout the year. Qatar was followed by Algeria who gained 32 ranks and Japan who jumped by 22 ranks.
India has not enjoyed a very successful stint with new coach Igor Stimac. The Indian men's team performance in the World Cup qualifiers against Bangladesh and Afghanistan has been the talk of contention for quite some time now. AIFF technical committee led by Shyam Thapa had also met Stimac to discuss India's performance in the World Cup qualifiers.
Thapa after meeting the coach had said that they discussed team had improved and there was a sense of fight in the way the boys played on the field. He said that the coach was just told that there could have been some more attacking football players and that doesn't amount to disappointment.
India was ranked 97th at the same time last year under the supervision of former coach Stephen Constantine.