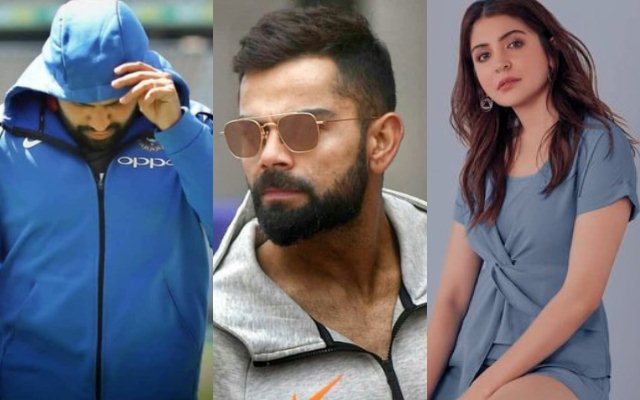 Kohli and Rohit Unfollows Anushka Sharma on Instagram: The rumors of rift between Rohit Sharma and Virat Kohli have been creating a stir for the last few months. Everything is seemingly made to look normal, but as they say, 'there is no smoke without fire.' Though the COA has cleared that both the players haven't discussed anything over rift and they won't look it as an issue until players speak for themselves, there seems to be something going between the two, especially after talks of split-captaincy took shape.
Rohit Sharma had already unfollowed Virat Kohli for some time now, dropping the slightest of hints of a something not being right between the two. If Mumbai Mirror reports are to be believed, Rohit Sharma has now unfollowed Bollywood actress and Virat Kohli's wife Anushka Sharma, adding fuel to fire. Kohli though continues to follow the Rohit Sharma and his wife Ritika Sajdeh, creating doubts in the minds of the fans.
It appeared that the duo shared great camaraderie during World Cup 2019, but after India's exit in the semifinal, things seemed to have changed between the two.
The Reason Behind the Rift
There are various speculations, but if Mumbai Mirrors reports are to be believed the actual problems started few years ago. "The problem between the two best batsmen started some years ago, when Rohit and his opening partner, Shikhar Dhawan, left the management company that Virat is associated with. At the World Cup in London, everything appeared hunky-dory until the Indian team's abrupt exit after the semis," the report said.
Indian bowling coach Bharat Arun has already stated that everything is fine between Rohit and Virat and that there is nothing to worry about, in their relationship. "It's not that we agree on everything. We have our arguments and discussions on various aspects like the composition of the team and the strategy. Everyone voices his opinion. But at the end of the day, the other person's view is respected and a collective decision is taken," he said to Superstar.
Please follow and like us: