India's ultimate task at the FIH Hockey World Cup 2023 begins in 6 days as they will go against an European team in the form of Spain. They will be looking to win the tournament for the first time since 1975 and in fact there's a wave of talk going around that India can actually win the world cup.
It will be like bringing the National Sport back to the country, just how Kapil Dev in 1983. A lot of questions before India takes the field are waiting to be answered. The Blues have no shortage of experience but will they waver in tough situations or remain tough will depend upon their mindset and tactics they go ahead with.
But before we find out the results, it is important to understand the role of Indian National Hockey team Head coach Graham Reid and how he has taken care of things as the man in charge. He has been at the helm for the last 4 years after carrying out successful stints with Australia and Netherlands as Coach and assistant Coach.
He is a former Australian International who has served the national side as a Defender or a Midfielder and helped the team to win several major trophies. Reid was a versatile player during his time as he could easily transit into playing in the defense and midfield. Such type of players are a blessing for any Coach and Reid's quality was such that he was a key member of the Australian squad winning Silver medal at the 1992 Olympics, Bronze in the 1990 Hockey World Cup, 4 Champions trophy gold, 2 silver and 2 bronze.
He also bagged 36 goals for Australia and the number is not bad for a Defender/midfielder who played 130 matches.
Reid's philosophy as a player has certainly lived on and he has applied it wherever he possibly went. His Managerial career before joining India indicates that he has won 2 Champions Trophy, 1 Oceania Cup and 1 Commonwealth Gold before getting inducted to the Queensland Hall of Fame. The Australian team under Graham Reid actually defeated India during the 2016 Champions trophy to win his second gold as  a manager.
In total he won 13 Medals with Australia before being chosen as the head coach of India. On April 2019, Reid was officially announced as the head coach of India and since then Indian hockey has been on an upward swing. He not only transitioned the tactics but also brought a healthy mindset and compactness within the dressing room.
Man Management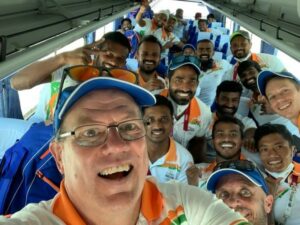 One of the principals of being a Coach is to have good Man management skills. Everyone can become a good tactician but not a good Man manager. And Reid has ticked every box. First he identified that developing a playing style and getting game time against big teams having different playing styles are a must.
Breaking the Regular cycle and giving exposure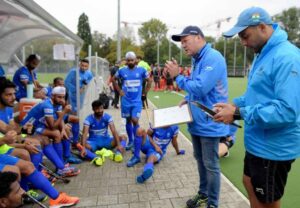 So, instead of playing against each other at SAI, Bengaluru, Reid and his team went for trips to Europe and South America to play against teams like Germany, Belgium, Spain and Argentina. The Indian team benefited from the exposure and their playing style started seeing a change.
During the tour to Europe, Graham Reid even organized a training session for Manpreet Singh and co. alongside the Dutch national team. He introduced some foreign training methods and new concepts to bolster India's technicality and experience tougher challenges. Reid's strategy also emphasized on the importance of the team's psychological conditioning. He urged the team to alter its perspective and concentrate more on the play itself rather than the game's conclusion.
As a result, India defeated Belgium, Spain and New Zealand by commanding scorelines. He also focused on integrating a group of talented youngsters who can help the team with their energy, efficiency and creativity. He groomed players like Vivek Sagar Prasad, Hardik Singh and also reinvented careers of many veteran players.
Tactical Overhaul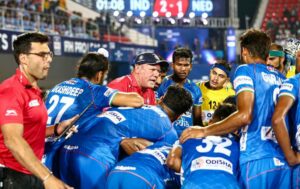 One of the main things he changed was the mindset while defending. He repeatedly told the Indian team that they must defend and press with confidence and energy to put the opposition under pressure. Reid knew that the team requires a major defensive overhaul and he sprinkled his original playing style as well philosophy to shape the team. His emphasis was mainly on doing the basics right, being solid and resilient.
Up front in the midfield and the forward lines, the 58-year-old changed a lot of things. They adopted a different playing style which demanded more from every team member. Reid laid the foundation for developing a beast Work rate – meaning that every player will help in defending, attacking and pressing.
They were undergoing transitions in the forward line and went from recycling possession in the midfield to unconventional pressing. Ever since the Aussie arrived India began pressing harder and put opposition in awkward situations. Pace in their forward passes, decisiveness within the midfield and composure in the final third generated massive results in favor of India.
Keeping Composure at tough situations
Reid comes from a playing culture in Australia, demanding consistency which influences results. Dependency on that regard is considered as the base for remaining at the team. Moreover, he understands the fact that India are not built big so him and his team have worked upon the physicality and mental aspects.
Being consistent demands control of the emotions as well and even current Netherlands coach has suggested that if India are able to maintain nerves and remain cool, they can get maximum rewards. "I think if India can cope with the enormous pressure, and if the players do not get too excited, they have a really good chance to win. India have got good strikers, good corner-takers, and a good goalkeeper. So they have all the ingredients to go far". 
Reid encourages his team to pressure opponents with tackles while they are in possession since it is a high-pressing style of hockey. The concept is straightforward: rush the opponent as soon as they receive the ball to prevent them from having time to look up and pass to a teammate.
In a recent Yo-Yo Test, six or seven Indian athletes, including Sumit and Mandeep Singh, reached the highest level of 23.8 in terms of fitness. Manpreet Singh, the captain, scored 23.2. The minimum goalkeeper aim for the Indian squad is 20, while the target for outfield players is between 22 and 23.
Results at the highest level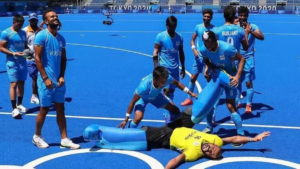 After all the preparation, the results at the biggest stages reflected. On 5th of August 2021, the Indian team made history at the Tokyo Olympics after ending a 41-year drought for an Olympic medal. Graham Reid and his men defeated 2-time World champions Germany to take the Bronze medal back home.
The Australian head coach master minded India's comeback from a 2-goal deficit to beat the mighty Germans. All of that happened because of the innovative training, self-belief, confidence and motivation. Graham Reid would firstly let himself settle to the Indian conditions and get familiarized alongside his wife Susain Reid.
But ultimately if there is something that Graham Reid hasn't won is the FIH Men's Hockey World cup gold. And apparently India are also on a hunt for World cup glory gold since 1975. This could be a match made in heaven, put aside the pun, in terms of a sporting sense we have many examples.
Can Graham Reid and co. script another beginning in Indian Hockey? If they do win the World Cup, the wave of Hockey will touch down every part of the country just like Cricket after 1983. DO you think India will go all the way to win the FIH Men's Hockey World cup 2023 starting from January 13.