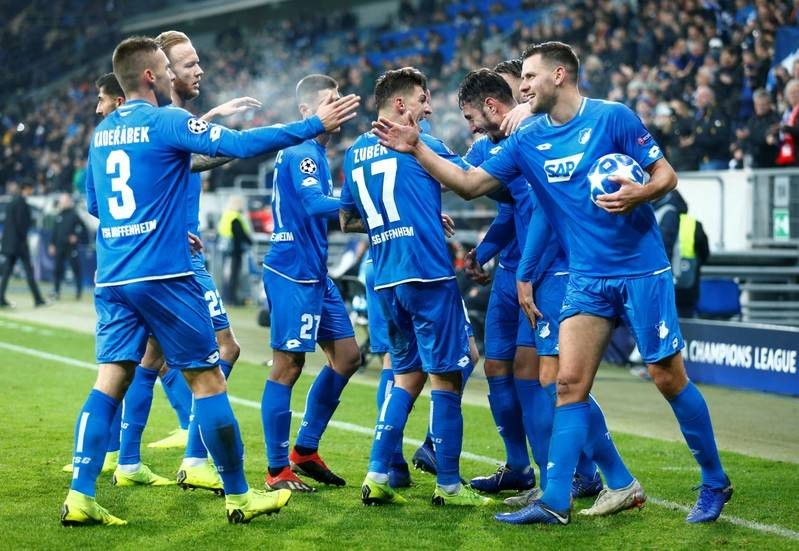 Turn-und Sportgemeinschaft 1899 Hoffenheim also known as TSG 1899 Hoffenheim is a professional German association football club situated  in Hoffenheim, a village of Sinsheim municipality, Baden-Württemberg.
The club was incepted in the year 1899 as a gymnastics club, where Hoffenheim came into existence in 1945. The club was in the fifth division side in 2000, the club swiftly made an uptrend through the German football league system with the financial support of alumnus and software mogul Dietmar Hopp, and in 2008 Hoffenheim was given a level higher to the top tier Bundesliga. In the 2017–18 season, Hoffenheim finished third in the Bundesliga (its best to date), qualifying for the UEFA Champions League group stage for the first time.
History
The club was initiated in the year 1945, when gymnastics club Turnverein Hoffenheim (founded 1 July 1899) and football club Fußballverein Hoffenheim (founded 1921) merged of the 1990s, the club was an obscure local amateur side playing in the eighth division Baden-Württemberg A-Liga. They slowly improvised and by the year 1996 the club was seen competing in the Verbandsliga Nordbaden (V).
In 2000, alumnus Dietmar Hopp made a comeback to the club of his youth as a financial backup. And that's how Hopp became the co-founder of software firm SAP and he starts backing the club by transferring his money into the club. His contributions helped in the generating immediate outcome which included the club finishing first in the year 2000 in the Verbandsliga and was promoted to the fourth-division Oberliga Baden-Württemberg. Another first-place finish moved the club up to the Regionalliga Süd (III) for the 2001–02 season. They finished 13th in their first season in the Regionalliga, but improved significantly the next year, earning a fifth-place result.
There were talks of negotiations to collab TSG Hoffenheim, Astoria Walldorf, and SV Sandhausen to create FC Heidelberg 06 in 2005 however, it was canceled due to the non-acceptance of the latter two clubs, and non-agreement on whether the new club's stadium should be located in Heidelberg or Eppelheim.
Ownership
| | | |
| --- | --- | --- |
| Name | Position | Age |
| Peter Hofmann | President | 61 |
| Dietmar Hopp | Investor | 79 |
Coaching Staff
| | |
| --- | --- |
| Head coach |  Alfred Schreuder |
| Assistant coach |  Dick Schreuder |
| Assistant coach |  Matthias Kaltenbach |
| Goalkeeper coach |  Michael Rechner |
| Athletics coach |  Christian Weigl |
| Rehab coach |  Otmar Rösch |
Management
| | | |
| --- | --- | --- |
| Name | Position | Age |
| Maxiilian Vollmar | Team Manager | 34 |
| Frank Briel | Chief Executive Officer | – |
| Peter Gorlich | Chief Executive Officer | 52 |
| Alexander Rosen | Director of Professional Football | 40 |

Squad
| | | |
| --- | --- | --- |
| No | Position | Player |
| 1 | GK | Oliver Baumann (vice-captain) |
| 3 | DF | Pavel Kadeřábek |
| 4 | DF | Ermin Bičakčić |
| 5 | DF | Kostas Stafylidis |
| 6 | MF | Håvard Nordtveit |
| 7 | FW | Jacob Bruun Larsen |
| 8 | MF | Dennis Geiger |
| 9 | FW | Ihlas Bebou |
| 10 | FW | Moanes Dabbur |
| 11 | MF | Florian Grillitsch |
| 12 | GK | Philipp Pentke |
| 14 | MF | Christoph Baumgartner |
| 16 | MF | Sebastian Rudy (on loan from Schalke 04) |
| 17 | MF | Steven Zuber |
| 18 | MF | Diadie Samassékou |
| 19 | FW | Ishak Belfodil |
| 21 | DF | Benjamin Hübner (captain) |
| 23 | FW | Sargis Adamyan |
| 25 | DF | Kevin Akpoguma |
| 27 | FW | Andrej Kramarić |
| 28 | GK | Michael Esser |
| 29 | FW | Robert Skov |
| 31 | DF | Lucas Ribeiro |
| 33 | GK | Alexander Stolz |
| 35 | FW | Maximilian Beier |
| 38 | DF | Stefan Posch |
| 41 | MF | Ilay Elmk |
Honors
League
·         2. Bundesliga
o    Runners-up: 2007–08
·         Regionalliga
o    Runners-up: 2006–07
·         Oberliga Baden-Württemberg (IV)
o    Champions: 2000–01
o    Runners-up: 2009–10‡
·         Verbandsliga Nordbaden (V)
o    Champions: 1999–2000
o    Runners-up: 2002–03
North Baden Cup
o    Winners: 2001–02, 2002–03, 2003–04, 2004–05
o    Runners-up: 2006–07
Youth
German Under 19 championship

Champions: 2013–14

Runners-up: 2014–15, 2015–16

German Under 17 championship
Under 19 Bundesliga South/Southwest

Champions: 2013–14, 2014–15, 2015–16

Under 17 Bundesliga South/Southwest

Champions: 2007–08

Runners-up: 2010–11

Under 15 Regionalliga Süd

Champions: 2011–12, 2012–13, 2015–16
a