Indian Olympian, Sudha Singh, competes in the 3000-meter steeplechase. Since 2005, the National record holder is representing India in various international events. Singh's dedication towards her sport has given her all the achievements and appreciation from around India.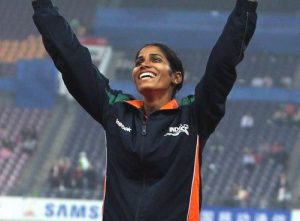 EARLY LIFE
Sudha started her career as an athlete in 2005. The Indian Olympic athlete is an Asian Champion in 3000 m steeplechase. She earned two gold & four silver medals various editions at the Asian Games & the Continental Championships.
The 30-year-old used to run in a small ground in a village of Rae Bareli, Uttar Pradesh. She had her training under coaches Renu Kolhi and Lalit Bhanot. Her family has supported & let her achieve her dreams. Singh hails from Raebareli, where she didn't receive enough
resources for her training due to which the young athlete moved to Lucknow. In Lucknow, she took her training and the rest is history.
Sudha did not achieve success in a night, there is a lot of hard work & struggle behind her successful athletic career.
PERSONAL LIFE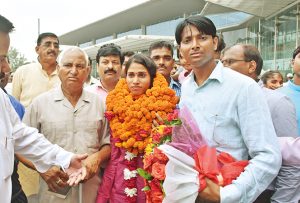 Sudha Singh was born on 25 June 1986 in Raebareli, Uttar Pradesh, India. Her father Harinarayan Singh, mother Shiv Kumari Singh and brother Pravesh Singh have embraced her with their support throughout his athletic journey.
The reason for which Sudha chose athletics was to run away from studies. In her childhood, Sudha's mind was more in sports than studies. He was not a studious child which worried her parents. She even bunked tuitions in order to run. Her parents never asked her to leave sports, but they wanted their daughter to acquire basic education.
After understanding her madness for sports, Sudha's parents allowed her to move to Lucknow for her training.
They believed in their daughter & the result of which was- "Sudha Singh won the 2016 Rio Olympics".
PROFESSIONAL LIFE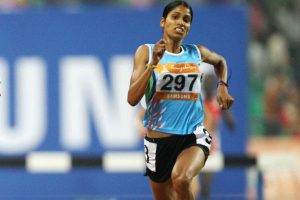 Indian Athlete Sudha Singh came to limelight with her performance at the Asian Games 2010 where she clocked 9:55:67 & earned a gold medal. She successfully became the very first Asian Champion as the 3000 m steeplechase happened for the first time at the Asian Games.
In 2012, Sudha got qualifies for the Olympic Games & broke her own national record (in steeplechase) with a clock time of 9:47.37. She returned to her homeland with a bronze medal.
In 2014, Sudha finished in the 4th position at the Asian Games 2014 but after the disqualification of a fellow runner, Sudha was promoted to win a bronze medal.
In 2015, Singh secured 19th position in the women's marathon event at the Olympics 2016 in Rio de Janeiro.
In 2016, Sudha bettered he performance and national record at the International Amateur Athletics Federation (IAAF) Diamond League, Shanghai. In the same year, Sudha got down with swine flu due to which she returned back to India without participating in the Summer Olympics.
In 2018, Sudha competed at the Asian Games after freshly trained under Lalit Bhanot and Renu Kolhi. She earned a silver medal with a clock timing of 9:40.04.
AWARDS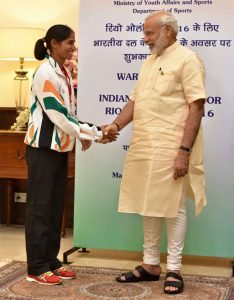 The Manyawar Shri Kanshiram Ji International Sports Award by Government of Uttar Pradesh (2010)
The Arjuna Award by the Government of India (2012)
ACHIEVEMENTS
ASIAN GAMES
Gold: 2012, Guangzhou: 3000 m steeplechase
Silver: 2018, Jakarta: 3000 m steeplechase
ASIAN CHAMPIONSHIPS
Gold: 2017, Bhubaneswar: 3000 m steeplechase
Silver: 2009, Guangzhou: 3000 m steeplechase
Silver: 2011, Kobe: 3000 m steeplechase
Silver: 2013, Pune: 3000 m steeplechase
Participation: COMMONWEALTH GAMES: 2010, Delhi, India: 3000 m steeplechase
Participation: ASIAN GAMES: 2014, Incheon, South Korea: 3000 m steeplechase
PERSONAL INFORMATION
Name: Sudha Singh
Nickname: Sudha Singh
Sport: Track & field
Events- 3000 m steeplechase
Father's name: Harinarayan Singh
Mother's name: Shiv Kumari Singh
Brother's name: Pravesh Singh
Coaches-
Height: 1.58 m (5 ft 2 in)
Weight: 45 kg (99lb)
Personal best: 9:26:55 (Shanghai 2016)
Eye colour: black
Hair colour: black
Date of birth: 25 June 1986
Age: 33 years
Birth place: Raebareli, Uttar Pradesh, India
Zodiac sign: Cancer
Nationality: Indian
Hometown: Uttar Pradesh
Religion: Hindu
CONTROVERSY
Athlete Sudha Singh made headlines when she was excluded from the Indian team for the World Athletics. But after president wrote an open letter insisting to include the steeplechaser, the Athletics Federation of India released a list including Sudha Singh. Also, she was on headlines when she urged the Uttar Pradesh Government to get a job in the sports department. Apart from this, Sudha Singh has also been on headlines for his performances, awards, and achievements.
SOCIAL MEDIA HANDLES OF SUDHA SINGH
FACEBOOK- NOT ACTIVE
INSTAGRAM- NOT ACTIVE
TWITTER- NOT ACTIVE