Sumit Sangwan Biography: Sumit Sangwan is one of the brightest talents in the heavyweights from India. Sangwan rose to prominent after earning a gold medal at the Asian Olympic Qualifiers held at Astana in Kazakhstan. Sumit faced many hurdles throughout his sporting journey, struggling with both injuries & luck, but the Indian boxer didn't give up and made India proud on countless occasions.
Three back-to-back surgeries can easily break the morale of an athlete but it was not the same for the 26-year-old boxer. Instead, he fought all his battled and earn his nation a silver at the Asian Championship & also a World Championship berth.
EARLY LIFE
Sumit Sangwan was born on 01 January 1993 in Shekhpura village, Karnal district, Haryana, India. Sumit began his boxing career at a tender age. He picked up the boxing gloves at the age of 11. He started the boxing training at his uncle's boxing academy in Shekhpura. Sumit soon showcased his spirit & at the age of 16 he went on to compete from the state levels to the national levels.
The Indian boxer has also faced numerous hardships in his boxing career. At a point in his career, he used to cry sitting in a room all alone.
The boxer and his parents even went to many godmen to make things right. He even thought of leaving boxing. In 2014, Sumit fractured his left hand and this accident happened before the Commonwealth Games.
 He got his plaster off his hand just ten days before the Commonwealth. The strong boxer participated with a swollen hand & ended up losing the quarter-finals.
In 2015, his elbow started troubling Sumit again. And once again following his elbow issue, he lost at the World Olympic Qualifiers in 2016.
Bad luck kept following the young boxer. Sumit suffered from typhoid before the 2018 Commonwealth Games trials.
He didn't step back & went on to participate in the competition but had to return without a win.
With time, Sumit made peace with the hard times. He was away from competitions sometimes. Meanwhile, he went through two surgeries. But he managed to secure a place in the final round of the 2017 Asian Championships & also the 2016 World Championships quarter-finals.
It became really tough for his parents to see Sumit suffering both mentally & physically. They even requested him to not come back home injured.
Despite the never-ending struggles in his sporting career he received constant support from his family, friends, and villagers. This support somewhere helped him to hold on to his dreams and keep trying his luck in boxing.
His never stopping attitude has made him an exceptional athlete of all time.
PROFESSIONAL LIFE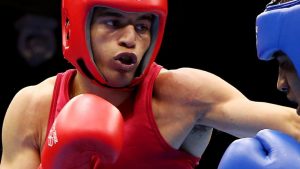 After marking his name at the national levels by earning two gold medals, in 2012, Sumit Sangwan made headlines when the 26-year-old boxer earned the gold medal at the Asian Olympic Qualifiers held at Astana in Kazakhstan.
Sumit kept national selectors' faith in him as he was successfully qualified for the London Olympics. Before, Sumit was also selected for the Olympic qualifiers.
Sumit Sangwan further competed at theAIBA World Boxing Championships held at Almaty. But Sumit lost the competition out to Kazakhstan Adilbek Niyazymbetov in the quarterfinals.
ACHIEVEMENTS
 ASIAN CHAMPIONSHIP
PERSONAL INFORMATION
Name: Sumit Sangwan
Nickname: Sumit Sangwan
Sport: Boxing
Events: Men's Light heavyweight (81 kg)
Country: India
Father's name: Surender Sangwan
Mother's name: NOT UPDATED
Coach: Rajkumar Sangwan
Club: Bhiwani Boxing Club
Height: 1.88 m (6 ft 2 inch)
Weight: 82 kg (180 lbs)
Eye colour: Black
Hair colour: Black
Date of birth: 01 January 1993
Age: 26
Birthplace: Shekhpura village, Karnal district, Haryana, India
Zodiac sign: Capricorn
Nationality: Indian
Hometown: Haryana
Religion: Hindu
CONTROVERSY:
Apart from his glorious performances and achievements, the Indian boxer hit headlines when an annoying Indian contingent registered an official objection against the referee's decision. This protest took place after Sumit lost his 81 kg stint under controversial situations at the 2012 Olympics.
NET WORTH: 
The primary net worth and income of Sumit Sangwan comes from his sporting profession.
SOCIAL MEDIA HANDLES:
FACEBOOK- https://www.facebook.com/sumit.sangwan.1654
INSTAGRAM- NOT UPDATED
TWITTER- https://twitter.com/sumitboxer2011
Please follow and like us: