Rohan Bopanna is one of the most well-known tennis players from India. In 2007, Rohan's singles career-high ranking was World No. 213 and in 2013, his doubles ranking was up to World No. 03. He has mostly participated in the doubles. Since 2002, Rohan is also a member of the Indian Davis Cup Team.
The 39-year-old tennis player has also juggled between defeats & tough times which gradually lead him to major victories in his tennis career. Rohan came as a breath of fresh air in the Indian tennis circuit and has taken the sport forward from the likes of Mahesh Bhupathi and Leander Paes.
EARLY LIFE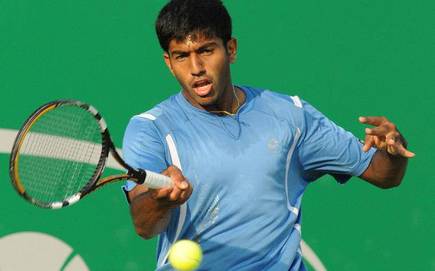 Rohan Bopanna has proved that age is only a number. Despite his age, the tennis player has successfully set a timeline of achievements. He worked towards his goals every day. In his journey, he has also received complete support from the people around him. He might be a late bloomer but the player has not failed to contribute victories for his country. The "never give up" attitude of Rohan Bopanna helped him to attain the position where he is today.
PERSONAL LIFE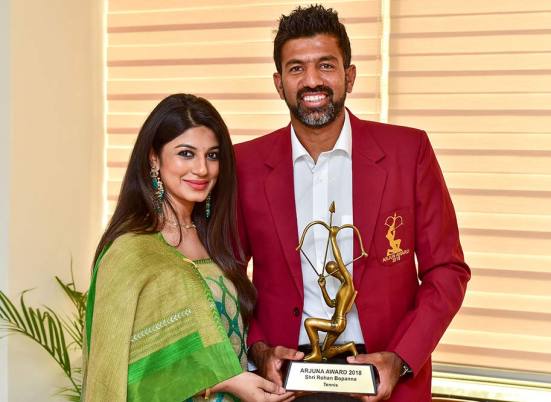 Indian Tennis player, Rohan Bopanna was born on 04 March 1980 in Bengaluru in India. At a tender age of 11, Bopanna began playing tennis as his father wanted him to become a professional sportsperson in an individual sport. As a kid, he used to play and enjoy every sport including football & hockey. At the age of 19, Rohan prioritized tennis and decided to pursue his career in the respective sport. Rohan's father, M. G. Bopanna is a coffee planter & his mother is a housewife. Rohan was a lucky child as his parents have been super supportive of his tennis career. Rohan and his family reside in Coorg/Kodagu district in Karnataka. His older sibling lives in Mumbai. Bopanna's inspiration is Stefan Edberg who has always influenced him in his growing phase. He has completed his education from Sri Bhagawan Mahaveer Jain College, Jain University in Bengaluru.
Rohan Bopanna also has an adorable love marriage. He is married to Supriya Annaiah who is a psychologist. The tennis player met 24-year-old Supriya through his cousin's brother. The duo started with a friendship, needless to say, Bopanna had all the plans to take their relationship to the next level. They finally got married in 2012.
He is not only an exceptional ten is player but Rohan Bopanna is also a great human being. The player donates a part of his income generated by sales of Stop War Stop Tennis merchandise to GoSports Foundations which is an NGO that primarily works to empower sporting excellence in India. Also, he helps an Opportunity School in his hometown that works to provide educational necessities for physically handicapped children.
PROFESSIONAL LIFE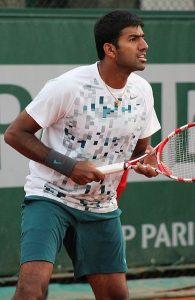 Rohan Bopanna made his debut at the Indian Davis Cup Team in 2002. He turned a professional tennis player in 2003.
In 2007, Rohan differentiated himself as one of India's excellent doubles players at the Hopman Cup. Although he failed in his first singles competition, that helped him to earn a 2-1 victory along with Sania Mirza in the final over the Czech Republic.
In 2008, Rohan earned the Men's double title at the Countrywide Classic with Eric Butorac. This turned out to be his first ATP title in doubles.
In 2009, the tennis player successfully got qualified for the Chennai Open. Unfortunately, he failed in the first round.
Rohan's career was defined in 2010. This year, he partnered with Aisam-ul-Haq Qureshi in doubles. Their partnership was named as the IndoPak Express. They won their first ATP doubles title by winning the Johannesburg Open. They also made to the quarterfinals of a Grand Slam event for the first time in their tennis careers at the Wimbledon Championships. The power-packed duo even defeated the world no. 1 pair, Bryan brothers, in the quarterfinals of the Legg Mason Tennis Classic.
In 2017, Rohan attained his dream of earning a Grand Slam title. After being expelled from the US Open finals in 2010, Rohan achieved a place in the finals of the French Open 2017. The partnership Rohan & Gabriel Dabrowski earned the Mixed Doubles trophy at the Open. This victory helped Rohan to become the 4th Indian men to achieve a Grand Slam trophy.
In 2018, Rohan entered the Australian Open along with Timea Babos. The pair successfully reached the finals. Unfortunately, they lost the victory to Mate Pavic and Gabriela Dabrowski.
AWARDS
Arjuna Award for Lawn Tennis
Ekalavya Award by the Government of Karnataka
Arthur Ashe Humanitarian of the Year Award in 2010
Image of the Year Award by the Peace and Sports
ACHIEVEMENTS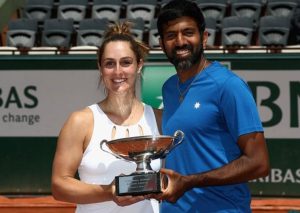 ASIAN GAMES
Gold: 2018: Men's Doubles
GRAND SLAM DOUBLES
Australian Open – 3R (2008, 2011, 2012, 2014, 2016, 2018)
French Open- QF (2011, 2016, 2018)
Wimbledon- SF (2013, 2015)
U s Open- F (2010)
GRAND SLAM MIXED DOUBLES
Australian Open: F (2018)
French Open: W (2017)
Wimbledon: QF (2013, 2017)
US Open: QF (2014, 2016)
PERSONAL INFORMATION
Name: Rohan Bopanna
Nickname: Rohan Bopanna
Sport: Lawn Tennis
Events: Men's Doubles & Team
Country: India
Father's name: M. G. Bopanna
Mother's name:  Malika Bopanna
Spouse: Supriya Annaiah
Coach: Dragan Bukumirovic
Height: 1.90 m (6 ft 3 in)
Weight: 85 kg
Plays: Right-handed (two-handed backhand)
Career Record: 15-33
Eye colour: Black
Hair colour: Black
Date of birth: 04 March 1980
Age: 39
Birth place: Bengluru, India
Zodiac sign: Libra
Nationality: Indian
Hometown: Bengluru
Religion: Hindu
CONTROVERSY
Rohan Bopanna made controversy when he refused to pair up with the tennis player, Leander Paes, for the Summer Olympics in 2010. This incident led to two teams in the Games. Following his statements, Leander Paes was paired with Vishnu Vardhan.
He has also hit headlines for his glorious performances and achievements.
NET WORTH OF ROHAN BOPANNA
The primary net worth and income of Rohan Bopanna comes from his restaurant. As a tennis player, he has also received prize money of US$ 4, 057, 786.
SOCIAL MEDIA HANDLES OF ROHAN BOPANNA
FACEBOOK- https://www.facebook.com/Rohan.Bofors.Bopanna/
INSTAGRAM- https://www.instagram.com/rohanbopanna0403/?hl=en
TWITTER- https://twitter.com/rohanbopanna?lang=en