Nitendra Rawat Biography
Nitendra Singh Rawat is an Indian marathon runner, who recently won the Delhi Marathon Race in March this year, completing his race in two hours, 16 minutes, and 05 seconds. He will now show his magic on the streets of Birmingham in commonwealth games.
| | |
| --- | --- |
| Name | Nitendra Singh Rawat |
| Profession | Marathon Runner |
| Birth Place | Garur, Uttarakhand |
| Age | 35 years old (as of 2022) |
| Nationality | Indian |
| Religion | Hindu |
| Fathers Name | Heera Singh Rawat |
| Category | Men's Marathon |
| Highest Ranking | 574 |
| Marital Status | Single |
| Height | 1.7m |
| Weight | 58 kg |
 Nitendra Rawat Early Life:
Nitendra Singh Rawat is a veteran marathoner from a village called Garur located in the district of Bageshwar in Uttarakhand. He was formerly a track runner but switched to a marathon in 2015. Solo long runs of over 30km in the Kumaon hills of Uttarakhand toughened the elite marathon runner. The 35-year-old is currently training in Ranikhet, Uttarakhand. He joined the army in 2006 and took up athletics soon after.
 Nitendra Rawat Professional Life:
At 35 Nitender Rawat is a veteran marathon runner. He is excited to qualify for the commonwealth games 2022 and is hoping for a strong outing. He is currently ranked 644 in the men's marathon ranking. During the pandemic, Rawat has worked tirelessly to gain his fitness back and test himself again on the world stage.
Nitendra Rawat announced himself by winning gold in South Asian Games in Guwahati on 12 FEB 2016. He didn't stop there; he became one of only three athletes to qualify for the marathon event at the Rio Olympics.  He completed his race in 2:22:52 at the 2016 Rio Olympics but an unfortunate hamstring injury caused him to finish 84th in the race.
Rawat was quick to put it all behind and started working on improving his timing. Much of 2017 and 2018 were disrupted by injuries and Rawat would struggle to compete in major events. Showing his metal Rawat made the comeback in the prestigious London Marathon in April. In 2021 at the Boston Marathon, the Indian marathoner clocked two hours and 22 minutes to finish 31st in a highly competitive field. In the Mumbai marathon, he broke his idol Ram Singh's timing of 2:16 by finishing at 2:15:48.
He wants to break the national record – 2:12.00 – set by Shivnath Singh 38 years ago.
 Nitendra Rawat Commonwealth Games 2022:
For any Indian athlete representing your country at any international event is a matter of immense pride. Rawat wants to rekindle that feeling at the Commonwealth Games in Birmingham. In March of this year, Rawat finished the Delhi Marathon in two hours, 16 minutes, and 05 seconds to win. It was faster than the two hours, 18 minutes, and 40 second CWG qualifying time. His best years may be behind him but Rawat is going to the event as the leading runner. He will compete along with three other marathon runners.
Nitendra Rawat Family:
Nitendra Singh Rawat was born on 29th September 1986 in Uttarakhand. His father's name is Heera Singh Rawat. He was raised in a Hindu family. Little is known about his personal life.
Nitendra Rawat Controversy: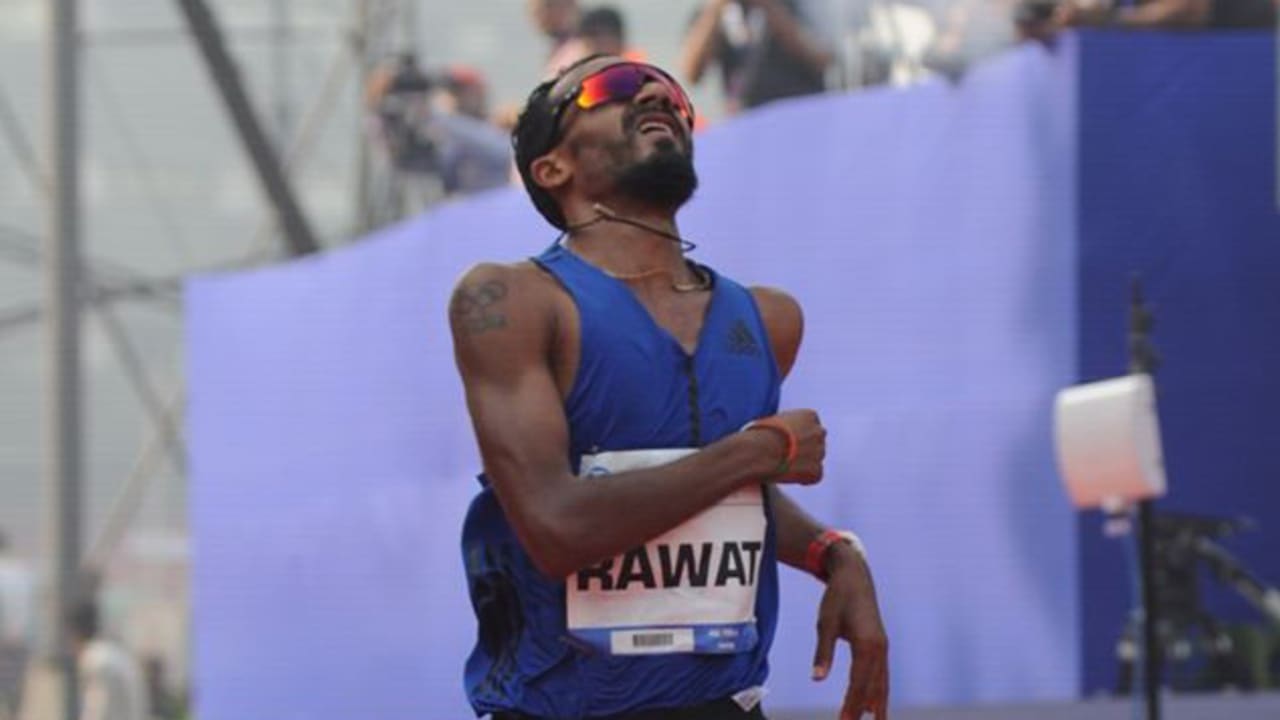 After a dismal show at the 2016 Rio Olympics, Nitendra came 84th in the event. The biggest issue with Nitendra was the lack of facilities provided to him. Despite getting a qualification in the Rio Olympics 2016, Nitendra was devoid of any training facility so the 32-year-old was forced to train back home in Ranikhet, Uttarakhand.
Other athletes trained at the national base in Patiala, or their multi-facilitated personal training center. But after his injury in Olympics, he never got a National call-up. Despite being the second-best Indian in the Mumbai Marathon, Nitendra Rawat was overlooked for both the Commonwealth Games and Asian Games in 2018. After his dismal show at the Rio Olympics, Nitendra was flooded with hate messages that were so upsetting for him.
Nitendra Rawat Records and Achievements:
Gold Medal in South Asian Games, Guwahati in 10,000 meters event

He won the Delhi Marathon in April 2022

Finish the Mumbai Marathon by setting the timing of 2:15:48

Gold Medal in Airtel Delhi Marathon in 5,000 meters event

Gold Medal in the Federation Cup in Patiala.
Nitendra Rawat Unknown Facts:
He showed little inclination toward athletics

He started as a track athlete before becoming a marathoner

He wants to break the national record – 2:12.00
Nitendra Rawat Social Media:
Instagram: @nsrawat https://www.instagram.com/nsrawat/?hl=en
Twitter: @NrawatSingh https://twitter.com/nrawatsingh?lang=en
Facebook: @nitinrawat2012  https://www.facebook.com/nitinrawat2012/