Nirmala Sheoran Biography:  Nirmala Sheoran is an Indian Track & Field sprinter who specializes in 400 meters event. She represented India at the 2016 Rio Summer Olympics. She was also the Gold medal winner in Asian Championship in 2017.
EARLY LIFE: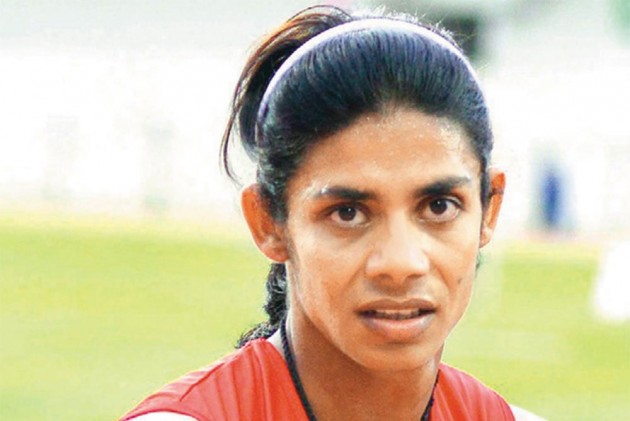 Nirmala Sheoran was born in Chehad Khurd village of Haryana state's Bhiwani district. Nirmala completed used to participate in school athletic events. She completed her schooling from a nearby government school. Nirmala hails from a farming family and belonged to a poor family. Damkaura's coach Bijendra Singh used to coach the players at Bahl's Government Girls Senior Secondary School. It was in the year 2009, Nirmala at that time studied in standard 9. Nirmala's father Suresh had a good friendship with coach Bijendra. On that basis, Suresh asked Bijendra to get his daughter to practice as well. After that, Nirmala descended to play for the first time and found her way to become an athlete. After that Nirmala never looked back.
PERSONAL LIFE:
Father's Name- Suresh Sheoran
Nirmala is a very responsible and a serious girl who is always focused on her career. She is 24 years old and is single and lives with her family in Rohtak. Nirmala completed her further studies from Maharshi Dayanand University Rohtak, Haryana. She is a graduate who spent now focuses on her sport after completing her education. Nirmala, who belongs to the peasant family, used to under tremendous pressure to study along with her sports. Despite that she reached the Olympics as she studied and she also passed BA exams.
PROFESSIONAL LIFE:
Rio Olympics qualification- Nirmala participated in women's 400 meters event for the Olympics by clocking 51.48 seconds, her personal best time, at the National Inter-State Senior Athletics championships in Hyderabad.
Personal Best- She clocked her personal best record in 400 m with 51.48 secs in Hyderabad.
Coach- Vijender Singh Damkora
Rio Olympics qualifying event – 56th National Inter State Senior Athletics Championship in Hyderabad.
Nirmala used to practice hard and continued to win gold in the Asian Championship in 2012 and went on to play in the World Championship in 2013. She also became the best athlete at the All India University Games in 2013. In 2015 she come with her Coach Vijender Singh Damkora in Rohtak Rajiv Gandhi Sports complex and she worked hard on synthetic track to improve her game. She continued extensively as her hard work paid off in 2016.  In 2016, she won the Inter State Athletes 400m race in Telangana and won the Olympic ticket.  Nirmala Sheoran was one of the few woman athletes who qualified in the 400 metres category at Rio 2016 Olympics. She finished well below the Olympics qualification mark of 52.20 seconds and also surpassed the previous best time at the meet of 51.73 seconds set by M. R. Poovamma in 2014. Her journey has been marked with her determination to succeed, focus and strength. She also beat the qualification mark of 52.20 seconds, set at the Telangana
Athletics Association 400 metre event during her successful stint in Hyderabad. She beat top woman athletes too, topping Kerala's Jisna Mathew, who came second (53.14 seconds) and Sowndharya P N, who finished third, (53.85), in her qualifying performance. Sheoran also qualified for the Olympics in the women's 4 × 400 metres relay event. The quartet of Sheoran, Poovamma, Tintu Lukka and Anilda Thomas clocked 3:27.88 at Bangalore  finishing with the 12th best time in the world as top 16 relay teams qualified for the Olympics. n 2017 She was part of the winning 4x400m team who took gold at the 2017 Asian Athletics Championships in Bhubaneshwar. Although she did not win anything at the Rio Olympics, Nirmala went on to win two back to back gold medals in 400m individual and 4 x 400m relay events at the Asian championships in 2017.
Nirmala Sheoran Personal Details & Physical Measurements:

Date of Birth- 15 July, 1995
Age (as of 2019)- 24 years old
Gender- Female
Birthplace- Chehad Khurd village, Bhiwani District, India
Nick name- Not Known
Race- Not Known
Zodiac sign- Cancer
Nationality- Indian
Hometown- Bhiwani District, Haryana, India
Residence- Rohtak, Haryana
School- Bahl's Government Secondary Girls' High School
College- Maharshi Dayanand University Rohtak, Haryana
Occupation-  Track & Field Sprinter
Event- 400 meters & 4 x 400 m relay
Net worth- $ 200- 300 K (estimated)
Qualification- Graduated (Bachelor's degree)
Religion- Hinduism
Ethnicity- Not Known
Sexual Orientation- Straight
Tattoo – NO
Smoking-  NO
PHYSICAL MEASUREMENTS:
Height- 5 feet 3 inches (Approx.)
Weight (approx.) – 61 Kgs (Approx.)
Shoe Size- 8 (US)
Eye Color- Grayish Black
Hair Color- Black
CONTROVERSIES: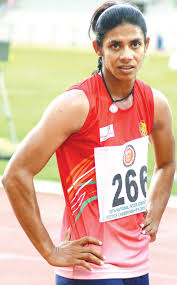 After her medal winning runs at the Asian Championships in 2017, Nirmala was not seen much on track as she was questioned by the Athletics Federation of India (AFI) on various occasions about her whereabouts and training places. Though her athleticism stood out, some of her efforts were questioned by the Athletics Federation of India (AFI) president Adille Sumariwalla. He said that her efforts had been inconsistent as it was evident from the records in the heat events and the qualifying events.  Later, Nirmala revealed that she was going through a lot of mental stress as she was battling personal problems during that phase. Nirmala had recovered from typhoid came out in the public to confess everything. Asked if she had informed AFI about her training place, Nirmala said, "No, I did not give any information to AFI. After the World Championships, I was at my village in Dadri (in Haryana) which is near Rajasthan and later I was training alone with my coach Vijender at Bhiwani in Haryana." Nirmala is as good as she was during her active days.
NETWORTH:
Nirmala Sheoran entered into a  contract with a health supplement company named "Muscle Trail Health Supplement". The contract deal has not been surfaced. However, her net worth is estimated to be around $ 200- 300 K.
SOCIAL MEDIA PROFILES:
Facebook: https://www.facebook.com/nirmala.sheoran.75
Instagram: NA
Twitter: NA