Most Successful Bowler in T20 World Cup
Out of all three formats of cricket, if you ask a bowler to choose the toughest format to bowl, most of them would not hesitate for a second to answer T-20 cricket. In a game where batsmen would come charging right from the first ball, bowlers have very little room for error.
The ones who don't have many variations in his armory struggle the most. But then there are the ones who got the perfect yorkers, perfect bouncers, excellent leg-breaks, and classic googlies.
Over the years, there haven't been a lot of bowlers who have developed supremacy in T20 cricket. And on that note, let's take a look at the top three bowlers who have been the most successful in T-20 World Cups.
Most Successful Bowler in T20 World Cup
#1. Shahid Afridi
Making his debut in international cricket at the age of just 16, Shahid Afridi went berserk in only his second ODI. He made the record of the fastest ODI century, after completing the ton in just 37 deliveries- a record which stood intact for many years until Corey Anderson broke it in 2014.
Afridi rose to prominence because of his fearless batting, however, in the latter part of his career, it was his leg-breaks that made him one of the vital cogs in the T-20 side.
Afridi is the highest wicket-taker in T20 World Cups. He has amassed 39 wickets in 34 games he has played in all the world cups he has featured in at an average of 23.25.
#2. Lasith Malinga
Arguably, the best T20 bowler of all time, Lasith Malinga sits second on the list. The 36-year old is still considered to be the best one it comes to T-20 cricket. The Sri Lanka fast bowler has been the most successful fast-bowler in the shortest version because of his deadly yorkers, accurate bouncers, and top-notch slower ones. In his T20 world cup career, Malinga has taken 38 wickets in 31 matches at a stellar average of 20.07.
#3. Saeed Ajmal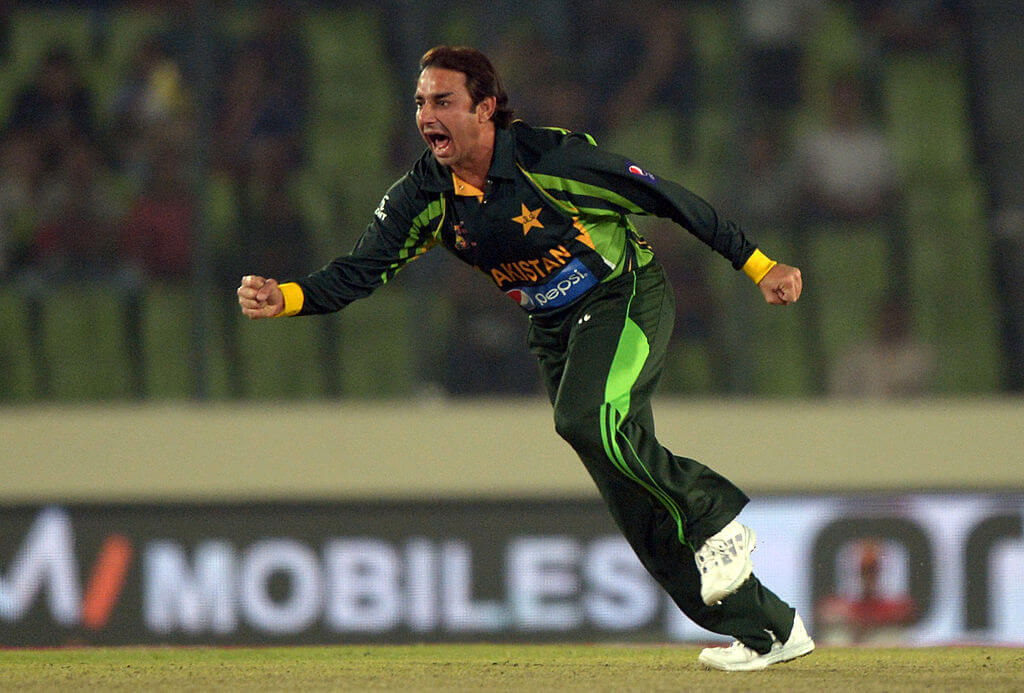 Pakistan was the only team to have reached the top 4 in the first four editions of the T20 world cup and a lot of credit must go to Saeed Ajmal. Playing his debut season in the 2009 edition of the world cup, Ajmal ended up as the third-highest wicket-taker. He took 12 wickets in 7 games and thereby helped his team win their first T20 world cup.
In all, Ajmal has featured in 23 games for Pakistan in world cups and has picked 36 wickets at an average of 16.86.
Saeed Ajmal has played 113 one-day internationals for Pakistan and has picked 184 wickets at a stellar economy of 4.18. In his 35-test-match career, Ajmal has claimed 178 wickets with an average of 28.1.