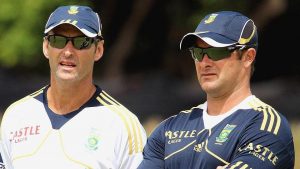 Former South African wicket-keeper Mark Boucher was announced as the head coach of the South African men' cricket team. He was unveiled by the current director of Cricket South Africa and former skipper of the Proteas Graeme Smith. Enoch Nkwe, who was the interim director of the side when they toured India in September will be the assistant coach.
"I have brought Boucher on board because I feel he will bring the toughness to turn a young and inexperienced Proteas squad into a battle-ready outfit," Smith said at a media briefing at Newlands. "With his experience of a long career as an international cricketer, he has the first-hand experience of what it takes to succeed in the Test arena."
"I have the highest regard for Enoch as well and I want to create a clear path for him to grow into a top international coach. At the same time, there is a clear need to maintain continuity and stability in the Proteas management team and we will be retaining the technical support staff along with Volvo Masubelele continuing as the team manager and Justin Ontong as fielding coach."
Boucher, aged 43, is the current head coach of the domestic team Titans, a position that he has held since August 2016. He also is a member of the support staff of the Tshwane Spartans, a franchise in the Mzansi Super League. Boucher played 147 Tests, 295 ODIs and 25 T20Is and had to retire after a freak injury when he was hit in the eye by a bail that turned him partially blind.
Boucher's first assignment with the national team will be during the upcoming series against England that has four Tests, three ODIs and three T20Is. The series will begin from Boxing Day.
According to reports, Boucher might also ask AB de Villiers to come out of retirement and play in the T20 World Cup next year.
"When you go to a World Cup, you want your best players playing for you," Boucher told ESPNcricinfo.
"If I feel he is one of your best players, why wouldn't I want to have a conversation with him? I've only just got into the job, I might have conversations with quite a few players and see where they are," he added.