If you are a WWE fan, you must have remembered that "Olympic Gold medalist" gesture by Kurt Angle during all of his entrances to the ring with "you suck" chanted all around. Kurt has been one of the few superstars from the WWE attitude era who has made it big in the WWE arena over the years and entertained millions of fans with his breathtaking moves and performances in the WWE arena.
 

Kurt Angle 

Introduction
Kurt's full name is Kurt Steven angle and he was born on December 9 1968, in Pittsburg Pennsylvania. Apart from being a WWE superstar, he has been an amateur wrestler and actor in the past and won numerous titles in the past for his brilliant skills in the wrestling arena. One of the main highlights of his wrestling career has been the Gold medal which he won at the World wrestling championships and Summer Olympics in the process.
Not many people know about this but Kurt angle has been only one of the four wrestlers to make it a grand slam in wrestling by winning a junior national championship, NCAA, World championships and the Olympics. He is currently under a contract with the WWE and featuring as a manager along with a performer in the ring.
Personal life of Kurt Angle
Angle was born to Jackie and David angle in the suburbs of Mt Lebanon Township. He completed his educations degree from the Clarion University of Pennsylvania in 1993 and got four brothers and a sister along with him. Unfortunately, the angle has to go through a lot of hardships in his years and he lost his father, mother, and sister within a pan of just a few years of his life.
His father, who was a crane operator, was killed during an accident at the construction site when he was just 16 years old. Afterward, he was been guided and coached by David Schultz whom he often regarded as a paternal figure in his life but even he got murdered in the year 1996. On the other side, Angle lost his mother to cancer in the year 2015 whilst losing her sister already in n2013 due to prolonged illness.
Journey in WWE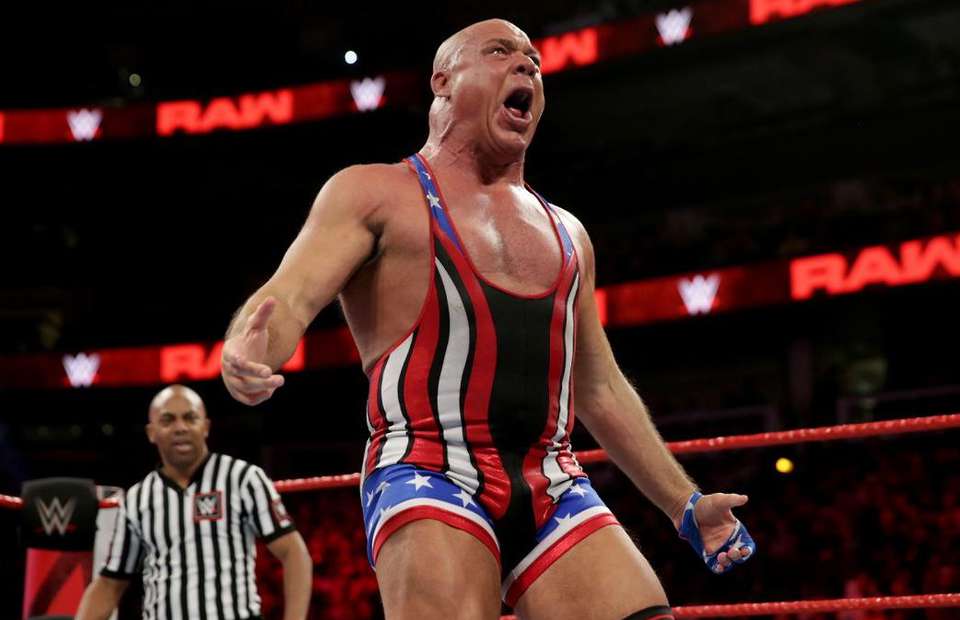 After going through a grand success in the 1996 Olympics, Kurt was awarded a 10 years contract with WWF( now WWE) but the process didn't go further as he stated that he won't be losing any matches in his journey with WWE. His perspective towards the same industry changed after he started watching WWE Monday night raw and he himself admitted that it was really amazing to see some of the top wrestlers from around the world doing their best in WWE. He also got very much impressed by Stone cold Steve Austin and decided to get along with WWE finally.
He signed an official contract with WWE in 1998 which was termed for 5 years.He got his training under Dory Funk Jr and started wrestling in front of the live audience within a week of the start to his training. During the process, he won the reputed European championship and intercontinental championship in the year 2000.
Becoming the WWE champion
During early 2000, Kurt was mostly indulged in a team named ECK(Edge, Kurt and Christian) and he fought with too cool and Rikishi whilst defeating the latter in the King of the Ring tournament.He then went along to start a feud with Triple H for a love triangle with his wife Stephanie McMahon.After getting through several clashed, he was then been pushed to fight with the Rock for the WWE championship at " No Mercy" .That was where he won his first WWE championship and became the forts wrestler to win the Olympics title and the WWE championship alongside.
Making a sudden exit form WWE due to health reasons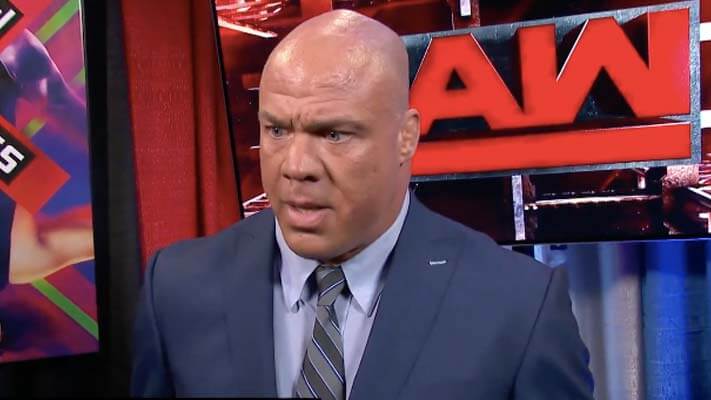 Angle was at the peak of his career by the year 2006 and he has put his hands on almost every title down the line in the WWE. On may 26, 2006, Angler was been drafted into the lately created ECW brand and he challenged Randy Orton for a fight there at the "One night stand " PPV. Angle defeated Orton but lost to him in the rematch at "Vengeance".
Later in the month of August, he has been released from WWE due to his health reasons and he himself admitted that he is going through some severe pain and stress on his body and need some rest in the process.
Returning to WWE for the final time
After taking an exit from WWE, Angle made it big in the TNA wrestling and also became the director of operations there. Still, he always carried a soft spot for WWE in his heart and this was something which brought him back to the WWE arena in 2017 when Vince McMahon announced him as the new general manager of WWE RAW.
Quite recently in March 2019, Kurt Angle did announce that he will be leaving WWE after Wrestle mania 35 and he fought with Baron Corbin of the final time and lost the match eventually. He is now taking a role to help the freshly recruited talent in WWE.
Interesting facts about Kurt angle
Angle started wrestling during his school times and even played football during the same period

Angle got addicted to an asteroid named Analgesic Vicodin after falling to the neck injury and he admitted the same fact in one of his interviews

His first appearance in the Professional wrestling came as a commentator in ECW during an event named "high Incident".
Even after getting a 10 fight deal worth $1,50,000 from UFC, angle chose to go with WWE from an 8 years contract

He has acted in some of the famous movies like End game, waking up, the last witch hunter, Pain, and gain, Drummer for the mob and so on.

There were few reports which stated that angle has been involved in some real-life fights with the former deceased WWE superstar Eddie Guerrero. Moreover, it was only after other superstar JBL intervened that both were calmed out of the situation

He was also been inducted in the WWE hall of fame in 2017 and the move came as surprise to many as he was earlier been released by WWE for his addiction to drug and alcohol.
Net Worth Of Kurt Angle
Being the only wrestler in the history to won WWE championship and the Olympic championship, Kurt angle has gained a lot of popularity across the globe in the past two decades. His net worth is around $25 million and he has amassed most of his wealth with his wrestling career along with his regular appearances in Hollywood.
Also Check :