Kavita Raut Tungar Biography: Hailing from Nashik City in Maharashtra, Kavita Tungar represents India in long-distance running. She has a bronze medal to her name in 10,000 metres race at Commonwealth Games 2010 & a silver medal in 10,000 metres race at Asian Games in 2010.
EARLY LIFE
Kavita has embraced her tough environment and achieved success in her life. Kavita Raut is one of those athletes who come from a hard backdrop. Besides her financial limitations, the 34-year-old athlete chose running as a career. Initially, she did training by running 20km barefoot to & from her school. After 14 days of intense training, the 16-year-old Kavita won her first National silver medal. Kavita also has an elder and younger brother. She started running to provide a better life to her family.
PERSONAL LIFE
The talented athlete was born on 5th May 1985 in Sawarpada (a village near Harsul), Nashik, Maharashtra in India. Born in a tribal family, Kavita faced a lot of hardships before setting her athletic career. In Nashik, running was not just a sport! The people in Nashik run hours to get water, to get to school and to reach out to their daily necessities. Her environment helped her to bring out an excellent athlete inside her. Kavita specialised in long-running because it was inexpensive and she was able to train barefoot also. Although Kavita wished to be a sportsperson her family was not that financially strong. Her hard environment didn't stop her from dreaming & achieving it.
In 2011, Raut built up Ekalavya Athletics and Sports Institute in Nashik. Her foremost sight behind this step was to create a trouble-free way for young athletes. Raut also funds her students' education.
In 2013, Kavita married to Mahesh Tungar, a mechanical engineer at Maharashtra Power Generation Company, Nashik.
PROFESSIONAL LIFE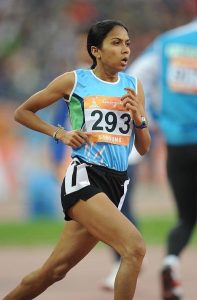 Kavita made headlines after earning a bronze medal at Asian Athletics Championships 2009 at Guangzhou. Following her victory in 2009, she earned a bronze medal (10,000 m race) at Commonwealth Games 2010 in New Delhi. This achievement turned out to be the first individual track medallist after Mikha's Singh's gold at Cardiff Commonwealth Games 1958. Raut created history and became the first Indian medal woman athlete to earn an individual track medal in Commonwealth Games.
In 2010, the brilliant athlete won a silver medal (10,000 m race) at Asian Games, Guangzhou where she clocked 31:51:44 & this became her personal best. At the same event, Preeja Sreedharan also earned a gold medal and this gave two achievements for India.
In 2011, Raut started 5000/10,000 m double at National Games of India & she successfully set records in both the events.
Raut clench an Indian National record (10 km road running) at Sunfeast World 10k, Bangalore with a clock time 34:32.
In 2012, Kavita Raut was honoured with Arjuna Award and in 2015, Suvarnaratna Award.
AWARDS
Arjuna Award, 2012
Suvarnaratna Award, 2015
ACHIEVEMENTS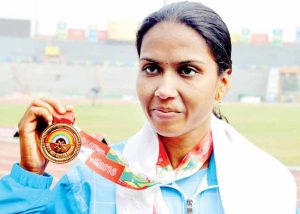 ASIAN GAMES
Silver:2010, Guangzhou: 10,000 m
Silver: 2010, Guangzhou: 5000 m
COMMONWEALTH GAMES: Bronze: 2010, Delhi: 10,000 m
PERSONAL INFORMATION
Name: Kavita Tungar
Nickname: Kavita, Raut, Tungar
Sport: Track & field
Events- long distance running
Father's name: NOT UPDATED
Mother's name: NOT UPDATED
Husband's name: Mahesh Tungar
Height: 157 cm (5 ft 2 in)
Weight: 45 kg (99 lb)
Eye colour: black
Hair colour: black
Date of birth: 05 May 1985
Age: 34 years
Birth place: Nashik, Maharashtra, India
Zodiac sign: Gemini
Nationality: Indian
Hometown: Maharashtra
Religion: Hindu
CONTROVERSY
Athlete Kavita Raut made headlines when she denied her fellow runner, OP Jaisha's complaint against the Indian officials. Jaisha claimed that the officials were unconcerned at Rio Olympics during women's marathon. To this Raut said that the Athletics Federation of India had catered all the necessary facilities & she has no complaint against AFI. Other than this, Raut has only made headlines for numerous achievements & praiseworthy performances.
NET WORTH 
The estimated net worth of  Kavita Raut is 1M.
SOCIAL MEDIA HANDLES
FACEBOOK- https://www.facebook.com/kaveeta.raut/
INSTAGRAM- NOT ACTIVE