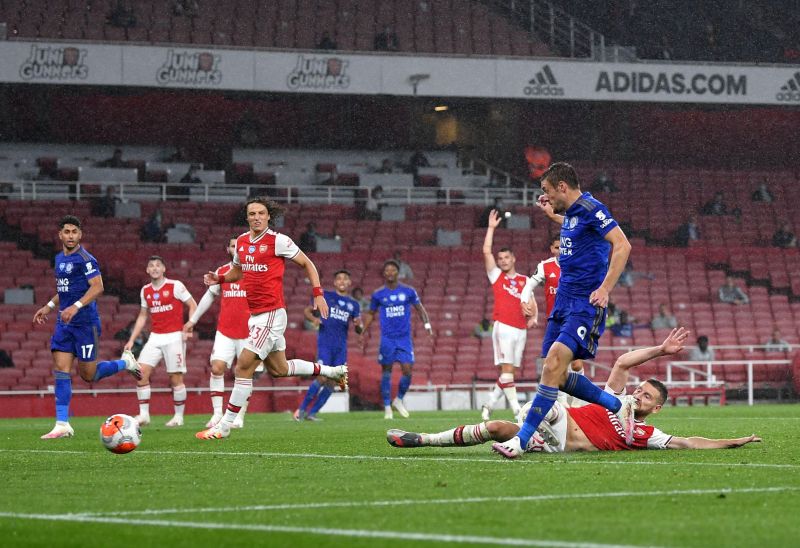 Arsenal was denied its fifth straight win in the Premier League in the match against the Leicester City today as the match ended on a draw 1-1. 
Mikel Arteta's men had been relentless in the last four matches, winning all of them before clashing with Leicester City at the Emirates Stadium. 
Arsenal started off well in the game as the skipper Pierre Emerick Aubameyang broke the deadlock in the 21st minute of the match by opening the account of his side. It was outstanding coordination between mid-fielder Dani Ceballos and forward Bukayo Saka that laid the foundation for Aubameyang as they cracked through the defence of the Foxes and the Arsenal skipper netted a superb goal by clearing Kasper Schmeichel. 
A frustrating draw at Emirates Stadium.

🔴 1-1 🦊 (FT)#ARSLEI

— Arsenal (@Arsenal) July 7, 2020
Schmeichel had earlier saved kicks of Tierney, Bukayo Saka and Hector Bellarine when Arsenal was at the peak point during the match. 
However, Arsenal dealt a major blow in the 75th minute of the game after The Gunners saw Edward Nketiah leaving the field, following a VAR review where he was seen recklessly tackling James Justin which was considered worthy of expulsion. Thereby, Nketiah became the youngest Arsenal player to receive a red card at the age of 21 years only. 
Arteta wasn't happy with the decision as he was left perplexed after the decision of the referees as he said, "I don't understand the rules. I never see a referee check any of the images. But I can do nothing now, it is the rules,". 
The incident was followed by an intended effort from the Leicester forward Jamie Vardy as he got the well-deserved goal in his second effort, providing the visitors with a breakthrough in the match. VAR was again brought into the use as it favoured the Foxes during the 85th minute. 
The scores were levelled to 1-1 as Arsenal failed to score another goal and hand themselves a five-match winning streak in the Premier League.