India's World Cup Squad:- Finally, the wait was over in the afternoon of 15th April India announced their 15-man squad for the upcoming ODI Cricket World Cup to be held in England.
BCCI chief selector M.S.K prasad announces India's World Cup Squad
Virat Kohli will lead the team while Rohit Sharma will be his deputy. Shikhar Dhawan has retained his spot as the opener.
Out of the 15 players, 11 players were known to everyone that they will be in the squad but all eyes were on rest of the players like who will be the third opener, the fourth seamer, the second keeper and the problem of No. 4 position.
The surprise inclusion is that of middle-order batsman Vijay Shankar. The inclusion of Shankar in India's world cup squad is nothing short of a fairytale story. Only as far as four months back, the 28-year-old all-rounder was not even in the fold for the marquee event. But as destiny would have it, he was drafted into the ODI squad for Australia and New Zealand after the suspension of Hardik Pandya, expected to serve as a like for like replacement.
There wouldn't be many opportunities in Australia for Shankar, as he played just the one ODI without getting the chance to bat. But it was in New Zealand that he showed in mettle in the only real chance he got. After the top order collapse in Wellington, coming in bat at 18-4, Shankar gave a fine account of himself,
Coincidentally India was looking over the no.4 spot at this point, and with his solidity, Shankar tempted them. Ambati Rayudu, who-who was the front-runner only a few months back, has endured a slight dip in form, but still, an average of 42.60 since the start of the Asia cup meant they the dip wasn't alarming
However, chairman of selectors MSK prasad alluded the "three-dimensional" abilities of Shankar that went in his favor over Raydu and confirmed that the all-rounder will be the preferred No. 4 " to begin with", despite having never played in that position before leaving IPL.
The Third opener KL Rahul confirmed his place in the squad for that Position
India's World Cup Squad:- Rahul has talent in his pocket is no question but looking back to some point that talent has been not talking so much in recent time. He's given glimpses of that here and there, mostly in the T20 format with some breathtaking innings. And so India has tried hard to fit him into their ODI setup without tinkering with the settled opening combination of Rohit Sharma and Shikhar Dhawan. But Rahul, an opening batsman by trade hasn't played such a crucial knock to remember.
The management also tried him at No.4 but it's doesn't work for them Kohli has even dropped down to No.4 so that Rahul can bat at three, with talk- from head coach Ravi Shastri no less- that it might be the possible way to go for the World cup, and that could still be a possibility if the gamble of Vijay Shankar at No.4 fails.
Prasad, tough, confirmed that Rahul will stuff off as the reserve opener an wasn't an automatic starter. Incidentally, Dinesh Karthik has been preferred over Rishabh Pant as the back-up wicketkeeper to MS Dhoni.
When Dinesh Kartik was dropped for the ODI series at home against Australia, it looked like it was the end of the road for his World Cup aspirations. That was the last piece of ODI cricket lined up for India before this event in England, and if that was any cue, it was that Rishabh Pant- picked for the aforementioned series-was in pole position.
Eventually, though, Pant didn't capitalize on the opportunities he got, much like Karthik hadn't on the tour of Australia and the Asia Cu prior to that. There was a case for both of them missing out. But, straying on the side of caution in the event of an injury of MS Dhoni, the selectors decided to include a back-up R Ashwin has also been left out, with Chahal, Kuldeep and Ravindra Jadeja handed the responsibility in the spin bowling department.  But  Jadeja rewarded for his small good time with the ball in white ball cricket in recent time
Bhuvneshwar Kumar, Jasprit Bumrah and Mohammed Shami will be the Pace Bowlers
Australia World Cup squad which was earlier announced yesterday as well had five proper pace options featuring in it. India has three only viz. Jaspreet Bumrah, Bhuwneshwar Kumar and Mohd. Shami 
It's very possible, India was lining up recently the two pacers were only able to play in XI but from many times India was searching for the fourth seamer and they tried many options for that and Khaleel Ahmed was a little bit up in that position by changing there plans at last point was a shocking decision by BCCI
"In the team, apart from the two spinners we also have Kedar Jadhav. I think we have a luxury of seven bowlers. I think we have covered all bases that way if you look at it. I think this is one of the balanced sides that we have produced", Prasad stated.
Not looking on IPL performance

India's World Cup Squad:- Prasad ruled out the possibility of making any late changes to the squad that have been announced, unless there's an injury, as he believed that "this is the possible team that can give us the world cup,"
He also dismissed suggestions that IPL performance had a bearing on the selection. "We have said are very much close to picking the side that we picked against Australia, so I don't really see the IPL form. If you go by the IPL form, there are other players who have done exceptionally well. There are Mayank, Iyer, shaw, Gill and many others.
at Kohli's disposal as India embark to bring back the trophy it won twice, back in 1983 and 2011.
India World Cup Squad: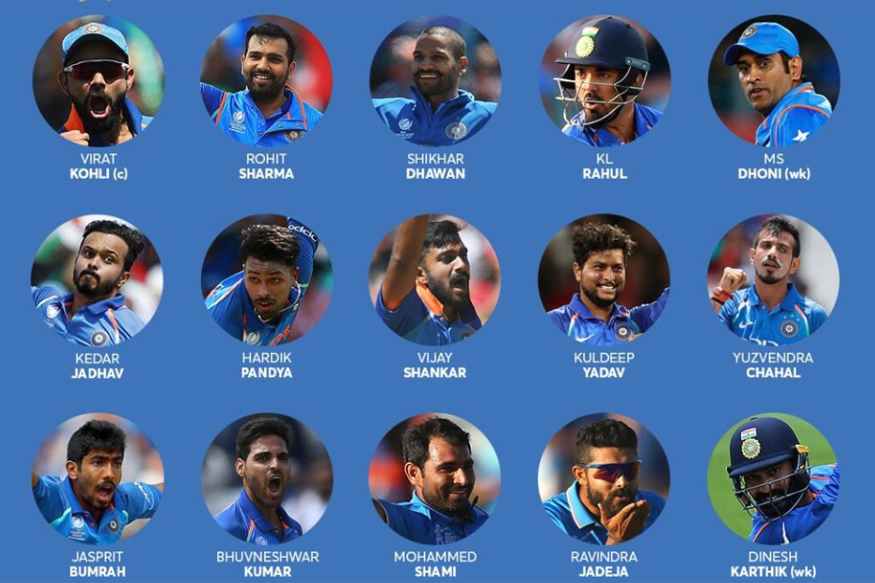 Virat Kohli (C), Rohit Sharma (VC), Shikhar Dhawan, KL Rahul, Vijay Shankar, MS Dhoni (WK), Kedar Jadhav, Dinesh Karthik, Yuzvendra Chahal, Kuldeep Yadav, Bhuvneshwar Kumar, Jasprit Bumrah, Hardik Pandya, Ravindra Jadeja, Mohammed Shami
Also Check:-